In Defense of Florida, the Best Worst State in America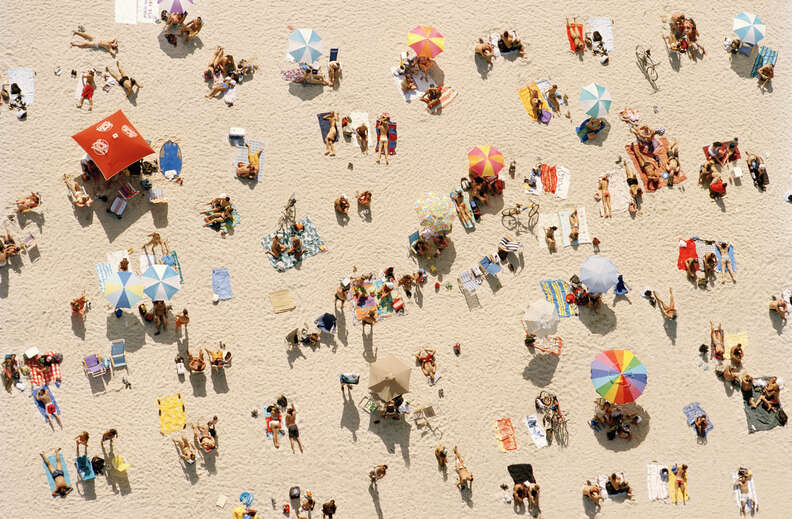 Matthias Clamer/Stone/Getty Images
Matthias Clamer/Stone/Getty Images
Recently, my hometown Miami Herald dredged up an old Thrillist story that ranks all 50 states. Florida, of course, ranked dead last. Next thing you know every Floridian is getting texts and timeline posts from friends in states where it's surface-of-Mars cold right now, mocking them for living here. And now we've gotta explain, to people who choose to live in places with black ice, no less, why Florida isn't really that bad.
The fact that we have to keep doing this is absurd, especially since the writer's justification for the 50th-out-of-50 ranking consisted of little more than a link to the "Florida Man" Twitter account, and the suggestion that we somehow "embrace this." But I'll play your game. I'll embrace all our ridiculousness. It's these very ridiculous, very true Florida stories -- from the news, from friends, from myself and almost every Floridian -- that proves why our state is, at the very least, better than North Dakota.
Everyone is obsessed with Florida stories
To paraphrase American Beauty, the worst thing you can possibly be is boring. And Florida? We're definitely not boring. What the throngs who flipped out about the state ranking failed to realize was that the only reason the story even was news is because it bashed Florida. We're the only state whose very name is clickbait. We are to news what California is to song lyrics. People see Florida in a headline and they know whatever follows is going to be weird, a little gross, definitely sexy, and probably involve a reptile.
A guy I used to tailgate with got the full brunt of the Florida headline effect. A few years ago he was arrested at the Latrobe, Pennsylvania airport for arguing with his wife, since apparently this is the sort of thing you get arrested for in Latrobe. The local paper picked it up, because couples arguing at the airport is newsworthy, in Latrobe. The headline read, "Florida couple arrested for fighting at airport."
A friend of mine sent me the story and said, "When the headline starts with 'Florida,' you know you did something fucked-up."
I'd wager if said couple had been from Dayton, their little domestic disturbance never would have made the paper. But some reporter saw they hailed from our state, and all of a sudden, it was a chance to cash in on the Florida click train. When your state's name alone gets that kind of interest, you're nowhere near the worst.
Sex and porn stars are basically everywhere
Read those Florida Man stories, and you'll realize we're also sexier than any state in the country. Notice I said sexier, not "full of good-looking people" or "free from entire cities of retired carnies." Our retirement communities are known more for sexually transmitted infections than they are for shuffleboard. Sure, now you say ewwww, but get back to us when you're 80. You'll be as thankful for Florida's sexiness as you are for Cialis.
Now, this isn't exactly a good thing if you're a high school teacher having sex with her underage students. Throwing a sex-themed party in your classroom with 11-year-olds in attendance is also unwise. But where else can you get a booty call from a girl at a rehab facility in Delray Beach, who insists you can sign her out "long enough to get to a seedy motel and fuck"? I mean, maybe you wind up saying no, but the mere invite does brighten your day.
We're also home to an astonishing number of aspiring adult entertainers. Where else but Florida would you be sitting in a truck bed at a mud hole outside Lakeland, and swear you heard wrong, over the roar of the swamp buggies, when the girl you're talking to says she's going down to Miami next week to film for Bang Bus?
Seriously, there are so many porn stars in Florida, sometimes your waiter stops mid-specials and says, "I'm sorry, but do you do porn?" Then, when you do him the favor of not immediately getting him fired, he returns to drop off your mussels marinara and says, "No, I'm sorry, I just asked that table full of gay guys over there, and you DEFINITELY do porn."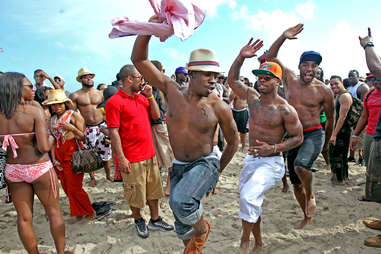 Few other places than Florida will you be watching the NBA Finals in a dive bar when you get a frantic phone call from two acquaintances, who happen to be porn stars, stranded by the side of the highway because a German real-estate mogul had just kicked them out of his mansion. When you find yourself a few hours later drinking Coors Light with them in a Walgreens parking lot as they tell you the whole, sordid tale, you'll realize the surreal magic of the Sunshine State.
We're also America's clothing-optional capital. You can inadvertently jog onto a beach full of naked people in Miami, or purposefully run a naked 5K outside Tampa. Try doing that in Michigan. Even if naked cardio isn't your thing, our abundance of nudists gives us a sizable population of some of the friendliest, most selfless people in the world. Tampa Bay Times reporter and author Craig Pittman found this when he called a clothing-optional resort ahead of Hurricane Irma to see if they were taking in evacuees.
"We sure are," they told him. "And they don't even need to stop and pack clothes."
World-class beaches, weather, and attractions that are never dull
Calling a state with beaches that draw millions of people from all over the world "the worst" is more than a little off the mark. Especially when any beach day could have you stumbling over a kilo or 12 of cocaine washed up onshore. Or cheering on a boatload of Cuban migrants as they wade towards land. Granted, sometimes beach days are interrupted because the Coast Guard and INS have to sort the whole thing out, but that just means you go to the other beach a few miles away. None of that happens in Hawaii.
The beaches aren't our only great attraction here. Pittman suggests a trip to Weeki Wachee Springs, where women lace up 60-pound prosthetic tails and put on a mermaid show for the tourists. Florida is the only state where "mermaid" is a government job. "I'm very proud of that," he says.
Then there are the Everglades, one of the world's most unusual ecosystems, and the only National Park with live alligators at a welcome center. It's also the rare place where the government will pay you to kill pythons, since released pets from South Florida have now become an invasive species there. I learned the finer points of how to hunt, kill, and skin them from a Jewish student of mine at the University of Florida, who'd learned it from some Collier County locals. Nice Jewish boys don't learn valuable life skills like that in New Jersey.
Fact is, Floridians always have visitors. We welcomed more than 100 million of them last year, according to our governor, and no way that many people are coming to a state that's dead-last. Sure, sometimes people come to buy a gun that's illegal in their state, off Craigslist, in a parking lot, with a lunchbag full of cash. Or sometimes it's to crash on your couch on their way to somewhere in Latin America, so they can stash the money they made growing marijuana. Other times to get discount plastic surgery in a motel room somewhere near the airport. But no matter what, if you live in Florida you won't go long without seeing your friends and family.
The Sunshine Law is why Florida is always in the news
Part of why our news is so batshit insane is our transparency. Whereas many states don't specifically require public release of police reports, we have this thing called the Sunshine Law that mandates, among other things, that police reports and other government documents be publicly available, except in cases where they would betray medical privacy or an ongoing investigation. That doesn't seem like the doing of a state that's the "worst."
With easy access, Florida stories are always the ones making news; they're the easiest to find. It's not like there aren't meth labs and alligators in other states. Maybe not alligators used as legal tender at a Wendy's. But alligators nonetheless.
We also don't ease up on our weirdness, lest Nevada or Maine catch up. Take our senior population. Old people moving here was a joke in, like, 1978. When that got tiresome we made a giant retirement community full of fake historical plaques and golf carts at The Villages. Once that story wore thin, the residents starting boinking each other silly and causing epic chlamydia outbreaks. When that got cliché, someone went and opened up a golf cart chop shop. That dedication to being the best is unmatched.
So really, the evidence people use to say we're the worst is really what make us special. People might not take us seriously, they might not want to live here, but they will always, ALWAYS want to hear about Florida. Whether it's because we have this mystique of beautiful beaches and plenty of sex, or because people just love a class clown, Florida is never near the bottom of anyone's list. Except for that old list from Thrillist. And that guy in St. Petersburg who got arrested for screaming about how Florida is the worst state in the country.
Sign up here for our daily Thrillist email and subscribe here for our YouTube channel to get your fix of the best in food/drink/fun.
Matt Meltzer is a contributing writer to Thrillist and has yet to be referred to as Florida Man in a headline. Follow him on Instagram @meltrez1.