Oh! You've got to try the food, people tell you when you book a trip to -- well, practically anywhere these days. This is, in one sense, self-evident: A person cannot live on bottled water alone. But it also speaks to how much our tongues and bellies shape our view of the rest of the world. Your friends may not have been to Thailand, but they do know the wonders of pad Thai and green papaya salad. They may not have been to Beirut, but just ask their opinion on what makes great hummus.
Food is how the world comes to us, as eaters. And occasionally, it's the best reason for us travelers to go explore the world. We asked some wide-ranging chowhounds -- travelers known to obsess over dumplings or raw fish or curries to the end of a bus route or a train line or across oceans -- what are the foods worth an international trip to find. Here we've assembled their most extravagant, most essential, most sensual reasons to stamp your passport. These aren't merely great foods -- they're foods that you simply must seek at their source. Meals like this are why even love and pray take a backseat to straight-up getting your eat on.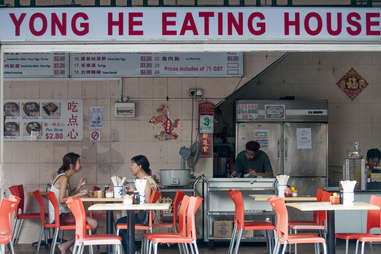 Wake up with kaya toast in Singapore
Before you stand in line for chicken rice, before you tear apart your chili crab, before you Instagram your laksa, you'll need some coffee and breakfast. To do that like a Singaporean, find your nearest kopitiam (coffee house). The chairs should be janky, the service stilted, and the coffee hot, fast, and cheap. The soundtrack will include the scraping of the burnt parts of the toast before it's slathered generously with the creamy kaya (coconut jam) and served with soft-boiled, soy-sauce-bathed, white-peppered eggs. The crunch of the bread and the runny yolk, the sweet spread and the saltiness of the sauce: This breakfast of contrasts is like stepping out of an air-conditioned hotel onto the muggy Singapore streets. -- Naomi Tomky
Have high tea in London
Pinkies up, y'all. If your idea of a scone is that graceless dough ball in the Starbucks pastry case, get thee to Londontown, stat. High tea can be pricey, but it's worth doing, even just once, to experience what flour and butter can be when baked to their highest expression and topped with a dollop of the richest, sweetest cream and fresh berry jam. -- Maya Kroth
Knuckle down on a meaty sandwich at a Bavarian butcher
In southern Germany, a stop into a butcher shop, or Metzgerei, can eradicate hangover in five minutes or less. Just rock up to the vitrine and pick: two trusty options are juicy bratwurst and roasted pork carved right off the shoulder. Your hunk of desire then gets slapped onto a fresh roll (or what Bavarians call semmel) with as many packets of sweet or regular mustard as you desire. It's a fast food bite best devoured at a standing table between a high stack of napkins and dudes wearing lederhosen. -- Barbara Woolsey
Learn to love lambs brains in Marrakech
Gastronomes love Morocco for its elaborately poured mint tea and the colorful pyramids of spices at the markets. But you haven't really had tagine until you try the saffron and lobster version at Le Marocain, the upscale restaurant at the ultra-luxe La Mamounia hotel. Blow your last dirhams on elevated traditional dishes, like pigeon pastilla (a filo-wrapped parcel of spiced fowl, almonds, and apricots) in a dining room that would make a visiting Saudi oil sheik feel at home. The boring-sounding "selection of Moroccan salads" is a stealthy highlight of a dozen or so little dishes, including a bowl of deliciously soft, creamy white stuff. Don't ask, just eat. -- Sarah Theeboom
Float through the streets of Paris, warm crêpe in hand
Baguettes may be king when it comes to national culinary treasures in France, but they're not the only reason you get on that plane. Walk down any street in Paris and there are hordes of street vendors pouring crêpe batter and spoonfuls of Nutella onto round black grills. If you need a quest, hunt down La Drougerie on the bustling Rue des Rosiers. Just follow the thick scent of butter and scorched sugar crystals. -- Amy Schulman
Have pho for breakfast in Hanoi, Vietnam
While we in the States might enjoy pho for lunch or dinner, to get the good soup in Hanoi, where it hails from, you have to get up early -- when the herbs are fresh, the noodles supple, and the broth fragrant. Set your alarm on day one for a bowl of this long-simmered, spice-rich street food and you'll be back each morning thereafter. -- NT
Go vegan in the Holy Land of Tel Aviv, Israel
Not to rag on LA, but it's hardly the world's top spot for vegan-/vegetarianism. That honor belongs to Tel Aviv. This Holy Land burg has the highest percentage of vegans per capita and the most vegan-friendly restaurants. And it has perfected the art of making veggies look and taste divine. Crispy falafels and heaping bowls of hummus, feasts of pita bread, eggplant salad, tabbouleh and tahini make regular appearances at the dinner table. Vegan must-stops include Anastasia for its vegan breakfasts, Nanuchka, with its vegan Gregorian fare, and Goodness in Tel Aviv for the artichoke shawarma. -- Michelle Rae Uy
Try a sauce in Mexico City that's older than your niece
Making a deep, complex mole takes time. Chef Enrique Olvera takes the concept to a whole new level. At Pujol, his signature restaurant in Mexico City, he's been adding to and reheating his mole madre every day for more than four years, its age handwritten daily right on the menu (1,547 days, at last count). A duo of dark, rich mole madre and bright, new mole nuevo, pooled in concentric circles on a simple ceramic plate, is meant to be scooped up by the accompanying pillowy tortilla, pressed with a bright-green leaf of aromatic hoja santa.-- MK
Sample the streets of India
When you travel, eat what the locals love. In India, that means hitting the streets. A stroll through any large city will reveal colorful, vibrant food stalls and carts. Sweet and juicy bright yellow mangoes of summer. Young, tender coconuts waiting to be sliced open. Hot iron skillets on which cooks unspool dosa batters ease to create a thin, crispy crepe.
In Mumbai, start with the chaat, a collection of snacks that marries the crunchy and soft textures of puffed rice and crackers with the sweet, tart flavors of chutneys. Try the pani puri, in which thin, crispy balls of bread are hollowed out and filled with potatoes, sprouted mung beans, onion, and chickpeas before getting dunked into water infused with mint and cilantro. Then there's the pav bhaji, a spiced mixed vegetable concoction, slathered with butter and drizzled with lemon juice, that you've got to grab with the toasted buns served on the side. And behind the Taj Mahal Palace Hotel in Mumbai is Bademiya, where skewers of succulent kebabs are grilled on hot coals and then wrapped and served in kerchief-thin sheets of flatbread. Wash it down with a glass of hot masala chai or freshly squeezed sugarcane juice. -- Nik Sharma
Hit up a 7-Eleven in Japan
Generally, convenience stores rate low on any list of culinary destinations. Your noted exception: Japan. Their stores may look like what we have in the States -- the same white-out fluorescent lights, 24-hour service, and dead-eyed cashiers -- but the food is on a completely different level. Swing by for a quick meal on the cheap or a midday pick-me-up. At 7-Eleven, opt for triangular onigiri, seaweed-wrapped rice balls stuffed with fillings like spicy tuna or salted plum. Deep-fried pork sandwiches called katsu sando are the move at Family Mart, while honenashi, or fried boneless chicken, is a must at a Lawson. When in doubt, snag a few bags of rice crackers from all of the above. -- Rachel Tepper Paley
Tuck into some late-night poutine in Montreal
Montreal's wily nightlife scene can leave you with what the Québécois call a "mal aux cheveux," a.k.a. "hair ache" or nasty hangover. The cure is to line your stomach with poutine. The home of this blessed compilation of fries, gravy, and cheese curds in Canada's party capital is undoubtedly La Banquise, an all-night poutine diner. Nothing will sort you out better at 4am than a deep dish with extra bacon and mushrooms and one last guzzle of La Fin du Monde. -- BW
Indulge in the world's best Guinness stew, in Ireland
The silky, chocolatey, lightly carbonated Guinness is admittedly not for everyone. "Too heavy," they'll say. "Drinks like a meal." Even if you fall into that dainty camp, there's a way to experience Dublin's famed brew: make it a meal. You won't find Guinness stew quite like this in States -- having a couple of hundred years to perfect the recipe will do that. You flat-out won't find a better bowl of this savory, spice beef stew than at the Guinness Storehouse's restaurant 1837. The recipe is crafted with steak, veggies, and spices all selected for their uncanny pairing with Guinness. As you chow down, you can look out at the concrete jungle and steam pipes that make the beer. -- Matt Meltzer
Try raw Dutch herring at a fish stand in the Netherlands
On a humid summer afternoon, my Dutch cousins and I stopped after a long walk on the beach for a snack they assured me would hold over my "bottomless pit" appetite until dinner. They led me to a boardwalk food truck dishing up Dutch herring on paper plates piled with chopped, raw white onions and what looked like a whole fish -- scales, tail, fins, everything sans head, fresh from the sea. Soft and buttery-fatty, slightly smelly, this salty fish and its crunchy onions were exactly what my body was unknowingly craving. -- Nisa Sedaghat
Down all the dim sum in Hong Kong
You can spend hundreds of dollars on foie-gras-laden, Michelin-starred dumplings -- or walk down into a basement shop and share a table with a six-fingered man and two old ladies gossiping in Chinese mere feet from a steam table. Ideally, do both. This city lives for dim sum, a tea time tradition of small bites that Hong Kong has turned into a signature meal. Just don't look for the cart-style service common in American dim sum houses: since freshness matters in dumplings, those carts have mostly gone the way of yesterday's tea. -- NT
Dine in an underground house in Cuba
When Fidel Castro made self-employment sorta legal in the early '90s, Cubans started quietly inviting paying diners into their private homes. These semi-underground restaurants, called paladares, are where capitalist-pig tourists can find some of the most creative (by necessity) cooking on an island otherwise filled with ham-and-cheese sandwiches and ropa vieja. -- MK
Eat the king of hams in Spain
To understand the extreme, obsessive care that goes into producing Spain's jamon iberico de bellota, scope out the extensive list of requirements EU bureaucrats have devised to define it. Dark red, almost purple, salty, and silky smooth, this is no average sandwich meat. No, this cold cut is best eaten straight up -- carved directly from the leg, if you please, paired with some Spanish olives and the neutral crackers called colines. Due to US Customs rules, this stuff is notoriously difficult to find in the States, but just about every bar, cafe, and restaurant in Spain has a leg of it on deck. -- Conor O'Rourke
Gelato in Florence, Italy
Go to a gelateria in Italy
A trip to Italy warrants barrels of pasta and pizza, true, but there's a reason every town in Italy has at least one gelateria. Italy's creamier, silkier alternative to ice cream is served at warmer temperatures and tastes different than anything you've had in the US. Sample flavors like stracciatella (milky gelato swirled with chunks of chocolate), pistachio, hazelnut, and panna cotta, then watch as the scoopers twirl swirls of gelato onto cones and cups. Even if you stain your shirt while clutching a drippy, messy cone, well, at least you're blending in with the locals. -- AS
Taste ceviche at its absolute freshest on a beach in Peru
Peru's 1,500 miles of coastline and its oceanfront capital, Lima, birthed and perfected the art of ceviche -- fish, cooked by marinating in lime juices, spiced up with local aji (peppers). Get to a beach, any beach, to partake in its tastiest, most refreshing version. Ceviche is best eaten with toes firmly planted in the sand where the fish most recently arrived -- and first thing in the morning, when you can wash it down with the leftover marinating liquid, leche de tigre, a surefire cure for any hangover. -- NT
Eat fried tarantulas in Siem Reap, Cambodia
Listen, they taste like crab and they're delicious. Tossed in salt, sugar, and seasonings and then fried in a wok, fried tarantulas are a delicacy that most locals save for special occasions. (For one, these babies go for $1 a pop, a weighty sum in a country where the minimum wage is around $6 a day). Eating spiders can be a mind-over-matter scenario, so close your eyes, start with the soft white meat of the body, and finish off with the crunchy legs and a satisfying swish of a cold beer. -- NS
Sip coffee in a Melbourne cafe
Australia isn't all boardshorts and beaches. In Melbourne, you're more likely to find people sipping long blacks -- aka Americanos -- in graffitied laneways and arguing over which cafe does the best 63-degree eggs. (An upgrade on poached eggs, these are slow cooked at 63 degrees Celsius for a runnier consistency.) The city owes its sophisticated cafe culture to the Italian and Greek immigrants who settled there after World War II and brought a penchant for chatting over excellent espressos. Add Australia's amazing produce, great bread and love of fresh, inventive breakfast dishes and you'll understand why flat whites and avocado toasts now grace brunch menus from Sydney to Brooklyn. -- ST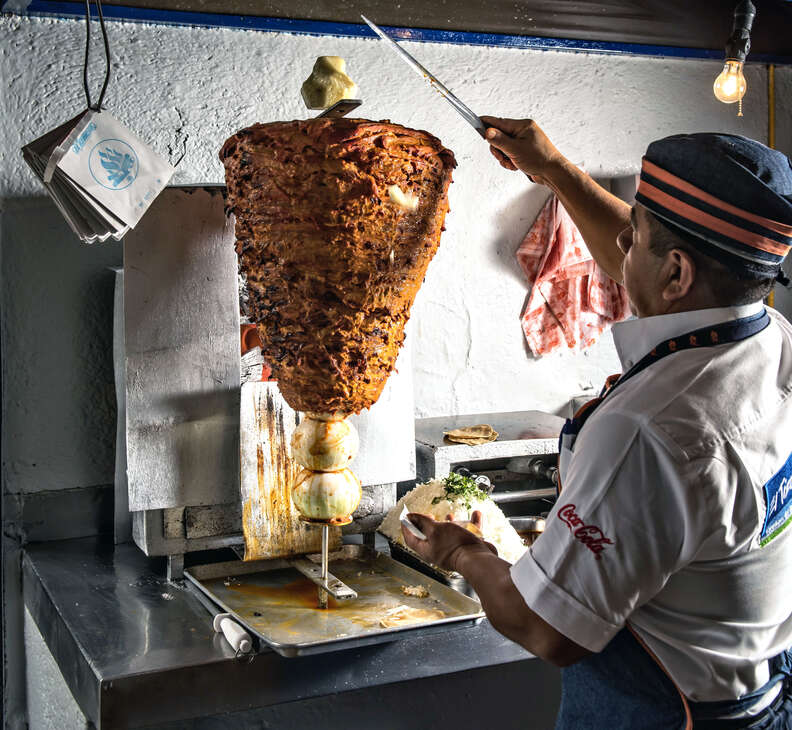 Trace the history of tacos al pastor in Mexico City
Ahhh, tacos al pastor, perhaps the most iconic taco. You'll recognize its home when you see that trompo -- the meaty, glistening obelisk of spicy pork shining in its neverending pirouette, crowned with a pineapple sweating sugar down the sides. Nowadays, you can get tacos al pastor all over the place. But to really understand the dish, you need to head to Mexico City, where, more than a hundred years ago, the children of Lebanese immigrants from the Ottoman Empire began applying Middle Eastern techniques to Mexican ingredients.
A few turns of the spit later, the shawarma has become the trompo, the lamb has become pork, and tacos al pastor has become a national treasure. Plenty of the city's taquerias claim to be the inventors of al pastor: check out El Tizoncito, La Califa, and El Vilsito. Those in the know will wander the late night streets of la Condesa, la Roma, or Navarte for the elusive, mobile food carts that made this meal part of the fabric of this city. -- CO
Cool off with lassi in Jaipur, India
Walled in by a series of enormous pink-singed arches earned Jaipur a colorful nickname, but the raw, gummy heat and the frantic, all-pervasive motion really made "the Pink City" stick. You'll want to taste everything here. Some dishes will be so spicy you'll shed tears while you swallow. Take comfort in cold, tangy, refreshing lassi, available with salt or sugar, served to you by a man squatting over a large vat somewhere along the sidewalk. He'll pour the milky white substance into a terracotta cup for you to sip from, and once you finish, the red clay will be melted down and used again. -- Eliza Dumais
Ravage a bowl of northern Thailand's rich curry soup
Khao soi is a mountaintop delicacy abundant in northern Thailand, yet tough to find in US Thai restaurants. Set your compass in the direction of the Golden Triangle, and you're likely to sniff out the soup's heady coconut milk and yellow curry aroma up towards Laos and Burma (it's also served over the border, too). Khao soi is made with noodles, pickled mustard greens, shallots, lime and a topping of more noodles, deep-fried and extra crispy. Even served piping hot, a bellyful tastes just as amazing in cool highland climates as it does in a ramshackle shophouse where you sweat buckets by an electric fan. -- BW
Feast like a tsar on an acid trip in Moscow
You might've seen Vladimir Mukhin on Netflix's Chef's Table, explaining how he's rescuing the legacy of Russian food from the Soviets while prepping moose-lip dumplings. His 16th-floor restaurant, White Rabbit (No. 23 on the World's Best List), serves up panoramic Moscow views and an over-the-top Alice in Wonderland theme alongside a menu of modern, almost psychedelic takes on classic Russian recipes. -- MK
Neapolitan pizza in Naples, Italy
Keep it simple at the world's first pizzeria in Naples, Italy
With Neapolitan pizzas all the rage in the States right now, you might ask, "Is it necessary to go all the way to Italy for this?" Having been to Naples, I am sorry to say: Yes. Yes, it is. The famous L'Antica Pizzeria Da Michele preserves its old-school charm, much like the city itself (barely two hours from the tourist whirlwind of Rome, Naples is surprisingly quiet even in high season). Da Michele's margherita boasts local campanian mozzarella and sauce made from tomatoes grown on the slopes of Mount Vesuvius. Softer and fluffier than its cousins elsewhere and sodden with fresh mozzarella, this $5 (!!!) pizza needs to be eaten immediately, scarfed directly out of the box, preferably while you're crouched on the black volcanic flagstones of one of Naples' ancient piazzas. -- CO
Warm up with hot pot in Beijing
To warm up during Beijing's bone-chilling winters, the locals reach for hot pot: a boiling pot of broth into which you can dip anything -- pig intestines, hand-pulled noodles, you name it. For a true taste, look for a shop where the windows are steamed over, coals glow beneath moats of broth, and smoke billows from the conical center of the pot. Alternatively, get a manicure while in line for the fancy-pants Hai Di Lao, famous for the tableside "dancing noodles," pulled to order. -- NT
Snack on smørrebrød beside a canal in Copenhagen
In Copenhagen, you will devote an uncanny amount of time debating how, exactly, any one population can be so alarmingly attractive. It might have something to do with the food: everything is wildly fresh and locally sourced. You'll see smørrebrød advertised in every shop window -- the Danes' answer to the open-faced sandwich, built with slices of dark, grain-dense rye bread. It's topped with any number of delicacies, like Nordic smoked salmon with dill and remoulade (a popular local condiment that falls somewhere between mayo and mustard), or stacked with Frikadeller (Danish meatballs), smoked cheese and radish, traditional pickled herring, or roast beef. -- ED
Eat a horse (literally) in Kazakhstan
The nomads of Central Asia treasure their horses, whether they're galloping across the steppe or filleted and served over pasta. You can't leave the Kazakh capital of Almaty without trying edible equine in the form of a dish like beshbarmak (horse meat over noodles), kaze (horse sausage), kumiss (fermented mare's milk) or even qarta (horse rectum). -- MK
Slurp soup dumplings in Shanghai
While xiao long bao can be found in the States now, Shanghai, the delicacy's hometown, does it infinitely better. Peer through the window into the kitchen at Jia Jia Tang Bao to see expert hands folding perfect pleats and steamer baskets flying out to tables, where they land, every dumpling intact, near-bursting with flavorful juice. Some might call these the best in Shanghai, but trying a variety and arguing about it is half the fun. -- NT
Savor pig's blood like a Frenchman
The Brits, the Poles, and the Spanish all have some version of black pudding: sausage casing filled with pig's blood and some kind of grain (rice, oats, barley, or buckwheat). But the French are chill with consuming tubes of fresh sow blood solo, with a side of sauteed apples. If you can get past the jet-black color and soft, custard-like texture, porky, savory boudin noir will burnish your Bourdain-y credentials. -- MK
Brave a Þorramatur platter during Iceland's "Ugly Food Festival"
Þorrablót, or Iceland's midwinter feast, started in the late 1800s and has been trendily revived thanks to a young generation keen on preserving Icelandic culture. And, yes, it'll get ugly. Everybody at the table gets Þorramatur, a snack platter of traditional treats. There could be smoked meat, liverwurst, and blood sausage. There could also be freaky fermentations such as cured shark, ram testicle, and sour whale blubber. You'll wash it all down with Black Death schnapps. Considering how Icelanders need to warm up to strangers, it's worth the nausea to be the visitor who finishes this gantlet and asks for seconds. -- BW
Savor a spicy curry roti on a Caribbean beach
Once you have Caribbean roti you'll be Googling Trinidadian restaurants when you get home. Too bad -- unlike, say, jerk chicken, roti is almost exclusively found in the islands. The thick crepe, filled with spicy curried potatoes and meat (usually goat or chicken), is a quick-food staple of the British West Indies. It tastes best at a beachside shack; try Foxy's Bar in Jost Van Dyk, where a fresh-made crepe is filled with curried potatoes you can smell from the water, then served seaside as you look out on the green mountains and turquoise water of the BVI. -- MM
Munch your way through Taiwan's night markets
Night markets are a major fixture in Taiwanese nightlife, which makes sense once you realize how much Taiwanese people love to shop and eat. Some are dedicated to clothes and consumer goods, but the street-food markets are known around the world for their delectable snacks. You might already be familiar with some of them, like gua bao buns and boba tea. If you're ready to branch out though, try fried cubes of fermented "stinky tofu" (think of it as Taiwan's blue cheese), a "big sausage wrapping a small sausage" (grilled pork sausage sandwiched in a grilled sticky rice sausage), and all manner of meat-on-a-stick -- including popcorn chicken that gives American fried chicken a serious run for its money. -- ST
Cut into the world's best steaks in Uruguay
Argentinians get worldwide attention for their grass-fed beef, but their neighbors across the Rio de la Plata consume more than 90 pounds of beef and veal per person, per year. La Otra Parrilla, a small neighborhood grill in the capital city of Montevideo, is home to maybe the world's meltiest, butteriest ribeye; topped with a spoonful of their house-made chimichurri, it's delicioso. -- MK
Slurp still-alive clams in Baja California
It doesn't get fresher than shellfish from Popotla, a beachfront village fish market about an hour south of the border in Baja California. Fishermen offload their catch right there on the sand -- local specialties include oysters, chocolate clams, and blood cockles, or pata de mula (literally "mule's hoof"). Experienced shuckers murder the bivalves before your very eyes, then serve them to you with a wedge of lime for just a couple bucks. -- MK
Learn South African history by devouring a bowl of bunny chow
A thick curry basking in a bread bowl to go: That's your basic bunny chow, a takeaway dish that hails from oceanfront Durban but gets ladeled up all around South Africa. Historically, Indian laborers in sugar cane fields loved its compactness, and black South Africans relied on it as takeaway from restaurants they weren't allowed to enter. More recently chefs have elevated the dish into funky gourmet bunnies, so look out for versions with luxuriantly slow-cooked meats and with vegan fixings. -- BW
Raclette in Zurich, Switzerland
Hold your nose for raclette fondue in Switzerland
If you ever find yourself in the powdery backcountry of the Swiss Alps and need a little extra padding for the sub-zero temps, nothing hits the spot like fatty melted cheese and a bottle of red. Raclette is a traditional cheese fondue with, uh, a distinct smell that tends to fill a room -- but sometimes even the most pungent dishes end up being delicious. The decadent cheese made from raw milk, served with cubes of bread, potatoes, pickles, olives, onions, and sliced veggies, is best consumed with wine to help digest the heavy lactose load. -- NS
Take on the epic Francesinha sandwich in Porto, Portugal
The name means "Little Frenchie" in Portuguese, a loose allusion to the croque monsieur that inspired it. But there is nothing little (or, really, French) about this meaty monstrosity. Recipes vary, but the essential components are two slices of bread between which you'll find several different meats: ham, sliced steak, and at least two types of sausage. This carnivorous gut-buster is topped with melted cheese, smothered in a beer-based gravy, and served with an optional sunnyside up egg and fries. Order one between two; your arteries will thank you. -- ST
Try a rare Indian beef dish in Kerala
Beef fry is India's most controversial dish. While the country's Hindu majority worships cows, in the coastal state of Kerala, this is a sizzling staple on both Muslim and Christian dinner tables. Coming from Syrian Christians who emigrated to Kerala hundreds of years ago, the complex beef fry recipes vary between households, usually relying on heavy spikes of masala, turmeric, coriander, and tons of chili. Out-of-state restaurants serving it are constantly getting shut down, so your best bet is to head south and indulge at a roadside stall against Kerala's backwater lagoons and alabaster churches. -- BW
Seek out tetela espirituosas in Oaxaca, Mexico
Just north of the city center, the quiet neighborhood of Reforma is known for upscale shops and a multitude of restaurants. The essential breakfast spot Itanoni opens its doors at 7am, when you'll find women donning colorful embroidered mandiles behind a huge clay comal -- a wide, flat griddle fueled by hardwood. They pinch small balls of locally grown blue and yellow corn masa from two enormous mounds and deftly pat out the corn dough into a variety of shapes: round memelas, half-moon quesadillas, and triangular tetelas. Those tetelas, found only in Oaxaca, conceal a molten center of tangy crema; in the house special "espirituosa" version, there's also a crumble of salty queso fresco, a swipe of earthy black bean pureé, and a fragrant leaf of licorice-y hoja santa. Get there early to beat the crowds. -- Lauren Rothman
Sign up here for our daily Thrillist email and subscribe here for our YouTube channel to get your fix of the best in food/drink/fun.
Contributors: Naomi Tomky, Maya Kroth, Barbara Woolsey, Sarah Theeboom, Amy Schulman, Michelle Rae Uy, Nik Sharma, Rachel Tepper Paley, Matt Meltzer, Nisa Sedaghat, Conor O'Rourke, Eliza Dumais, Lauren Rothman