Miami's Formula 1 gridwalk during the May 2023 race felt like a Hollywood red carpet event had been teleported to a racetrack. As a member of the press, I was ushered into the crowd and quickly found myself crammed between the Jonas Brothers and J Balvin as I narrowly avoided crashing into the coned perimeter of one of the McLaren MCL60s. Later, a celebrity-filled surge along the track had me within 10 inches of Roger Federer, Serena Williams, and Venus Williams taking a photo, while last-minute checks were made to Carlos Sainz's Ferrari SF-23.
The entire race weekend was a relatively big departure from what longtime F1 fans (and drivers) are used to. In addition to the star-studded pit walk, grid walk, and paddock, LL Cool J was brought out to introduce each racer in the style of a WWE wrestling match. The entire spectacle earned backlash from fans. One of the main criticisms? It was such an American thing to do, and the sport's global audience was loath to endorse the stylistic changes.
However, as F1's domestic fan base continues to grow, the Americanisms infiltrating the sport are likely to stick around. Formula 1 race weekends have always been travel destinations for dedicated and moneyed fans, but with the Miami race in its second year, the November launch of the Las Vegas street race, and the long-running Grand Prix in Austin, the US is set to host three races in 2023—more than any other country.
You've read about the powerful rise of the F1 fan girls, the success of Netflix's Drive to Survive, maybe you've even seen those Charles Le Clerc fan edits on TikTok. Now, the races themselves are becoming the next big event-travel destination, joining the ranks of Coachella and the Super Bowl.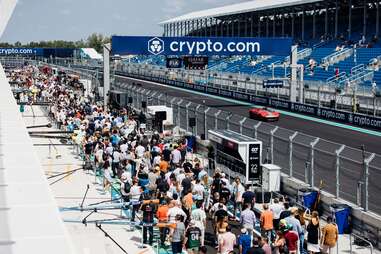 Destination by design
Turning F1 races into travel destinations didn't happen by accident. Tyler Epp, who was named Formula 1 Miami Grand Prix's president in 2022, told Thrillist that the intention is to offer an experience specifically tailored to each of F1's many different fan demographics.
"Every single person who comes, we want them to walk away with the experience of a lifetime," Epp said. "We believe that someday, part of our secret sauce will be the way we study our fanbase and provide options that fit what they want. Not everybody wants to sit on the finish line or on the start line in a seat—our job is to distinguish what [is of] value and put together a proposition so they go, 'Oh, I'd love to do that.'"
Formula 1 has traditionally been seen as a sport for the elite. The iconic Grand Prix in Monaco, where a good chunk of spectators watch on from yachts moored in the harbor, was never marketed as an everyman event. And for a long time, the sport itself wasn't either. Much like NBA All-Star Weekend, where fans descend upon a chosen city to watch their favorite players while also partaking in the glitz and glamor of a celebrity-studded event, the actual race is only part of F1's draw. In Miami, the Campus Pass—a.k.a. a GA ticket, which started at $125 for track-only access on Saturday—included getting to see lineups of the Porsche 911 GT3 Cup cars driving across the sidewalks and navigating through throngs of crowds, the car show serving as an appetizer to the main course. On-site shopping also offered exclusive race weekend merch, like special edition T-shirts produced in partnership with on-trend designers (retailing at a cool $245 each) alongside more affordable souvenirs like novelty cups and hats. If you've ever been to Downtown Disney, that's exactly what it felt like to roam the racetrack's general admission grounds. There weren't any rides, of course, but there was certainly magic to be found around every corner—plus plenty of opportunities to empty your pockets while you're at it.
That magic also came with a food court area stocked with a specially curated selection of Miami restaurants, saving you the 30-minute drive back to South Beach should the hunger pangs set in. Prices weren't cheap, but they weren't exorbitant either—Epp even said they ran focus groups to determine how much to charge for beer. You could grab food for around $16, and most alcoholic beverages for less than $20.
The base pass didn't include Grandstand seating or access to any of the club spaces, but it did give fans the opportunity to see the track in real life, watch the action from TVs mounted all around the site, and, should someone want to shell out $100 extra, listen to the race's commentators on a set of custom headphones. A three-day general admission pass, which likewise did not include grandstand seating, started at $590. For access to Grandstand seating, which included a guaranteed view of the track, weekend passes started at $750, with an average cost of between $1,000 to $2,000 per pass. And, depending on where your seat was located, the price could increase; seats at sharp turns and the starting line ran the highest.
Luxury and lobster rolls
It was not the grandstand seating prices or $16 snacks that put Miami's race in the spotlight, though. It was the $450 lobster rolls being offered over at the Hard Rock Beach Club, one of several luxury properties offering reserved seating with trackside views.
To gain club access—which included VIP passes that allowed you to explore the paddock and team hospitality grounds—fans had dropped from $5,000 to $10,000. Some clubs included catering in the price. Casa Tua, for instance, offered Italian mezze with entry plus an open bar, while Hard Rock went with pricey a la carte options like those infamous lobster rolls. Some luxury passes stretched even farther; one VIP area even had its own super-VIP area, where the likes of Jeff Bezos, Elon Musk, and Tom Cruise were spotted watching the race.
The Miami race boasted the second most expensive ticket in all of F1, with the forthcoming Las Vegas ranking first. "I saw a girl break it down on TikTok and price it out, and it's actually cheaper to fly to Monaco and attend the Monaco Grand Prix than it is to attend the Vegas Grand Prix," Madeleine White, a content creator and F1 fan, explained. November's Las Vegas street race is anticipated to be an even bigger and flashier event, with all of that Sin City glitter trickling down to the fan experiences. While details are still under wraps, brand activations, pricey pay-to-play access passes, and ultra-flashy VIP packages are expected.
Formula 1's C-suite isn't the only group taking note of fans' desire to spend big at these events. The travel industry at large is also looking to get in on the action. GetYourGuide, one of the largest experience booking platforms in the world, shared that the company has witnessed a 137% growth in bookings for sporting events since 2022. They've leaned into the F1 demand, and are now offering an experience that grants the general public private access to visit McLaren's production, testing, and mission control areas for the first time in the company's history.
"It's actually cheaper to fly to Monaco and attend the Monaco Grand Prix than it is to attend the Vegas Grand Prix."
Marriott Bonvoy is also shooting their shot, offering the chance for top loyalty members to participate in 11 different F1 VIP experiences. Through their partnership with the Mercedes-AMG Petronas F1 Team, perks include the chance to do laps with team drivers, visit the factory in Brackley, UK, and even stay the night on the Mercedes team yacht in Monaco. The Ritz Carlton, meanwhile, is peddling Ultimate Weekend packages—another luxury offering for high dollar customers—that include everything from VIP race access to spa treatments. The packages are available in Miami, Montreal, and Mexico City, and can only be purchased through a bidding system for top Marriott Bonvoy loyalty members.
Not everything comes with a hefty price tag, though. In Miami, the Williams racing team put on a free public popup in South Beach, complete with driving simulators, a merch shop, and interactive art installations. The British squad also recently brought on Paul Asencio, who has previously worked with FanDuel, the New York Mets, and UFC, as its new chief revenue officer. It's a notable move toward introducing an American touch to public-facing brand deals and fan activations.
Yet for lifelong fans, the Stateside races certainly have a different feel. "I don't use the word sparkling, but there are a lot of celebrities," Nikki Hall, who has traveled to many different Formula 1 races, told me while we stood in the Miami Paddock Club during qualifiers. "If you go to some tracks, it feels like a race. This feels like an event."
Making way for stars and thrill-seekers
The sport's recent changes, as much as they frustrate some fans, are welcomed by UK-born Hall, who grew up in a household where F1 was always on television. "I love seeing women leading the strategy, I think that's a big draw," she added. "Seeing more diversity in the sport, seeing women take their goals—for me, as a Black woman, it continues to draw us in."
Hall's friend Whytne Brooks, another longtime fan, said that F1 is one of her main motivators for travel these days. "In terms of desirable destinations, that's Formula 1," said Brooks, who has traveled to F1 races in Austin, Miami, Austria, Brazil, and Montreal. "It's sort of my foray into traveling the world."
Just like Coachella, the Super Bowl, and other fan-fueled US events that bloomed into buzzy days-long experiences, F1's rapid growth also gives locals the opportunity to participate in all the hoopla. Locals like 19-year-old Miami native Aaron Bataille. A fan of car culture and an active Gran Turismo player, Bataille's budding interest in F1 felt like a natural extension of his interests. "If someone is not into F1, bring them the first time, they'll get really into it," said Bataille, who brought along his friend and cousin, both F1 newbies, to the race. "You got the food, the music, everything—it's a good vibe."
Of course, for now, that vibe comes at a cost. "That's the one thing where I would love to see some development," said content creator White. "My Vegas tickets are $2,000 each, and that's an obscene amount of money to spend just to watch a sport."