You think you know Florida, and if you're like one of the now hundred million or so annual visitors who stumble into its swamp heat, you understand why the cliches have barnacled to its hull over the years. It's the land of citrus and the senile; the neon garden where Florida Man indulges any and all of his primordial yearnings; the bloated mass of golf courses, luxury condos, and magical kingdoms; the slowly sinking paradise whose governor forbids discussion of climate change in official documents; the nuthouse which, in spite or even because of its fluency in extremes, remains the state everyone continues to crash in droves.
Yes, Florida is a sprawling beast, and the constant whip of the post-housing bubble economy means that most visitors lack the time or the money to explore the entirety of this batshit crazy-beautiful peninsula in a single trip. I grew up in the state, and I've come to understand only lately that if you want the maximum Florida with the least hassle, visit the perpetually overlooked Fort Myers.
The city of 65,000 sits two hours and change northwest of Miami and 125 miles south of Tampa. You don't know it all that well in part because a nice thick cut of central Florida desolation shields Fort Myers from the East Coast, where kegger- and regret-filled rental condos seduce thousands of C students and A-plus spring breakers each year.
But beyond its seeming ability to escape the puke- and margarita-soaked clutches of privileged college kids, the real reason to visit Fort Myers is because it is the most quintessentially Floridian destination in the state of Florida. On a recent three-day press trip there, I found out why.
Residents still call themselves -- and you, if you're lucky -- "crackers"
I arrived at the Fort Myers airport around midnight, at which point an elderly woman named Eileen greeted me at baggage claim and escorted me to our car. On the way to the hotel, we exchanged standard pleasantries about my flight, the weather, and each other's day. As is equally standard in America -- particularly the South -- Eileen asked me where I was from.
"I was actually born in Florida," I said. "The Cape Canaveral area."
"You're a cracker," Eileen replied, then complained about the abundance of traffic lights between the airport and the hotel district. Eileen's other passenger, a fellow journalist, looked at me in a very I-can't-believe-Eileen-just-called-you-that fashion. I was also confused, but mainly because I didn't know that anyone in Florida still (or ever, really) uttered the term to describe someone born and raised in the Sunshine State.
But as I would learn, Fort Myers residents absolutely use the word, which has by and large fallen out of popular use -- and in general content themselves with a host of other odd, very Floridian things that global real estate and Disney have done a pretty good job of purging in the past few decades.
On a boat the next morning with a blue-eyed, cargo short-wearing man named Ryan, the vessel's owner, my travel companions expressed similar bewilderment when he called himself a "proud cracker." Sensing a general this-microaggression-will-not-stand-man unease, I quickly explained to the others that Ryan meant he had lived in Florida all his life. It's just something people say here, I said; it isn't meant as a racial signifier.
"See, she gets it," Ryan responded, unperturbed by the discomfort into which his self-description had thrown a pack of hyper-critical New Yorkers. We then bonded over our love of Hall and Oates' "Rich Girl," which he blared from the boat's speakers as we cruised across the Pine Island Sound.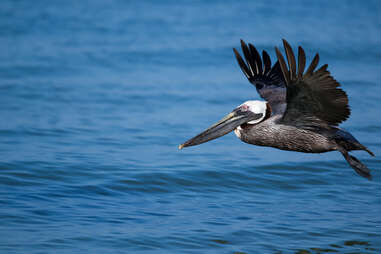 Parts of it are still wild, and locals value that
A 30-minute boat ride and sampling of AC/DC, Aerosmith, and Van Halen's greatest hits later, we arrived at our first destination, Cayo Costa, a state park and campsite Ryan said was blessedly, so far, Zika-free. Good thing, too. "Nobody wants to make out with someone covered in DEET," he said.
Though coastal development has eaten away at much of Florida's natural waterfront, Cayo Costa is a Florida rarity -- the government-protected space is only accessible via boat or helicopter and has largely evaded human hands and real estate speculation. The result is a 2,500-plus-acre island chain where manatees, dolphins, sea turtles, and bald eagles make frequent appearances, and where Walgreens is an idea whose reality can only be reached if you travel several miles in the opposite direction.
Jumping off Ryan's boat and wading to shore, we were greeted only by seagulls, sand dunes, and seashells -- all commonplace across the nine miles of lily-white beaches. I managed to blow an hour mining for shells, a surprise feat for someone who can hardly wait two minutes for coffee.
As we sat in the water, some of us taking a break from shelling by sipping on Key lime wheat beer from nearby Big Top Brewing Company, we marveled at the pelicans shooting straight from the sky into the Gulf in pursuit of food. Ryan, who told us that he had spent entire days at Cayo Costa without even realizing the time had passed, proceeded to inject some local realism into our nature high. "You know how pelicans die," our guide said in his characteristically cool way. "They eventually dive so much that they go blind and can't find food anymore."
Cabbage Key, Fort Myers, Florida
Old fishermen's dives are thriving -- and delicious
In some ways, popular tourist destinations and general media coverage of the state have had a similarly blinding effect on the ways we think of Florida -- and why we choose to visit it, or not to. If there is no anthropomorphized, creepy-as-hell mouse skipping around a castle, no sprawling beachside resort that seems to know and love every color except the sensible kind, no gated golf community whose residents sip on sweet wine and bemoan the threat of "the illegals" as they wait for their bell to toll, it's not Florida. It's not worth the trip.
Which at least in part explains why a place like Fort Myers can go relatively unnoticed. Of course the town -- which, perhaps appealing to a tourist demographic blind to what Florida actually is and could be, has requested I call it the "Beaches of Fort Myers and Sanibel" when writing about it -- dabbles in the superlative. But unlike Miami, which peddles Caligulan fantasy alongside a dash of Fidel Castro, and Orlando, which caters to an America willing to shell out $100 for their kid to snuggle Cinderella's petticoats, Fort Myers offers Florida at its oldest, rawest, and, in my opinion, best.
Case in point: our next destination. After swimming back to Ryan's boat, we made our way to a restaurant at Cabbage Key, yet another site in the Fort Myers and Sanibel area where a car is about as useful as your appendix. In spite of its inaccessibility, the restaurant -- which allows guests to cook whatever fish they've caught that day on-site -- was absolutely packed with people. And dollar bills.
From floor to ceiling, thousands of George Washingtons stare at guests as they enter the remote, nicely worn island establishment, his face often covered with the signatures of past diners. According to Ryan, naturally a Cabbage Key regular, the blatantly unorthodox choice in wall treatment stems from a legend wherein fishermen would post a dollar bill to the eatery's walls on a good day, and take a bill down when they encountered hard times. Over the years, he said, the tradition literally stuck, and now servers bring masking tape and permanent markers out for guests right along with menus. Whatever money falls to the ground, he said, the restaurant donates to charity.
The restaurant's decadent-yet-functional décor absolutely matched its signature drink, aptly named the Cabbage Creeper. Presented unpretentiously in a plastic cup, the creeper consisted of rum, piña colada mix, and coffee liqueur on ice. The drink's strength, as its name promised, revealed itself over time -- in my case after I had finished a plate of smoked salmon, boiled shrimp, and clam chowder.
Coming from a city where worrying is the pastime of millions, I inquired anxiously about where I might find a restroom. Again, our guide reminded me why Fort Myers, and this site in particular, is such a treasure. "It's so simple," Ryan said. "There's one restaurant, one bathroom in the restaurant, one nature trail, and some cottages here. And it's all called Cabbage Key."
Its local business owners are Florida at its weirdest and finest
We finished our meal full-bellied and wobbly kneed, and then proceeded to our final stop of the day: the compound of artist Leoma Lovegrove in nearby Matlacha, a fantastically bizarre Old Florida town that squatters more or less founded following the 1929 stock market crash and that art galleries have since filled.
Exiting the boat once more -- just as Ryan laughed that "they used to shoot people up here" -- we entered Lovegrove's camp, which wouldn't be out of place in a Lewis Carroll wet dream. Hot-pink metallic ibises loomed over our heads; weathered mannequins sat with their arms outstretched aboard lime-green and pink boats. The building's interior was equally wacky: psychedelic paintings of the Beatles sat alongside prints of Donald Trump's clarion call to "Make America Great Again," the latter a phrase which Lovegrove -- a testament to art's transformative capacities -- made seem momentarily cool and worth getting excited about.
Moments later, a clerk greeted us and led us into yet another room, to tables covered in coconuts and paint. The platinum-blonde artist appeared in the room as if by magic, paint-caked blouse, cat-eye glasses, 6in stilettos, and all. Lovegrove -- a 60-something painter whose Facebook page identifies her as kooky, colorful, and Christian -- commanded us to pick up our brushes and "express ourselves" on the coconuts.
For most of us, that meant expressing the sorry fact that we'd likely become wards of the state if we ever pursued painting. Nevertheless, Lovegrove sashayed around the room offering her advice (just add splatter paint) and the promise that she, as she has done for hundreds of other guests who have spent the afternoon painting coconuts with her, would mail us our coconuts if we painted our addresses on the back of them. Lovegrove then disappeared, only to return with wine in travel glasses and ice cream-filled coconut shells. If this is what "making America great again" means to her, I thought, count me in.
A day and a half later, I left Fort Myers bloated, with my coconut, reminded of why I so love my home state, in spite (and maybe even because) of its peculiarities and general offenses to taste and reason. Somehow, many parts of Fort Myers have managed to resist the homogenizing, personality-sucking touch of transnational wealth, maintaining these delightful, dollar bill-covered alcoves where you can cook what you catch. Its denizens, far from appealing to a global and globally sensitive class, call themselves crackers. Its prime vistas elude the utility of automobiles and overall practicality. It is Florida at its finest: the sinking paradise, the honest-to-goodness South, the defiant peninsula.
Sign up here for our daily Thrillist email, and get your fix of the best in food/drink/fun.