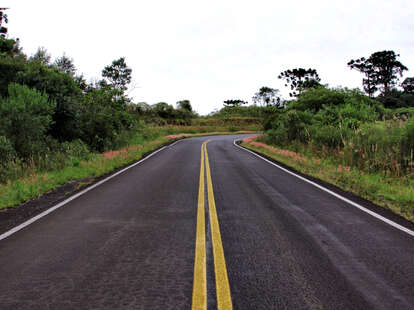 As you divvy up your vacation days each year, there's nearly always enough time for one more asphalt adventure. And to make sure you don't spend it stalled in traffic, or lost (and frightened) in Detroit, or eating at Friendly's when you should be at Jumpin' Jacks Drive-in, here are four travel apps to help navigate the trip.
Roadtrippers
Hands-down one of the best websites/mobile apps released for anyone plotting a drive across America, Roadtrippers (not "Road-Strippers", although that would be an interesting App Store addition) offers an interactive map, theme-based trip guides ("Into the Wild", "Route 66", and "Ghost Adventures" to name a few), and an insane database of 75,000-plus places to hit. This database can range from independently-owned hotels, diners, and campsites to amusement parks, stadiums, and historical sites... like the World's Largest Buffalo in North Dakota. Plot your route, share it on Facebook, and get personal recs from friends, all the while avoiding trite chains for what will no doubt afford better brags upon your return.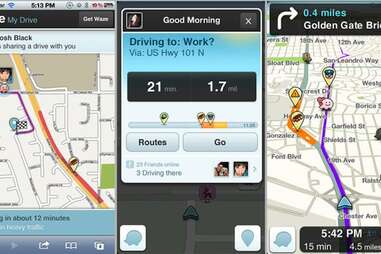 Waze
Spend more time cruising the open road, and less time in traffic arguing amongst one another, with Waze. This crowd-sourced navigation app (recently gobbled up by Google) boasts 30 million users, all sharing real-time traffic conditions to help those on "the in" avoid accidents and get from point A to B, faster and less frantically than before. Waze also lets you know where to find the nearest (and cheapest) gas, so save up, son.
Wi-Fi Finder
Don't let your cheap and regrettable decision to buy the WiFi-only iPad come back to bite you at that critical moment when last-minute game or gig tickets are only being sold online, and you find yourself off-network. This free app'll help you locate over 800,000 free (and paid) WiFi hotspots, in over 140 countries around the world.
Postcard on the Run
Finally, just because Nanna doesn't have Facebook doesn't mean you can't send her the same image your "limited profile" mother receives from your next big trip -- Nan's will come via the postman, and ma will get hers on her smartphone. Genius. Take a pic on your cell, throw on a border and a message (and even a scratch-and-sniff for fiddy cents more), and the app will send an actual, factual, 4x6" glossy postcard anywhere you like ($1.49 domestic, $1.69 internationally)... and you will never have to find a post office or buy a stamp. We remain uncertain if Selena Gomez's gran will put this gem of her dog smoking on her fridge.