France's Fête des Lumières Is a Light Festival Unlike Anything You've Ever Seen
Paris may be the City of Light, but you need to head further south to witness France's greatest illuminated achievement: Lyon's "Fête des Lumières." Grab un stylo and take notes: You'll want to add this beautiful, historic festival of lights to your 2017 travel bucket list.
The festival is held annually on December 8, but its origin dates back to 1852 and beyond. It all started in 1643 as an homage to the Virgin Mary: The Bubonic plague swept through the south of France, wreaking havoc and killing thousands of people. Lyon was no exception and the city's officials prayed to the Virgin Mary, promising to honor her if the epidemic ceased. Miraculously enough, it eventually did -- and it even worked again in 1832, as the Holy Mother is credited with sparing the city from deadly cholera.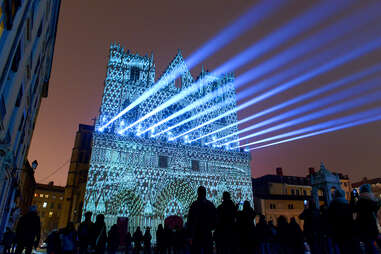 Grateful, the city began constructing a statue of the Virgin Mary, one that would stand on top of the bell tower of the Fourvière Basilica overlooking the town below. The installation was planned for September 8, 1852, but divine intervention struck -- this time in the form of a flood. The River Saône overflowed and the event was postponed until December 8, which was also problematic thanks to a horrendous storm. Undeterred by the inclement weather, the Lyonnais waited for the storm to let up and placed lanterns in their windows in lieu of the cancelled fireworks. The spontaneous celebration caught on, became an annual occurrence, and took on even more significance when the Catholic church decreed December 8 the Feast of the Immaculate Conception two years later. And the rest, as they say, was history.
Nowadays? You'll still see candles twinkling in windowsills, but the festival has become a technological wonder in recent years -- one featuring over 70 professional light installations, massive illuminated sculptures, interactive displays, and contemporary performance art. An estimated 3 to 4 million people attend each year, gathering in the streets to admire the swirling, colorful projections transform building façades into psychedelic animations.
The Fête is a three-day long affair, so you might want to sell that Coachella ticket and start saving up for this instead. In the meantime, you can learn more about the festival here.
Sign up here for our daily Thrillist email, and get your fix of the best in food/drink/fun.
Meredith Balkus est la rédactrice de la page d'accueil pour Thrillist Video, mais vous pouvez la trouver à Lyon à cette époque l'année prochaine. Suivez-la @meredithbalkus.