Welcome to
We're Out Here
, your year-round hub for LGBTQ+ travel and experiences! Here, you'll find everything you need to plan your next great gaycation, including queer-centric travel stories, nightlife guides, profiles, pride event roundups, and ways to give back to local queer communities.
I never went on a honeymoon. Not that I didn't want to—my now-wife and I had high hopes of jetting off to Tokyo or Venice, but the pandemic had other plans. We ended up getting legally married during the thick of the pandemic, after which we road-tripped around the Great Lakes and camped in the Upper Peninsula for a week. Sure, it was nice, but sweating it out in a musty tent with our dog wasn't exactly the relaxing honeymoon we'd imagined way back when.
Had we had a honeymoon, however, we both knew that as a queer couple, we'd have to take a few more precautions during the planning stage. A tour of Morocco, for example, sounds brilliant until you take into account the fact that same-sex sexual activity is illegal in the largely conservative country—it doesn't mean a trip is out of the question, of course, but it might deter from a location's romantic appeal. And while laws and attitudes continue to change and evolve on a global scale, the truth is that much of the world still falls into this category in one way or another (including, it should be said, great swaths of the US).
It might seem like a no-brainer, but as a travel editor, I travel a lot. Sometimes it's trips of my own design—occasionally, perhaps, even an actual vacation—but more often than not, I'll have been invited by a tourism board, brand, or hotel to come and experience what they're all about in case it might inspire a future story. This is a common industry practice, and it means my inbox sometimes functions as a gateway to exploring the world outside my home office—which, of course, is undoubtedly awesome.
But as an openly queer, gender-nonconforming person, that awesome can also be complicated. Much like the honeymoon process, I have to do a bit more research about a destination before hopping on a plane. Do I love soccer more than just about anything? Clearly. Yet I quickly turned down each of the half-dozen or so emails I received asking to fly me out to last winter's FIFA World Cup. Being gay is illegal in Qatar, and the potential to be thrown into unsafe or even just uncomfortable situations simply wasn't worth the gamble, Messi or no Messi.
So when an invitation to Tahiti and Bora Bora crossed my desk a few months back, I did a few quick Googles and ascertained that yes, gay folks seemed to fare just fine in French Polynesia. My only hesitation was my impression that Bora Bora, in particular, was fancy and beachy, and fancy and beachy can sometimes spell awkwardness if one's formal and swimwear don't align with gendered expectations. But, I figured, the itinerary seemed chill enough to appease my worries.
What I didn't realize, however, was just how outwardly queer-friendly—and incredibly queer romantic—these islands would be, from the moment I stepped onto the plane to my last sip of pineapple juice before catching my flight home. So if you're planning the ultimate LGBTQ+ honeymoon (or babymoon, engagement, wedding, even gay little vacation) it doesn't get much better than an escape to the breathtaking South Pacific archipelago of French Polynesia.
Pick an island, any island
Most visitors coming from the US fly into Faa'a International Airport in the Tahitian capital of Papeete. A major few airlines service the laid-back international gateway year-round—namely Air France, Air New Zealand, and United—but the favorite here is Air Tahiti Nui. The flagship carrier runs regular routes aboard its Boeing 787 Dreamliner-dominated fleet to and from Los Angeles and Seattle, with flight times ranging from about seven to nine and a half hours in the sky. Inside, Air Tahiti Nui's bright, sunny, island-inspired color palette and complimentary flower upon boarding is nothing short of delightful. And the rainbow-lit interior is just a small taste of the airline's true commitment to welcoming and uplifting its LGBTQ+ passengers.
Just last weekend, in fact, Air Tahiti Nui hosted a very special inflight ceremony to kick off Pride Month. Kris Perry and Sandy Stier, key plaintiffs in the pivotal Perry vs. Hollingsworth case that brought California's Prop 8 to the Supreme Court back in 2013, renewed their vows onboard one of the airline's cushy Dreamliners on their way to celebrate their 10th anniversary in French Polynesia. The tearjerking inflight entertainment tied into Air Tahiti Nui's Luxury Vow Renewal Package promotion, an all-in-one romance spectacular that whisks seasoned lovebirds away to Bora Bora for five nights of mushy bliss on the beach complete with a personal wedding planner, local officiant, two-tiered cake, and custom wedding certificate inscribed on natural coconut fiber tapa.
Once you land in Tahiti, you've got a couple of options. French Polynesia's most populous island gives visitors a much more local experience than its more touristic counterparts. There's just one proper resort to speak of—the Hilton Hotel Tahiti—and many travelers find lodging in smaller and more rustic hotels and motels, hostels, or Airbnbs.
Papeete boasts the area's largest cluster of gay-oriented nightclubs by way of the Mahu District, popular haunts for locals and out-of-towners alike. Roam the strip around Rue des Écoles and you're sure to stumble upon weekend drag performers, karaoke joints, and queer or queer-friendly restaurant and bars like Bora Bora Lounge, Le Paradise, Bar le Chaplin's, and Delirium Discoteque (f.k.a. Le Piano Bar, a historic favorite among gender-nonconforming Tahitians and their admirers).
But if chilling out on the beach is more your speed, you'll want to change planes in Papeete for a puddle-jumper headed to one of the island chain's famed vacation destinations like Moorea or, my personal recommendation, Bora Bora. There, sprawling resorts, many equipped with overwater bungalows, are the norm, making them a prime location for lovebirds in search of some post-nuptial R & R.
Get to know queer culture in French Polynesia
Despite having its own popularly elected president and a substantial amount of administrative autonomy, French Polynesia is officially designated an overseas country of the French Republic—meaning, at the end of the day, it operates under French law. Thanks to France's overwhelmingly progressive stance on LGBTQ+ issues, the island collective maintains a perfect Equality Index score of 100 points. A host of anti-discrimination statutes, key rights like same-sex marriage and adoption, legal gender change without surgery, and the ability to give blood and serve in the military regardless of gender identity or sexuality, plus a full-on ban against conversion therapy make French Polynesia more queer-affirming than the United States. In short, queer couples are far more protected vacationing in Tahiti than they are hanging out in Miami. Go figure.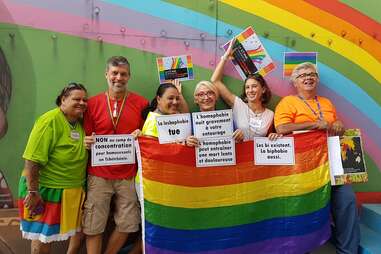 Culturally, it's more of the same. LGBTQ+ travelers and residents alike are generally accepted throughout the island nation, with local organizations like Cousins Cousines de Tahiti providing community resources and putting on public Pride celebrations. Social attitudes toward gender variance are particularly open-minded here. Polynesians have traditionally incorporated a third gender called  Māhū, characterized by exhibiting a combination of both masculine and feminine qualities but not necessarily involving medical transition. Some oral histories suggest Tahitian families with multiple sons and no daughters would historically raise the oldest child as Māhū in order to assist the mother in caregiving, further enforcing their important and unique role in society.
"Perhaps one of the most powerful illustrations of the integration of Tahitian māhū people into mainstream kinship structures is their involvement as parents in traditional adoption arrangements—something that, although only recently documented, is not an infrequent occurrence," writes legal scholar Aleardo Zanghellini in a 2013 issue of the journal Laws. "This reflects their relatively full integration into French Polynesian society, including their participation in the mainstream economy… In particular, Tahitian māhū people often work in the hospitality industry, as social workers and nurses, or as administrators."
Since the 1960s, however, this third gender concept has evolved to encompass Rae Rae, a term that describes transfeminine people who more often medically transition via hormone treatment and other forms of gender-affirming care. Both Rae Rae and Māhū people live openly in French Polynesia, and while bias or acts of discrimination are far from out of the question, these forms of gender expressions are predominantly respected as well as protected from a legal standpoint.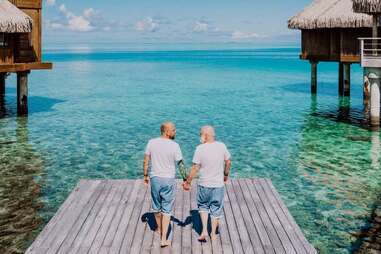 Where to stay in French Polynesia
Pockets of Papeete aside, French Polynesia is not a late night destination regardless of your choice of dance partner. Couples here tend to trade rowdy cabana parties and thumping clubs for intimate, low-key dinners, sunset catamaran rides, hand-in-hand snorkeling expeditions, or lazy beach days. And if it's romance you're after, Bora Bora is undoubtedly the place to be.
Developed with tourism in mind, the island outcropping is dominated by sprawling luxury resorts boasting top quality spas, eclectic restaurants, and secluded villas that jut out over crystal clear waters. During my recent trip, I spotted markers of queerness everywhere, from the transwoman checking folks into the hotel to a young Latine lesbian couple sipping rum by the pool to a silver-haired gay duo clad in matching swim trunks and holding hands on the beach. Sure, there were plenty of non-queer guests, as there so often are, but I'm not sure if I've ever seen so many LGBTQ+ couples of different backgrounds seamlessly blending into the kind of upper echelon resort I had so long associated with the straight, white, and uber-wealthy.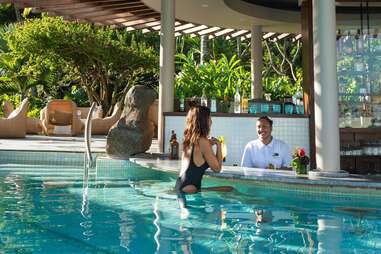 According to Pauline Himpens, marketing and communication manager for the stunning Conrad Bora Bora Nui, that's because romance has no gender or sexuality. "We simply believe in love," she says. "There are countless different ways to celebrate romance on property. A private dinner, private islet escape to Motu Tapu, sunset champagne, tailor-made activities, engagement, wedding, vow renewal—we offer an array of packages, services, and enhancements that promise to bring the dream wedding to life, no matter the gender of the couple."
Alternatively, queer honeymooners can take to the water, hitching a ride on a dedicated gay cruise circumventing the archipelago. Ships are a great way to check out French Polynesia, especially if you're interested in seeing more than one island. Several companies run these programs throughout the year, including Windstar, GaySail, Olivia Cruises, Vacaya, and Out Adventures, among others (a few are even clothing-optional, if that's your thing). Depending on the itinerary and trip length, ports of call can include less populated spots like Raiatea, Tahaa, and Huahine, in addition to Bora Bora, Tahiti, and Moorea.
No matter where you choose to celebrate, we're reminded this month and every month that love is love. But in French Polynesia, that love comes with your very own slice of island paradise.
Meredith Heil is the Editorial Director of Thrillist Travel. She's more than ready for a do-over honeymoon.