What Frequent Fliers Know About Getting Free Stuff from Airlines
Status is everything.
Care for a glass of sparkling?

| David Wingate/Shutterstock
Care for a glass of sparkling?

| David Wingate/Shutterstock
It's time to stow your tray tables and secure your luggage in the overhead bins—travel is back in full swing. Introducing Return Ticket, a collection of first-person stories, thoughtful guides, and clever hacks designed to help aspiring globetrotters navigate our new normal as safely and smoothly as possible. Buckle up and prepare for liftoff.
When I started writing this, I was sitting in the Cathay Pacific lounge waiting for a flight that was almost a day late. When you travel often, this is par for the course. But even if you're in one of the world's best airport lounges, after fueling up on free food and booze for a few hours (and, if you're lucky, indulging in a massage or curling up in a sleep pod), the novelty wears off. You just want to go already. While you can feel as pampered as if you're at a five-star hotel (if you're flying First or Business, that is), even the slightest delay can quickly kill the mood.
The good news is that when there's a shift in plans that's out of your control, and you're late to that wedding or vacation you've been counting down the days to, you can use the system to your advantage. Airlines learned some time ago that the best way to make sure passengers stay somewhat calm and happy (and don't run off to competitors) is the good old-fashioned way—give them free stuff. Even better, throw them some cash. They may not be able to do anything about the weather or air traffic control situation, but they do have the power to make your experience a lot more enjoyable—especially if you follow these tips.
Join the airline's loyalty program
This is the first—and easiest—step. You see all those people getting on the plane before you, sitting in the nice comfy seats, getting free drinks and snacks? You see the actual Champagne and edible food, and the glassware and utensils made for adults and not elementary school kids on a field trip? Almost none of those people are actually paying for that themselves.
Some are flying Business thanks to their company shelling out for the upgrade, but for the most part, those passengers at the front of the plane are there because they racked up miles by spending or flying a ton. And the miles they're flying on this trip might earn them free stuff and upgrades faster than the miles you fly.
Join the program. Get the credit card. Learn the difference between a bonus mile and a status-qualifying mile. The ideal situation is that you live in a hub city and can focus on flying just one carrier. I don't, so I've got two very active mileage accounts, plus a handful of others for the assorted carriers (often based overseas), that I occasionally have to fly. No matter your situation, this at least gives you a chance to start building up cred for the future.
Use your miles frequently
This is not when you should be practicing your investment skills. Don't save miles up for that big trip around the world you're never going to take, thinking the longer you wait, the more you'll score. America's airlines are in some kind of insane collusive plot to continually devalue miles. Some airlines, like Delta, allow you to pay for part of your flight with miles and the rest with cash. Miles are money. Don't waste them. Or worse, let them expire.
When in doubt (and even when you're not), ask for free stuff
This goes double when you're being put out. Flight's delayed? Ask for meal vouchers. Flight's really delayed? They better put you in a hotel. Then ask for a better hotel. Ask for miles too—and money. The airlines call this "goodwill." They don't always give it, but they will almost always only give it to people who ask for it. After one delay, I asked and got 19,000 miles. On another recent inconvenience, I got $600 in flight credit. On another, $100 in cash. This is the time where you should be one of those people. Ideally, one of those people who is also a member of the loyalty program.
Be nice to everyone—and be a little entitled
This is difficult to pull off, but it's really the key to happiness in the air. Yes, when a flight is canceled or extremely delayed, everyone is probably having as bad a day as you (hence the being nice part). But you (or your company or whatever) paid what you paid for this flight, so you should be getting every possible benefit that you can get, if it's not too much trouble. I mean, if you don't, someone else will, right? Might as well be you. This is the part where having airline loyalty comes into play. Status means you have a VIP number to call and someone will actually answer and help sort out your problems, whether that be rerouting or rebooking a flight—and maybe give you free miles in the process.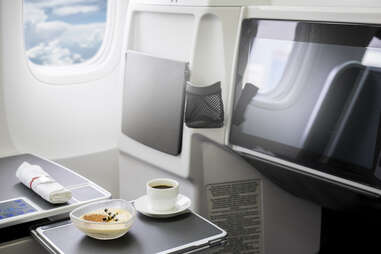 Leverage the snack cart
You can probably use the bathroom in Business Class if the cart is blocking the aisle to your bathroom (just so you know). And if you ask for both the pretzels and the cookies (and a soda and a water), the flight attendant may just give it all to you. That is, if you're nice.
Harness the effective power of Twitter
The people you follow on Twitter are really annoying (Twitter is, in fact, really annoying), especially when they shift without warning from tweeting about the news, sports, and political commentary and start tweeting at airlines about trivial things. You know why they do this? Because it works. Airlines have teams who respond to Twitter extremely well—and fast. Way faster than waiting on hold or for a gate agent on a cloudy day in Chicago. If you aren't a celebrity, you get all the benefits without pissing off your fans. If you are famous, use your DMs.
Do a good deed
This sounds obvious, but if a family is split up and a flight attendant politely asks if you'll trade seats, the answer is yes. This may only mean moving a few rows in front, but if you're really lucky, those few rows could be in the next class. At the very least, you may get a glass of thank you Champagne from up front (and that's going to be way better than the wine they want you to pay for on domestic flights).