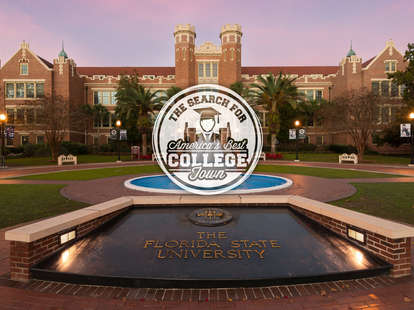 Everyone thinks their college is the best college. And while no college is outright BAD, some are certainly better than others. And from there, it reasonably follows that one college -- and the town that makes it what it is -- must be the finest of them all.
Over the course of many tireless months working much harder than actual college students, we'll be conducting our noble Search for America's Best College Town. Now keep in mind, we're not really talking about academics at all, and in some ways, even sports are only a small part of the formula. It's the everything else -- the bars, the burgers, the bars, the buildings, the lovable famous weirdos on the streets, the weather, the bars -- that build a college town's case. Get ready to re-enroll.
Next up: Tallahassee, home of Florida State University. Jameis Winston may be skipping town but that doesn't change a thing. Here are 15 reasons why Tallahassee will always be the best college town in America.
Jenn Sterger called Tallahassee home. Also, the Cowgirls.
Fellas, you're welcome. Brett Favre, sorry? Sterger and the FSU Cowgirls put the town on the map for something other than football and Bobby Bowden.

Potbelly's Friday happy hour. And no, we're not talking about the sandwich chain.
This popular bar/restaurant/club rocks a beer garden, live tunes, and a sweet tiki deck on which to leisurely drink away a Friday afternoon.

Monk's Bar and Grill's Lipsmacker Burger was a pioneer
Created years before "creative" burgers were an overplayed food trend, the Lipsmaker boasts cheddar, bacon, and, you better believe it... peanut butter! Be sure to give yourself a solid eight hours after eating before attempting to do pretty much anything.

Dollar Doubles at The Strip, Party On Wayne
Any night of the week you can walk into Ken's, Red Rocks, Yianni's or the other bars in The Strip and take down $1 double liquor drinks until midnight. A whole night of fun for the price of a Subway footlong.

Downtown GetDown
Downtown Tallahassee is blocked off every Friday night before Seminoles home games so that everybody can eat, drink, and celebrate all that is Florida State football.
Our capitol building resembles… well, just look at the picture
We're so confident, we designed the state's Capitol Building to look like a dude's junk made out of Legos. Yea, that's exactly how we roll.

The Tallahassee Museum has a zipline... and wolves!
No joke, you can fly amongst the trees whilst checking out wild animals up close and personal. How many college towns have museums that people actually want to go to?
There's a South Beach-style club in North Florida
Sure plenty of college towns have clubs, but Tallahassee's newest hotspot, Recess, offers an experience rivaled by few others. An indoor/outdoor venue, it offers a Miami vibe on a college budget. A pool, cabanas, and DJ booth hanging over the roof offer a fantastic view of legendary Doak Campbell Stadium.

Gumby's Pizza gives away free pies to women who, umm, flash
Not only that, but their pizza and Pokie Sticks are delicious.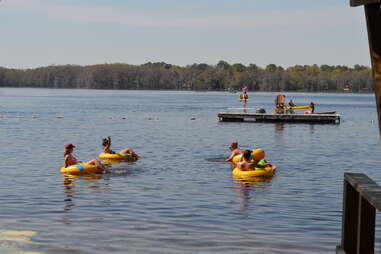 The Rez​
Florida State's Reservation (the Rez) is a 73-acre recreational facility built on a massive lake where everybody paddleboards, kayaks, canoes, and plays beach volleyball. There's even a crazy climbing/obstacle course for the Tough Mudder types.

And while we're outside, the lakes of Maclay Gardens
If you're into nature, this place is awesome. If you're not an REI member, well, it's also a fantastic place to walk off a hangover.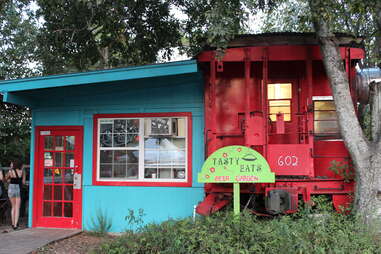 Railroad Square: a hipster's paradise
Rock climbing, Proof Brewing Co., and thrift shops galore.

Our intramural sports complex is enormous
You like flag football? You play baseball/softball? Do you even soccer, bro? Built in 2008, FSU's IM sports complex contains 21 (!!!) fields.
And speaking of fields, did we mention Doak Campbell Stadium?
The mystique of Bobby Bowden and the always intimidating Tomahawk Chop makes Doak one of the hardest places for visiting teams to play. Remember, Tallahassee's a football town that enjoys winning, and we have three National Championship trophies inside the stadium to prove it.

Mr. Roboto's. Yum Yum Sauce. That's It.
If you've ever visited Tallahassee than you understand why Mr. Roboto's made the list. Delicious hibachi and sushi on a college budget. Uh, yeah.

Many say Michael Jay Welch has stuck around Tallahassee and FSU for "too long" and on occasion still tries to party like an undergrad, which only leaves him with a two-and-a-half day hangover and a lot of questions that start with "Why…" Cheers Michael on Twitter @mj_welch.