The 3 American Cities That Should Host the Summer Olympics
RIO 2016! It's a showcase for the triumph of the human spirit, opportunity for the world's top athletes to have all the sex, and a possible looming health disaster of epic proportions. High jump over here for all of Thrillist's coverage of the games, and the games beyond the games.
You could legitimately find yourself at a bar next year talking to someone who wasn't even born the last time the Summer Olympics were on American soil. Guys -- 1996 was a hell of a long time ago now. If Los Angeles doesn't beat out Rome, Paris, and Budapest for the 2024 games, we'll officially be in a US Summer Olympics-hosting drought, like the 52-year span between LA hosting the Games of 1932 and of 1984.
Which is why we're already looking ahead to 2028. The Olympics secure a city's status as a global player, and this country has more cities that fit that criteria than anywhere in the world. So we looked at US cities that have the existing capacity to host an Olympics and also room to grow. Appropriately, our three largest states -- California, Texas, and Florida -- all have strong candidates.
Not that Rio has made the whole hosting thing look terribly attractive. Shoddily built infrastructure, polluted venues, street showdowns between police and protestors -- nah, thanks. Yet, done right, the Olympics can catalyze long-lasting investments in public infrastructure and a city's overall quality of life. Vancouver, British Columbia, for instance, made improvements for the 2010 Winter Olympics that still pay off. The once-winding-and-narrow Sea-to-Sky Highway from Vancouver to Whistler is now a faster, safer multi-lane expressway. The city expanded its commuter-friendly light rail system to include an airport line that hustles people Downtown in 25 minutes. And venues like the Richmond Olympic Oval (used for skating events during the Games), are now community centers with a gym and volleyball courts open to the public.
But it takes a special city to host the Olympics. The International Olympic Committee dictates a city must have an airport that can handle the influx of travelers, a workforce of 200,000 people, 45,000 hotel rooms, an Olympic Village to sleep 16,500 athletes and trainers, and space for 15,000 more broadcasters. It also must have some sort of public transportation to most venues, and have existing infrastructure to support the games.
Cities have to offer a lot to land an Olympics -- but they also stand to gain plenty. With that in mind, these are the American cities best suited to be an Olympic host in 2028.
Houston
Somehow no Texas city has ever been selected as the US host bid to the International Olympic Committee. Both Dallas and Houston have been passed over by the US Olympic Committee in the last decade-plus, with the most common reasons cited: lack of public transportation and a weak worldwide brand identity. (No one, it seems, wants to mess with Texas.) But in the past few years, Houston has created new venues, green spaces, hotel rooms, and infrastructure that might make it the most prepared city in America to hold such an event.
Houston has, though, been building a global metropolis for a while now. The city built the Museum District, an area with 19 large museums, including one of the top art museums in America. It turned a festering swamp into one of America's best urban parks at Buffalo Bayou Park. Houston is making a $33 million renovation of historic Emancipation Park, and will have the posh mixed-use Midtown Park up and running soon. It also put $1.5 billion into the convention center, built three new stadiums, and developed a 22.7-mile rail system to help ease the burden on its epic highway loops. While many cities talk about becoming great, Houston and its public-private partnerships have put money in the right places to do it.
The city already has plenty of venues. Two major stadiums -- Minute Maid Park and NRG Stadium -- have been built in the past 15 years, joining the Downtown Toyota Center. The city is constructing a new BMX park, and a reimagined Astrodome could be the coolest retro Olympic stadium in history. Water races and triathlons already happen in the Woodlands regularly, and the beaches in Galveston, though not crystal blue, are still a fine setting for beach volleyball.
An urbane metropolis literally building to this moment
You know which US city, after New York, built the most hotel rooms in 2015? Not Los Angeles. Not Vegas. Yeah, it was Houston. The city has a new 1,100-room Marriott Marquis coming online next year and plans for several more 1,000-room hotels. By the end of 2017 the city -- just the city proper -- is projected to have 87,000 hotel rooms. And it already has more than 10,000 bars, restaurants, and clubs.
The capper, though, for the Houston of the future is a high-speed rail project forecast to begin moving passengers in 2021. By the late 2020s the proposed lines could connect Houston, Dallas, and Austin with 90-minute rides between them all. If everything goes to plan, holding soccer matches at AT&T Stadium in Arlington or at Texas Memorial Stadium in Austin would allow visitors to see those cities with just a day trip. With ample hotel space, a person could come to Houston to see, say, gymnastics and wrestling, take the train to Austin for a soccer game, spend the night, and return to Houston for judo the next day.
That's all best-case scenario for a major infrastructure project, but it points to what Texas -- and Houston -- have to gain from getting it right. A Houston IOC bid for 2028 would be considered around 2021. Even with the inevitable delays (much of the land is likely to be acquired via combative eminent domain proceedings) there's a great chance the Japanese-built bullet train between Houston and Dallas will be in shape by then, if not already in use. Earning an Olympics would legitimize non-highway transit projects in a fast-growing state that will desperately need them by the mid-21st century. And it would give Houston a stage on which to show the world that it has invested in becoming a top-tier metropolis.
Houston has shown it knows how to tackle big projects -- like the two Super Bowls it has hosted in the past 14 years. And Houston is underrated as a worldly city: its residents speak more than 150 languages in one of America's most vibrant melting pots. The place dismissed as having a weak image needs just one Olympic-sized shot to prove itself.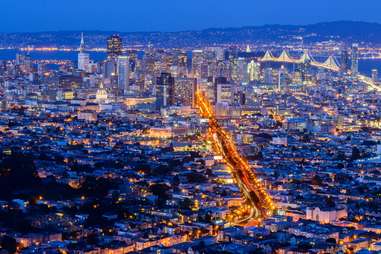 San Francisco
The key to hosting an Olympics in the 21st century is regionalization. Yes, the IOC dictates that a host city must have the majority of Games, plus the opening and closing ceremonies. But to maximize the available workforce, ease congestion, and take advantage of the best venues, a regional approach -- like Atlanta took in 1996 -- is the wiser approach. And nobody does regionalization like California.
The major advantage San Francisco has over other parts of the state is its transit. For all the local kvetching about its transit systems, San Francisco's trains are some of the best in the country; in recent studies, they ranked second in the US for access to jobs and second overall. Around the Bay there's BART, with stops Downtown and near athletic venues in Oakland and Berkeley. The Capitol Corridor train connects BART to Sacramento, and Caltrain connects the city directly to Silicon Valley. In all, transit-accessible venues could cover a 100-mile radius.
The city's great at playing host. San Francisco has about 33,000 hotel rooms, but if you expand that out to the entire Bay Area that number far surpasses the 45,000 threshold, even more so if Sacramento is included. Look to the University of California's San Francisco campus or to the University of San Francisco to host the Olympic Village; or to Hunters Point, the last proposed site for an Olympic Village in San Francisco's bid for 2024. Done right -- that is, with goals beyond simply maxing out profits -- athletes' housing could be repurposed as low-income housing, which is in critically short supply in San Francisco.
A unified Bay Area could remain a force for years.
The Bay Area is saturated with sports venues, with a brand-new Downtown basketball arena opening next year and the 49ers' new home, Levi's Stadium, only a year old, the new venue construction in San Francisco wouldn't be nearly on the scale other cities require. It's likely that Oakland, San Francisco, and Sacramento all will have NBA venues still standing then. The waters around San Francisco Bay are perfect for sailing, but not far up the road in Sacramento, Lake Natoma and the Sacramento River offer calmer waters for rowing and other water events.
The sticking point in the city's attempt at the 2016 Olympics came down to the lack of a site for an Olympic Stadium. On a tightly packed peninsula with zillion-dollar rents, where to erect that keystone venue, and what to do with it afterward, would likely be the greatest hurdle a decade from now. (Though it's pretty much guaranteed the A's will still need a stadium then.)
That challenge, though, as well as the greater question of expenses, does offer the city a chance to shape its identity for the next century. But as Texas has energy money, NorCal has tech money. Will these companies pony up to put their names on Olympic venues? Can they all pull in the same direction long enough to lead the world in something beyond seed rounds and futurism? The Olympics have a strange power, on this count, to pull people together. A unified San Francisco Bay Area would be a marvel to behold.
Orlando
Outside of New York City, Orlando is the most popular American destination for international travelers. That fact alone means people would flock to an Orlando Olympics more than any other city in America, with a chance to mix the pageantry of the Olympics with the pageantry of Sleeping Beauty. It's also the fastest-growing city in America's third-largest state, meaning that over the next dozen years the infrastructure and amenities of the city will be expanding. Perhaps no American city is better poised to grow to accommodate the Olympics. And with the second-most hotel rooms in America -- more than 110,000 -- it already has the space to host.
The city itself has only a quarter-million people, but much like San Francisco, Orlando is more of a region than a city. To attract a workforce, the Games can draw from across central Florida, west into Polk County and Tampa Bay, and east into Daytona. The city is also home to the school with the highest undergraduate enrollment in the nation -- the University of Central Florida, with more than 52,000 undergrads -- that can provide thousands of seasonal workers. The UCF campus (chided by students as standing for "Under Construction Forever") has enough land to build an Olympic village comfortably, leaving the hundred-thousand-plus hotel rooms available for spectators and media.
In the past few years the city has erected two new state-of-the-art sports venues -- the Amway Center Downtown and the forthcoming Orlando City Stadium, to open in 2017. Add that to the nine-year-old Bright House Networks Stadium at UCF and the ESPN Wide World of Sports Complex, and Orlando's need for new venues would be minimal. Though the existing Citrus Bowl would need serious renovations to be an Olympic stadium, it can still be used for soccer, field hockey, and other sports if a new Olympic Stadium is built elsewhere. To regionalize the Games -- and to bring spectators to Florida's famous beaches -- sports like sailing, beach volleyball, rowing, and triathlon could be held in Tampa and St. Petersburg, only a 90-minute drive from the city.
A burgeoning city whose raison d'être is hospitality
Those commutes may get shorter yet. The state is currently building a high-speed train from Miami to Orlando, but has thus far left Tampa out of the plans. Florida rail has been embattled for decades, and Gov. Rick Scott turning down $8 billion in federal funds in 2011 was a huge setback. An Olympic bid could catalyze the badly needed Orlando-Tampa rail connection, which would ease the nightmarish congestion in the I-4 corridor and allow central Florida to spread its wings in the coming decades. A 2028 Olympic Games would bring a sense of purpose to the project, and just as importantly, a deadline.
And Orlando itself can handle an influx. Its international airport carries more passengers each year than Philadelphia, New York's LaGuardia, or Boston's Logan. The existing SunRail runs north-south through the region, but with a successful bid can be easily expanded to reach venues, with plenty of available land and existing tracks.
But what makes Orlando special is all there is to do outside the Games. The theme parks at Walt Disney World and Universal Studios will make this a Games at which entire families come to both watch sports and enjoy the parks. Cape Canaveral and the Kennedy Space Center, an hour east of the city, already handle more than a million tourists a year. While one might not want to invest the time and money to travel so far just for the Olympics, families who combine the trip with a long-imagined Disney vacation could make this the most attended Games in history. If the parks aren't selling you, Orlando is also close to Winter Park (one of America's best small cities for food) and a burgeoning nightlife district on Church St. And there's always time to drink around the world at Epcot.
Sign up here for our daily Thrillist email, and get your fix of the best in food/drink/fun.