How Great Exuma's Locals Are Managing After Fyre Fest, 'The Greatest Party That Never Happened'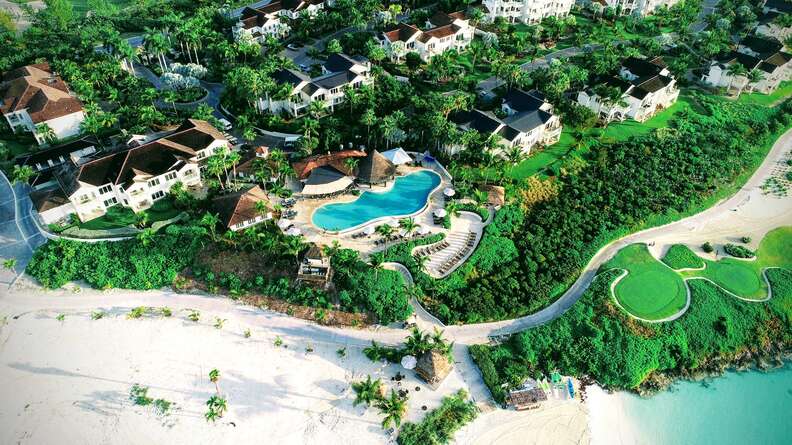 "You know your girl couldn't just come to Exuma and not try to see the land Fyre Festival was on." A month following the infamous Fyre Festival, Ashleigh Rolle, a Bahamian native, writer, and social media consultant living on Grand Bahama Island, visited Great Exuma, the island that hosted the infamous Greatest Party That Never Happened.
She felt compelled to see the grounds, filming videos to show her Facebook followers. In one of her videos, she says, "there's only a garbage bin that remains… very poetic."
Before becoming famous for all the wrong reasons, the Exumas -- a Bahamian chain of 365 islands, aka cays -- was best known for Instagram-worthy shorelines, swimming pigs, and laid-back resorts. Astronaut Scott Kelly called it the most beautiful place on earth. The serenity of the archipelago has attracted the likes of Johnny Depp and David Copperfield, both of whom have homes in the Exumas. Penelope Cruz and Javier Bardem got married there. It's also appealing to history buffs: It was on this former plantation island that revered former slave Pompey led a rebellion in 1830, viewed as a key moment in the lead-up to Bahamian emancipation.
Now the subject of two documentaries on Netflix and Hulu, Fyre Festival is a social media laughingstock that has caught the attention of the country. If you're unfamiliar -- where have you been? -- the festival used a sophisticated, aggressive social media marketing strategy of models, luxury, and exclusivity to bilk thousands of young revelers into paying to stay in villas and see bands like Blink 182 perform. All of it was smoke and mirrors: When attendees arrived for the first weekend of the festival in April, 2017, there were no villas or musical acts. There wasn't even a festival ground -- it was barely a parking lot. It was total chaos. And it has since been deemed fraudulent, to boot.
"Some influencers have posted on Instagram, like, 'I'm standing where Fyre Festival happened,'" Ashleigh Rolle, who also serves as Bahamas' Country Chair of Global Dignity and a World Economic Forum Global Shaper, told Thrillist. "Fyre Festival added something else to the Bahamas…but not necessarily in the way we wanted."
Ashleigh Rolle isn't the only person who wanted to see Exuma for herself. While both documentaries were informative (despite their issues), neither spent much time on how McFarland's firestorm affected an entire country and its people.
"There was a little confusion when the tweets first came out because it was, 'the Bahamas, the Bahamas,' there were no names being dropped," Ashleigh Rolle recalled. "It was just an entire country taking flak for a festival we had no involvement in. But within those first 48 hours it came out that it wasn't our fault."
The island's tourism game is still strong...
While McFarland caused a lot of damage, social media-wise, tourism -- the Bahamas' No. 1 industry -- is still intact.
The country's arrival projections are up 10.3% for the first quarter of 2019. "International arrivals to The Bahamas, including The Exumas, have grown consistently since October of 2017," the Bahamas Ministry of Tourism and Aviation said in a statement provided to Thrillist. "In spite of this unfortunate event, arrivals to The Exumas in 2017 were 27% higher than the previous year."
Last year was just as fruitful for Exuma. "The 49,054 visitors the island attracted during the January–September 2018 period paces just ahead of the 61,906 total visitors to Exuma in 2017," Stephen Bennett, Caribbean tourism expert and co-founder of UncommonCaribbean.com, shared with Thrillist.
Hotels are seeing similar success. Grand Isle Resort & Spa, which is just a small marina away from the lot that hosted the "festival," has seen an increase in numbers since that fateful weekend, during which the property sheltered and fed festival goers.
One might conclude that Fyre Festival has maybe helped tourism in the Bahamas -- people are seemingly visiting the islands in droves to see where it all went down. But Bahamians and experts do not believe that is the case.
"While the festival may have raised awareness of the Exumas' presence, we can attribute the increase of tourism to its exotic location that provides a deep sense of privacy," Lester Scott, managing director of Grand Isle Resort & Spa, said. They believe their recent success is a result of strong promotion of what Exuma offers -- marine life, stunning views and swimming with the pigs -- is a much bigger draw than Fyre's failure.
Bennett believes a new hotel in Nassau, an expansion in air service, and common sense allowed for much of the Bahamas' growth since 2017. "I think that travelers today are smart enough to separate the mess that was Fyre Festival with the magic that is Exuma and the Bahamas."
… but Fyre Festival changed the narrative.
"[Fyre Festival] didn't really change the flow of tourists, but it did change the narrative," Ashleigh Rolle said. "The conversations have definitely turned from 'what beach can I go to?' to 'where was Fyre Festival?'" Tourists are asking this no matter where they are in the Bahamas, Ashleigh Rolle said. "And we're like…'it wasn't even here…the Bahamas has 700 islands…'"
This isn't a conversation Bahamians want to be having. "A friend said to me, 'I hate that the first time people are talking about the Bahamas in such a big way, it's about this,'" Ashleigh Rolle recalled. "Because we have a lot to offer. Bahamians are such jovial people anyway, so we're laughing it off."
Small businesses were burnt by Fyre
Yeah, many people are laughing. But others are crying, especially Exuma locals who were involved, in particular highlighted in the Netflix documentary.
When explaining how Fyre Festival landed on Great Exuma specifically, the film shows what looks like a proposal, outlining the benefits the event would bring to the Bahamas, including, "the creation of hundreds of jobs for Bahamians."
"I experienced local caterers, vendors, spa operators, security firms, and tour operators just dive head-first into the venture at a great risk to their livelihoods," an Exuma businessman -- who asked to remain anonymous but was indirectly involved in the festival -- told Thrillist. "I am sure they were looking forward to increased business."
"The owners/operators/agents of this festival represented they would perform a service that would require the services of local persona and businesses," Chamber of Commerce president Pedro Rolle told Thrillist. (No relation to Ashleigh Rolle -- "Rolle" is a common last name down here.) "As with any economic opportunity, locals ... simply expected to be paid based on the representations made."
Exuma's Chamber of Commerce has no indication that businesses were created for the express purpose of servicing the festival but Pedro Rolle noted that it is possible some took on additional staff for this specific event.
Many of the local workers were left unpaid when the festival went belly-up. According to the Netflix film, about a quarter of a million dollars is owed in day wages to laborers.
Maryann Rolle is one of Fyre's many Bahamian victims. In the Netflix documentary, the owner of Exuma Point Beach Bar and Grill said she spent $50,000 in her savings, and is owed a total of $137,000 to pay and feed festival workers. Since the release of the documentary, Maryann Rolle's story has gone viral and a GoFundMe campaign for her has amassed over $200k.
She's one of few who've had any luck getting their money.
"Food stores and liquor stores were worked to the bones and ragged. Many are nursing hefty loans," said the Exuma businessman. "For most of the businesses involved, it was an expensive experience but they are managing to stay afloat hoping for some relief from organizers, I guess."
Likewise, the Chamber of Commerce's Pedro Rolle doesn't know of any businesses that have closed as a result of the festival. In the Bahamas, each island has its own economy. "Exuma is a relatively small economy and the businesses affected by the Fyre Festival, they were mostly family-based enterprises," he explained. "The reality is, Fyre itself did not destabilize our economy, just negatively impacted it by the manner it's affected our small-business owners," he added.
But it didn't just impact locals' finances. These are people, with feelings. And, for lack of a better phrase, they feel burnt by Fyre. "Many are angry they were not given a fair chance to show their hospitality and worth. Some still feel used and taken advantage of in that they worked weeks with no pay," said the Exuma businessman. "I think many are still hurt."
The festival also damaged reputations. Restaurant owner Maryann Rolle told local paper Tribune242 that the GoFundMe earnings might help her get "credibility back now."
You might recall one of the most shocking tweets from the festival: a deconstructed cheese sandwich an attendee was served instead of the gourmet meal originally advertised. "That photo of the cheese sandwich … I know for a fact they weren't fed that … They were fed cracked conch and fried chicken and amazing salads," Ashleigh Rolle said. "They tweeted about wild dogs and they started talking about locals like they were savages," she said, indicating that these rumors were false. She adds that no one was complaining about how the organizers were behaving. "They didn't tweet about how the organizers left their rentals cars on the side of the road," she said. "It did more reputational damage."
Exuma is all "thank u, next"
Despite the bad taste left by Fyre Festival, Bahamians are very forgiving. "[Exuma] would definitely be open to another festival," social media consultant Ashleigh Rolle said.
"I think they'd want it to be on one of the more developed islands or just pay better attention to what's going on." Pedro Rolle agrees. "Exuma hosts a number of mini music events every year and this year will be no exception," he assured Thrillist. He thinks the experience has taught local officials how to better deal with international festivals. "The Fyre experience will understandably make locals more careful of the manner in which they enter into [partnerships]. Less word-of-mouth and more inclined to have necessary deposits and contracts."
Our anonymous local believes at least one good thing came out of this experience. "I looked at it in a positive light in that it exposed our island's deficiencies such as transportation, health, accommodation, activities, airport facilities upgrades, communications, etc."
Airport updates were announced in January 2017, and hospital upgrades have been in the works for years. According to the local businessman, locals had been fighting for similar infrastructure updates long before Fyre flew in, but when hordes of festival goers were stranded in Exuma's largest airport, it shone a spotlight on other areas; improvements are on the way.
Ashleigh Rolle promises that Bahamians are open and friendly, especially to tourists, and don't mind answering questions about Fyre. But tourists need to remember that Fyre was one festival on one small island, far away from many other Bahamian islands.
"Bahamians outside of Exuma didn't know this event was even happening," she pointed out. "I wouldn't say that Bahamians would dodge the questions or even try to be dismissive about it, it's just that many locals (up until the information from the documentaries came out) didn't know much about the festival and even now they probably know as much as everyone else."
So maybe save your questions, if you must ask them, for Exuma.
"I just want people to know that Great Exuma is a proud island filled with so much heritage and history," Ashleigh Rolle said. "It's crazy that an island that was able to free itself from such intense colonialism had to end up being a victim to Billy. It's very ironic, in a very trash way."
Maggie Parker is a Thrillist contributor and freelance journalist passionate about celebrities and hotels. Don't get her started on celebrities in hotels. Follow her on Instagram at @maggiewparker