The best way to see a new place is to eat your way through its restaurants, and the Emerald Isle is no exception. With a ton of farmland, artisan cheesemakers, and fishing ports (um, it is an island), Ireland's culinary scene is exploding, notably thanks to a focus on locally-sourced ingredients. At this point, even the world's most-discerning critics are starting to notice. Here's where you should definitely be making a reservation:
Chef Jess Murphy's partnerships with local growers and makers has turned Galway into foodie paradise. Three different Irish cheesemongers, several nearby farms, and local produce are the backbone of her fresh take on traditional Irish cuisine. Her husband and Kai's co-owner, David, runs the cozy front of house, which features stone walls and lime-green antique dining chairs.
Try: The monkfish, and be sure to religiously sop up the extra broth with their
homemade brown bread.
Harry's Shack, Portstewart, County Londonderry
John and Sally McKennas' Guides named Harry's "Ireland's Best Restaurant" just a few months after it opened in 2014. They got so busy in the ensuing rush that they literally ran out of food for their simple, inexpensive menu. That's extra surprising for a restaurant so off the beaten path that its dining room is in a shed -- which is owned by the National Trust, and perched on Portstewart Strand, with its scenic sand dunes.
Try: Fried whitebait served in a newspaper cone, which doubles as a napkin, or a hat. But probably just a napkin.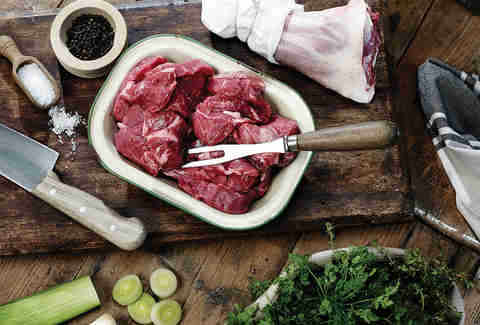 If you want a real Irish delicacy, try boxty -- essentially an Irish latke. And they know
boxty at Gallagher's, because Pádraic Óg Gallagher (the man behind the restaurant) is a leading expert on the potato (seriously -- he's published academic works on the Emerald Isle's spuds). At Gallagher's they play up the dish's versatility, serving it as a gnocchi with various toppings, and topped with bruschetta and goat's cheese.
Try: Boxty maybe? But there are other Irish classics too, like four different kinds of stew and an eight-hour roasted lamb shank.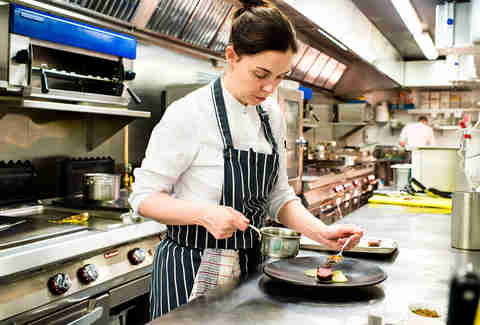 At Deane's Eipic (don't get too proud of your Gaelic -- it's pronounced "epic," like your meal), Chef Danni Bari's dishes are all about flavor subtlety, influenced by her travels in South Africa, New Zealand, Australia, and central Europe. The results -- such as Jerusalem artichokes cooked in beef fat, served with caper butter and herbs -- have energized the Northern Ireland fine dining scene, and made Bari the second woman in Ireland's culinary history to be awarded a Michelin star.
Try: Dinner is served as a tasting menu at two different price points, £40 and £60 (that's about $49 to $73 American dollars), plus a vegetarian option.
Chapter One is one of Ireland's most consistently praised restaurants; named the
island's best at least seven times, it has held onto its Michelin star for a decade. But besides the accolades, Chapter One also has this going for it: it's located in the basement beneath the Dublin Writer's Museum. So after you fill up on James Joyce factoids, get the three-course pre-theater menu, which features options like venison with poached parsnip, braised cabbage, and bacon (plus blackberries and chocolate), or pheasant with braised barley and mushrooms.
Try: Do save room for the malted banana ice cream atop an espresso sponge cake, served with an earl grey tea ice and caramel powder.
At Mulberry Garden, everything in the restaurant, right down to the hand soap, is Irish. Pair that with the fact that it's literally on Mulberry Lane, tucked in a ca. 1911 cottage, and you've got a locale straight out of a limerick. The menu changes weekly, based on whatever produce is best from the local markets and the top choices of meats, fish, and dairy from nearby suppliers. Dinner is served as a three-course prixe-fixe affair for just under €50, (about $53 in the US), with items like Kerry Hill lamb (and of course, Irish cheese with an apple and raisin chutney for dessert.)
Try: Dublin Bay prawns are also known as Irish Langoustines, because they are essentially junior-sized lobsters. If they're on the menu, grab 'em.

Ardmore has been attracting Irish vacationers for years thanks to its long sandy
beaches and charming fishing village. But now, something else is drawing people
to the seaside town: the food. Particularly, the food at The House, the Michelin-starred restaurant inside the Cliff House Hotel, run by Chef Martijn Kajuiter. The restaurant bills itself as "modern Irish," and is as fresh as it gets due to the co-op garden the hotel shares with nearby St. Raphael's Centre -- a residential center for people with special needs.
Try: Scallops from West Cork with sweet corn and spinach, plus a side of Irish herring caviar.
The dining room at Chez Hans is an 1800s Wesleyan chapel, and it's been serving consumers of fine food since 1968. It's also the formal older sister to the newer, more casual Cafe Hans, just outside the Rock of Cashel. If you're curious about where the dishes come from, just check the bottom of the menu: every supplier is listed. At Cafe Hans, there are plenty of lunch options perfect for filling you up after exploring the nearby Rock of Cashel, from casual burgers and sandwiches to its delicious homemade soup, a must when the wind whips up.
Try: Start with the pulled pork and wild mushroom ravioli, then order the Irish venison two ways for the main.
Home, Belfast City
Home started as a pop-up restaurant in Belfast's City Center, and was such a hit that they extended their stay, first by a year, and now, permanently at Wellington Place, near City Hall. It's "feel-good" food, befitting the name, but with a healthy twist. (In fact, there's an entire gluten-free and vegan menu, if your travel buddies aren't the "meat and potatoes" type.) Classic dishes that have been around since the eatery's pop-up days remain on the menu, flanked by seasonal additions and catches of the day.
Try: Hot and sour Asian chicken broth or whipped goats cheese with candied walnuts. Or, you know, both.
This tiny restaurant, next to some serious scenery, serves only seafood, making it the go-to spot when you're craving fish. The menu changes every day depending on the catch, and if there are no fish, the place doesn't open. Your options are laid out on a blackboard, and every single dish includes a fish, mollusk, or crustacean. Some options might be the grilled John Dory with tarragon sauce, or a langoustine bisque. If you get there between 5:30 and 6:30pm, you'll beat (some) of the crowds and be treated to a pseudo early-bird special where two courses and a glass of wine will set you back just €31, or 33 bucks.
Try: FISH.