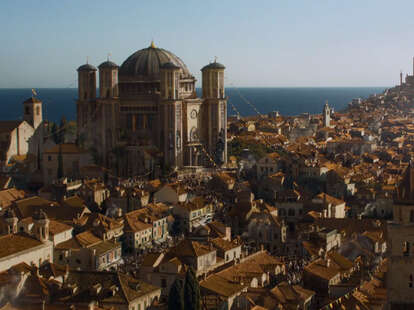 HBO
HBO
Game of Thrones fans have no doubt spent the last year pondering a number of burning questions: When will Joffrey get what's coming to him? How can they top the Red Wedding? Will Hodorever finish his book of haikus?
Finally, the awesomely popular series is back for Season 4, and you're free to resume your GoTdrinking games and themed dinners. But if you want to take your fandom to the next level, slowly step away from the chat boards (ok, just close the browser window), and click here to book Black Tomato's nine-day Game of Thrones Croatian/Icelandic adventure designed to take you to some of the show's most iconic filming locations.

The first stop on the tour is Dubrovnik, a Croatian seaport that you should recognize as King's Landing. GoT clearly relies heavily on CGI to build its fantastical environments, but with the help of your guides (who scouted the show's filming locations), you'll lay eyes on Blackwater Bay (Dubrovnik Harbor) and The Red Keep (Lovrijenac Fortress).
Protip (or really, a suggestion): Re-watch as much of the show as possible before taking off -- you don't want to look clueless when the guide points to a stone pier that everyone else obviously recognizes.

From there, you'll sail to Lokrum Island, where most of Daenerys Targaryen's visit to Qarth was filmed (including the super-creepy House of the Undying), before heading on to the Trsteno Arboretum, aka the place they shot that awkward scene between Sansa Stark and Tyrion Lannister in the Red Keep's garden.
The rest of your time in Croatia'll be spent freestyling, as in sailing around the Elafiti Islands, exploring hidden coves, and sunbathing on white sandy beaches, all the while trying to forget how George R.R. Martin murdered your favorite characters.
After four nights in the Adriatic, you'll jet over to Iceland to settle in for five more days of adventure. First stop, Vatnajökull glacier in Skaftafell National Park; one of the largest ice caps in Europe, it's also where Jon Snow's exploits north of The Wall were shot.
Later in the trip, you'll visit Lake Mývatn, which served as the set around the Wall. Wildling raiding parties like the one pictured here are, unfortunately, not part of the experience.

Finally, wanna take a jet-boat ride down the Hvítá river and/or get a sneak peek at some fourth season action? You know, so you can tell your friends that you've totally been there. Also, that you know what a jet-boat is. Good, 'cause Thingvellir National Park's one of the last stops on the itinerary, and its unique volcanic terrain will appear in upcoming scenes from Arya Stark's storyline with The Hound.
The Game of Thrones trip package adventure starts at $12,984 and runs May through October -- book your spot here.
Gianni Jaccoma is an editorial assistant for Thrillist Travel, and he really, really loves Game of Thrones. Follow him to beyond the Wall on Twitter at @gjaccoma.