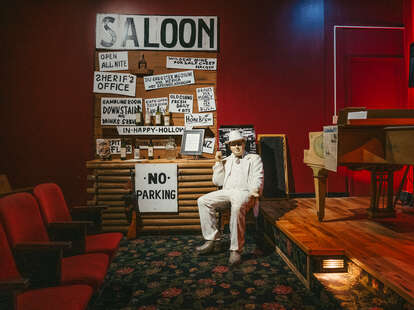 Don't worry, it's not the real Capone.

| Photo by John David Pittman for Thrillist
Don't worry, it's not the real Capone.

| Photo by John David Pittman for Thrillist
On the morning of June 17, 1933, a train leaving from Fort Smith, Arkansas, pulled up to Kansas City's Union Station. On it were a group of officers and one FBI Special Agent, with federal prisoner Frank "Jelly" Nash in tow. They were transporting the infamous burglar and murderer back to the penitentiary in Leavenworth, Kansas, from which he had escaped three years earlier.
Waiting to spring Nash at the station were fully armed mob associates Verne Miller, Adam Richetti, and the notorious bank robber Charles "Pretty Boy" Floyd. The officers disembarked, and just as they had placed Nash in the front seat of their waiting car, a voice was heard saying "Let 'em have it!" Machine gun fire sprayed, killing two police detectives, the police chief of McAlester, Oklahoma, and four officers, including the Kansas City Special Agent. Also killed? Frank Nash. Whether that was intentional was never determined.
The bloody incident became known as the Kansas City Massacre and is marked in legal history as the catalyst for stronger federal crime laws—including allowing FBI agents to carry firearms and giving them the authority to make arrests. (Before that, their jurisdiction was much more limited.)
But there's also something else notable: Frank Nash had been hiding out for years—enjoying underworld protection after breaking parole—in Hot Springs, Arkansas. That wasn't by accident.

The thermal soaking waters of what was then known as America's Spa City were not just a magnet for Texas oilmen, musicians including Duke Ellington and Elvis, baseball players like Babe Ruth, and tourists who flocked to slick establishments like the Como Hotel, where the glazed white bricks came indented with the word "Tiffany," manufactured by Leon Tiffany, brother of the jeweler Louis Comfort Tiffany. This was also the preferred vacation destination for mobsters from all over.
Al Capone first visited in the mid 1920s, when he was the right-hand man for Johnny Torrio in Chicago; it's said Capone would "take the waters" to treat the syphilis that would eventually leave him deteriorated. Capone's cohort Lucky Luciano made appearances, as did gambling kingpin Julius Salsbury from Baltimore and the brutal Owen Vincent Madden, aka Owney "The Killer"Madden. (He owned New York's underground. Also, he killed a bunch.) Madden made his affair with Hot Springs permanent: After his second stint in Sing Sing, he was exiled from New York by then-governor Franklin D. Roosevelt. He relocated to the Arkansas town, eventually marrying the postmaster's daughter and living his days out violence-free in the South.
The gangsters came for the peace. "The politics and the government here were so lax, they protected them, because they came with a lot of money," says Robert Raines, director of The Gangster Museum of America. "This was a safe place to meet, discuss business, have a good time, and go back and rob a bank somewhere else and get some more money." He notes that there were no robberies in Hot Springs in the '40s, '50s, and '60s, because all the robbers were there on vacation.
You could say the town was, well, asking for it. Before the gangsters even caught wind of the place, Hot Springs—a portion of which had been parceled in 1832 into federally managed land before becoming a national park in 1931—had an underbelly of its own. Gambling in Hot Springs began in the 1870s, and joining it, brothels and illegal auction houses. The divide in the city was striking and literal: On one side of Central Avenue was the federal property of the bathhouses, beautiful and ornate in architecture. And on the other side, lawlessness. Here was a city where Prohibition never happened. Where Al Capone smuggled moonshine out to Chicago in its Mountain Valley Spring Water jugs. At its peak were over 70 gambling locations—all illegally operating—including the Oaklawn thoroughbred racing track, still there today. And it was an open secret: "The FBI in 1963 said in a New YorkTimes article that Hot Springs accounted for $100 million dollars a year of illegal gambling and prostitution," says Raines. "The rest of the country knew about Hot Springs." Steps were taken to dismantle the illegal gambling operations the next year.
And, today, it's here on this formerly lawless side of the street, across the way from the historic Buckstaff Bathhouse, that The Gangster Museum of America now resides.

A marquee outside is decorated with dice and playing cards. Formerly a Frankie's cafeteria-style restaurant, this 10,000 square feet of space is tricked out, stuffed with paraphernalia donated and picked up from auctions, taking cues from its subject matter with immersive elements: tour guides in pin-striped suits and fedoras, original casino games you can play—including an old-school roulette table—and secret passageways. You enter through a bank vault door that blends into the background until, you know, it swings open.
This is the second location of the museum, opened in 2011. The first, in 2007, came about from an idea Raines got from his friend who runs conventions in the city. "He said there are two things that convention-goers ask when they visit," Raines recalls. "One is, 'Can I still take a thermal bath?'"(Yes, you can.) "The second is, 'Did Al Capone really come here?'" Raines, a former computer technologist, actor, and video producer, started digging into the city's mob history and was surprised at how deep it went. "I don't think anybody knows why this place is like it was," he says. "So I thought if I could figure out a way to tell the story where it's not really talking about gangsters and their way of life, but more or less talking about them as visitors and tourists coming here, and what they did while they were here, then it might be palatable."
Talk to him today and he's a virtual encyclopedia of the underworld, citing names and dates—and also crimes—with minor prompting. There are seven galleries in the museum, including a Madden Gallery, a Casino Gallery, and a Capone Gallery, which includes a picture of Capone's cell at Eastern State Penitentiary, his 1930 Time Man of the Year cover, and some examples of those Mountain Valley Spring Water jugs (that guy was always working). Each room features a video hosted by Raines, but there are also interviews with subjects like Deirdre Marie Capone, the granddaughter of Capone's brother, Ralph Capone.
Raines is currently into outlaws—the rough-and-tumble descendants of Jesse James, different from the slick gangsters whose underlings did most of the dirty work—as he's researching them for an upcoming book. So ask him about a favorite item in the museum, and he'll go to robber John Dillinger, specifically the museum's plaster Dillinger death mask, obtained from author, former Playboy editor, and friend William J. Helmer, who pretty much wrote the book on Dillinger. Helmer's aunt was working in forensics at the hospital when Dillinger's body came in; a photo of her working over it is on the wall.
He's also effusive about the Baseball Room. Major League Baseball's Spring Training as we know it began in Hot Springs, with owners drawn to the thermal waters. "Originally the owners came here and enjoyed the baths and they said, 'Well, you know what, these guys are drinking and carousing everywhere anyway, why don't we get 'em all here?'" says Raines, the idea being the players would get their jollies out at night and "boil it out" in the morning before practice. The town was small enough for the owners to keep an eye on their activities, and the outdoors of Hot Springs National Park also made for great training grounds: the 1939 Brooklyn Dodgers apparently took 10-mile hikes over the mountain trails to get their limbs in shape.
The players were also entertainment for the mobsters that were there. "All of the mob were from big cities that had baseball teams," says Raines. "So they could come here and in the mornings go out to Whittington Park, which is a ten-minute walk from downtown, and watch Babe Ruth and the others play for free. Just sit in the stands—which were just five or six concrete steps—and watch 'em and holler at 'em."
Baseball luminaries like Babe Ruth, Honus Wagner, Jackie Robinson, Satchel Paige, all came through. You'll find their pictures on the walls of the gallery, next to the kind of creepy statue of Babe Ruth, under twinkling lights mimicking a night at the ballpark.
After spinning the roulette wheel or cranking the arm of the one-armed bandit, stop in the last room for a photo with a dapper Al Capone, lounging in all white. Then exit through the gift shop, which now includes The Hatterie, where you can pick up your own retro digs. Here you'll also find several books on the museum's subject matter, including the recently published (and New YorkTimes notable) The Vapors: A Southern Family, the New York Mob, and the Rise and Fall of Hot Springs, America's Forgotten Capital of Vice and Hot Springs: From Capone to Costello, written by Raines. And if you're thirsting for more info, last year Raines launched a podcast: TGMOA After Dark. Original interviews include one with Colonel Lynn Davis, the director of the Arkansas State Police in August 1967, when Governor Winthrop Rockefeller ordered the gambling in Hot Springs shut down. To execute the command, Davis set up a raid, seizing truckloads of gaming equipment from the casinos, which the state police set on fire. And that was the beginning of the end—only to live on at the Gangster Museum.
Vanita Salisbury is Thrillist's Senior Travel Writer. She wonders if she could pull off a white suit like Capone. (Probably not, she likes spaghetti too much.)