Which state has the cheapest gas?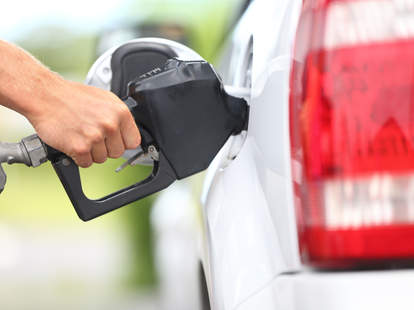 2004 was a great time. Pluto was a planet, Ja Rule was making music instead of license plates, and gas cost only $2 a gallon. Then the world flipped upside down and gas prices doubled in a decade.
But 2014's already looking up: Gas prices are their lowest in two years! Although Pluto's not a planet anymore, and Ja Rule's not making music. But gas is cheap again!
And if you live in South Carolina, you're paying the lowest prices in the country. According to the latest data from driving app GasBuddy, South Carolinians are paying just $2.77 per gallon. Prices were cheapest in general across the South, as evidenced by the five states with the lowest prices:
1. South Carolina - $2.77
2. Tennessee - $2.78
3. Mississippi - $2.80
4. Virginia - $2.81
5. Missouri - $2.82
Those prices mean you'd need just under $45 to fill up your SUV, assuming the average SUV holds about 16 gallons.
As for the priciest states, Hawaii and Alaska ding your wallets worst, with gas running $4(!!) per gallon in the Aloha State and $3.74 in the Last Frontier -- not to be confused with the Final Frontier, since the Starship Enterprise runs on deuterium fusion reactors and not gasoline.
New York ($3.40), Connecticut ($3.57), and Wyoming ($3.30) are all pretty bad, too.
And given the cheap gas and the fact that Charleston is the cheapest airport in the country, maybe it's time to plan a vacation to South Carolina.
 
For a look at the average gas prices per state, check out GasBuddy's heat map below.
Chloe Pantazi is an editorial assistant on Thrillist's travel team. Yes, that's a British accent. No, she doesn't watch Doctor Who. Follow her on Twitter at @ChloePantazi.