America's Wildest National Park Is a Journey to a Time Before Humans
Sometimes, you've gotta remind yourself that Mother Nature's still got it. That no matter what we throw her way, the Earth still has massive, towering, free-flowing places where nature and animals all exist without a hint of human contact. Sometimes you just need to stand on a mountaintop with no other people in sight, breathe in the air, and go, "Damn, this place is a miracle."
These kinds of experiences are the intention of our national parks. But anyone who's visited any of the more-popular parks also knows that getting somewhere that uninhabited isn't so easy. That spiritual feeling of isolation might require going somewhere a little less popular. Just to pick one out of a hat: How about, say, the least-visited national park in America.
Enter Gates of the Arctic National Park and Preserve in north-central Alaska, an 8.5-million-acre swath of untamed wilderness with no roads, no signs, no infrastructure, and virtually no trace of human existence. It's a rugged, mountainous brute of a place where you can explore land no other living person has set foot on. Getting here won't be easy. Or cheap. Or really sensible at all. But if your idea of vacation is disconnecting completely, and experiencing the planet as it was before people took over, there might not be a better place in America for you.
All of the scenery, none of the people
With all that as a caveat, it may surprise you that all of 11,000 people visit the Gates of the Arctic each year -- fewer than the Grand Canyon sees daily. A stamp from here gives you a lifetime of national park street cred, not only because it's incredibly difficult to get to, but because the unique, rigorous experience.
"It's a place that truly shows what it means to get out into wilderness," says Adam Mehlhorn, the park's district ranger. He's one of two staffers at the park's visitors station in nearby Bettles, a number that balloons to half a dozen in summer. "It will have a profound effect on you, to be in an area that's never been touched by people. People can take solace that there's a place out there where animals can continue to do what they do naturally. The significant impact humans have had, it's life-changing to realize there are places that aren't like that."
The park houses the central and eastern parts of the Brooks Range -- essentially the northern tip of the Rocky Mountains -- as well as the Endicott and Schwatka Mountains. The most popular destination in the park, relatively speaking, are the Arrigetch Peaks, a set of jagged mountains and valleys reminiscent of Yellowstone's Hayden Valley or Yosemite's Half Dome, with literally none of the people.
Standing alone atop a windswept peak staring out at treeless infinity with rivers cutting through green fields is a rare experience, and one that doesn't come easily. The highest point in the park is a little over 9,000 feet, though most peaks are around 3,000. None have anything resembling marked trails or signage, so while the climbs might not be that high, they're extremely difficult. Once at the top, with nobody else around and endless expanse, you'll feel a little like Simba looking out on the savanna, knowing all you survey is yours in the fleeting moment.
"It's so drastic and impressive, but if it was somewhere you could drive into that would really affect it," Mehlhorn says. "That's the big reason people want to come out here: You're really getting that 'you're the only person out here' kind of feeling."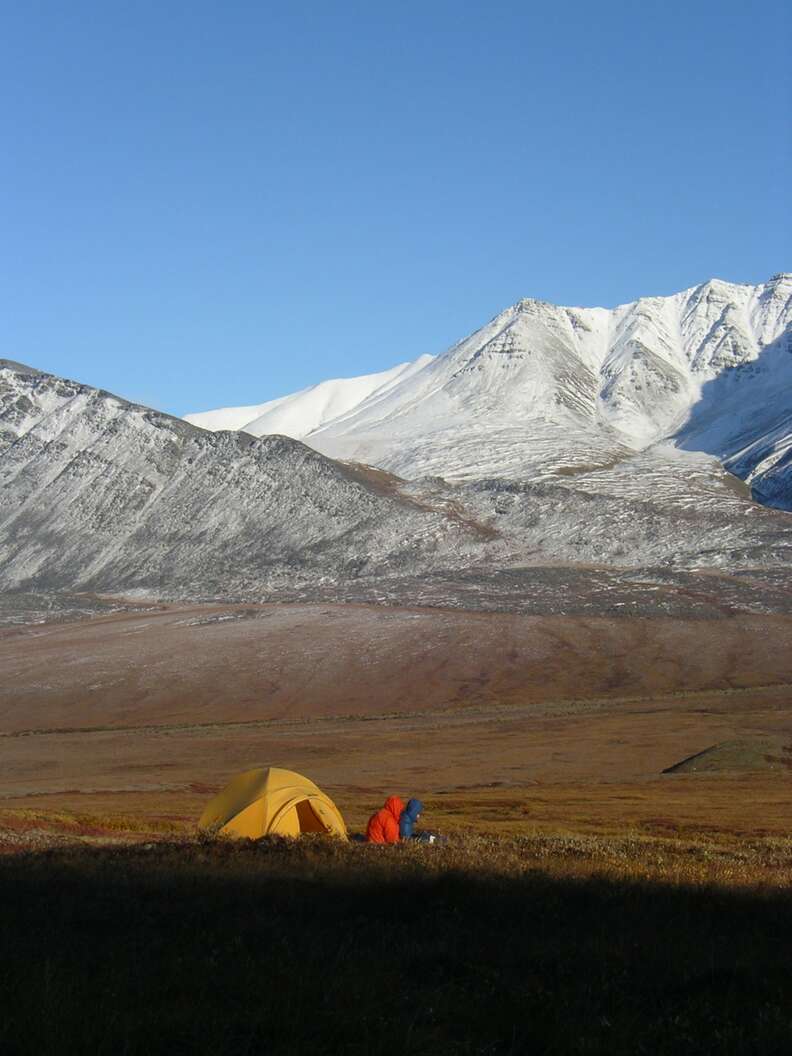 Ditto on rafting any of the six designated Wild and Scenic Rivers in the park. While rafting rivers like the Kobuk, Noatak, and Koyukuk you won't see a single bridge going overhead, but you will see wolves, wolverines, and moose. Days here will have you floating past bears and caribou who've literally never seen a human being before, as they migrate through the park.
"They're just as surprised to see you as you are to see them," Mehlhorn says. "It's truly seeing animals in their wildest form. They may have lived their lives and you're the first person they've seen, and it's like seeing an alien in Central Park."
He insists the animals are more curious than dangerous, and people shouldn't worry too much about encounters. You're thrown back into the food chain, but maybe it's even serene to float through a valley between towering mountains, with nothing but wilderness and animals in front of you. It's as close to being a pioneering river explorer as most of us will ever get.
Sign up here for our daily Thrillist email and subscribe here for our YouTube channel to get your fix of the best in food/drink/fun.