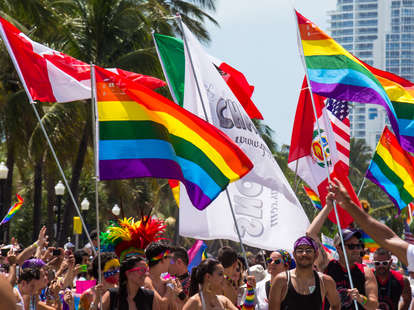 Miami Beach Gay Pride Parade

| Atomazul/Shutterstock
Miami Beach Gay Pride Parade

| Atomazul/Shutterstock
Why Miami Is the Greatest Gay Destination in America
If you're even thinking of being in Miami, check out the rest of our DestiNATION: Miami guide. It's stacked with expert advice from locals on what to eat, where to drink, and what to do.
South Florida is one of the great gay havens in America. Hell, it's one of the great gay havens of the world. But it's easy to miss the good stuff.
Understand: South Florida -- by which I mean Palm Beach, Broward, and Miami-Dade Counties -- is basically one big city. From the red-roofed housing developments in south Homestead to the prefab luxury 'hoods north of Jupiter, SoFla is 130 miles of unbroken urban sprawl. Each town is a universe unto itself. Some of the burgs are full of what used to be called Florida crackers -- folks with sawgrass scars and intimate knowledge of gator behavior, who make their livings in and around the primeval Everglades swamp. Those burgs do not incubate much in the way of gay life. Another of the burgs might in fact be the gayest place in the whole world -- and if you're not from here, you probably have never heard of it.
My parents moved to Florida in 1990, when I was 7 years old. Back then, the center of Florida's licit gay life and nightlife was South Beach. (The illicit center, I've heard, was in the darker corners of Alice C. Wainwright Park, in the shadows of the seagrape and palm trees.) South Beach -- the glittering, pastel-Deco apotheosis of Miami Beach flash, known 'round the world as the setting for so many excellent late-'90s music videos -- had long been a prime destination for sin and decadence because of its weather and its distance from the respectable rest of America. South Beach is still full of debauched nightlife, much of it gay or lavender-tinged. But gentrification, which so often follows gayfolk to their ghettos, nudged much of the gay population out of Miami Beach in the 1990s.
The center of gay SoFla moved about 40 miles, trailing outposts here and setting up colonies there. It's present demesne is nowhere near as flashy as South Beach. Stay on the main roads and you might miss it all -- it's hiding behind Arby's and Wendy's, the abandoned Blockbuster and Target. But if you can find the roads in, I promise: It's spectacular.
A note on staying safe: South Florida is not the Deep South. It's too Caribbean, too Spanish, too full of New Englanders and New Yorkers and Jews. But on some nights, on certain streets, it can do a good impression. Public displays of affection are A-OK anywhere in Wilton Manors, in most of Miami Beach and much of Miami proper, and in most of the townships and municipalities around Fort Lauderdale.
But the farther west you go, and the farther north, the Dixier the landscape becomes. Good rule: If the men in your immediate vicinity are all white and look like frat boys, and if the women have hairdos you last saw on Bret Michaels' Rock of Love -- and, most crucially, if all of these people have been drinking -- please summon a Lyft and scootch off to one of the more hospitable locales mentioned below.
A note to lesbians: This guide is gay guy-centric. SoFla is full of queer women, but it does not have a queer women's scene. Even the gayest of the gay ghettos in SoFla lost its lone lesbian bar almost a decade ago. I'm sorry I don't have more for you.
South Beach
How gay is it? Late-'90s Nathan Lane.
Like Greenwich Village, Hollywood, or the strand of Parisian neighborhoods that run along the Right Bank of the Seine, South Beach has been gay enough long enough for its gayness to seep into the neighborhood's aura. The gayness is no longer a matter of individual clubs and cafes; it is a component of South Beach's glittery, sweaty, pansexual gestalt. This is a good place to integrate.
Miami Beach is a city on a barrier island, separated from Miami proper by Biscayne Bay. South Beach takes up its southernmost two miles. If you've never been to Florida, South Beach is what you think about when you think about Miami. The Versace mansion, the Colony, the Art Deco, the old mob money, the outfits that cost too much while covering too little, the riots of pastels, the tables spilling out of cafes under bright umbrellas and covering the sidewalks leading to the great wide beach, the evil consumerist paradise of high-end shopping and eating and clubbing. If that's the stuff you're coming to Florida for, you have very little reason to leave South Beach 'til it's time to fly home.
The gayness is a component of South Beach's glittery, sweaty, pansexual gestalt.
You'll find most nightclubs along Washington Ave, and lots of eats and historic architecture on Ocean Ave, which is the last thoroughfare before the Atlantic. (That's where you'll find the Versace manse, now a boutique hotel, sparkling behind stucco and shrubbery and looking like a shrine to a pagan god.) The eats on Ocean can tend towards the touristy -- there is, for example, a TGIF full of dazed-looking Midwesterners. Better to head to Lincoln Rd, in the northern part of South Beach, which is South Beach's most scenic (and priciest) location for shopping and eating. You can't drive on Lincoln, and driving almost anywhere in South Beach is a pain because there's no place to park. Get to walking.
There's a fine gay hotel called the Gaythering on the Biscayne Bay side of South Beach (with a notably steamy spa), and there are tons of gay and gay-oriented clubs on the Atlantic side -- Club Boi (which caters mostly, but not exclusively, to Latinx and black men), the gracefully aging Twist, Palace (a good place to catch a drag show), and many more. There are frequent openings and closings, and the hot Saturday or Wednesday club this year may not be hot on the same nights or in the same ways next year. My advice: Make your first stop the LGBT Visitor Center and see what's what.
The Design District, Coconut Grove, and Coral Gables
How gay are they? James Franco in a generous mood.
But really: There's a lot more to Miami than South Beach, and you're missing out if you stick to one side of the bay.
The Design District, aka Wynwood, is a formerly terrifying maze of decaying Deco buildings and warehouses. It's not very gay but it's plenty gay-friendly. Wynwood has been full of oddball galleries for two decades, and it's suddenly flush with high-end retailers -- Givenchy and Tom Ford now face each other across an intersection at which, in 2007 or 2008, I was almost mugged by a raving bald guy with one shoe and no teeth. Miami!
Come for the art and stay for the Arsht Center, a performance venue and bone-white architectural marvel that looks like a felled cubist angel. The main auditorium has outstanding acoustics, and it's the home of the venerable Florida Grand Opera.
Travel south, past the immensities of Downtown -- the Wall Street of Central America, as it's called -- and you'll arrive in the old boho hangout of Coconut Grove. This is Miami's oldest neighborhood, as well as its greenest, still full of the primeval hammocks that greeted Miami's first dredgers and builders. There's serious money down the Grove's sleepy streets. Madonna used to live here, as did Sly Stallone and LeBron James. Not far from their former abodes is the stunning Vizcaya Museum and Gardens, which is an excellent place to get gay married. There's nightlife in the Grove, too -- mostly centered around the CocoWalk, near Grand Ave and Main, though none of it's explicitly gay. (For a gay bar, you've gotta go a mile or so north to Azucar -- which, incidentally, isn't at all far from Miami's last old-school gay bathhouse, Club Aqua.)
Just a bit farther south you'll find yourself out of Miami and in Coral Gables, another lush, old-money 'hood with an understated gay presence. Go there for the theater. Actors' Playhouse on the Miracle Mile is about as good as regional theater gets in America -- I've seen Broadway-beating productions of Les Miserables, Le Cage aux Folles, and Urinetown there. You'll find more challenging fare at GableStage at the Biltmore, where director Joe Adler mounts fiercely smart productions of plays by, say, Sarah Kane, Stephen Adly Guirgis, and Martin McDonagh. (I once saw a production of Sarah Kane's Blasted there that haunted me for actual years.) Please note: The Biltmore is a stunning hotel, a relic of the Gilded Age, and you should show up to your show an hour or two early so you can wander the premises, gawp at the enormous pool, and enjoy a cocktail or three in the snug basement bar.
Wilton Manors
How gay is it? Sodom and Gomorrah meets the men's room at the Republican National Convention.
In 2006, a notably terrible film called Another Gay Movie briefly appeared in a few American theaters. It was a gross-out teen comedy with an interesting conceit: In the world of the film, gay was normal. Gay was the majority. The whole damn world was gay.
That conceit is the reality in Wilton Manors.
"The Island City," as it's known, is a little municipality 10 minutes north of Downtown Fort Lauderdale and 40 minutes north of Miami. It's surrounded by an unremarkable canal, and its borders are roughly defined by undistinguished streets -- particularly Oakland Park Blvd, Powerline Rd, and Federal Highway, which could be thoroughfares plucked from the urban sprawl around Anydamnwhere, USA.
I moved to Wilton Manors when it wasn't gay at all. I was 13, and Wilton Manors was still faintly dangerous -- it wasn't many years after Jaco Pastorius, the pioneering jazz bassist, was beaten to death on a sidewalk on Wilton Drive. Not far from that spot, there were two competing Christian bookstores selling devotionals, chintzy Jesus-themed gifts, and vestments.
Wilton Manors is an extremely wholesome-feeling burg. Sort of like Mayberry R.F.D. but with Speedos.
The Christian bookstores are long gone, and Wilton Drive is now a gay fantasia. A brief tour of The Drive, as it's known:
At the intersection of Dixie Highway and NE 26th St there is a cafe and bakery called Stork's. This is the eponymous cafe opened by Wilton Manors' gay ex-mayor, Jim Stork. Continue west from there, and on a side street just off Wilton Drive you'll find Le Patio, a teensy, deeply romantic French restaurant owned by lesbian restaurateurs Vero and Jean. Shortly thereafter, The Drive becomes a blur of gay commerce -- within a few blocks there's Rumors Bar, a gay burger joint called Rosie's with a gorgeous lanai, a high-end gay sushi and Thai joint called Galanga, a combo nightclub-restaurant with an excitingly labyrinthine layout called The Manor, a gay pool hall, two gay ice cream parlors, and two gay thrift stores.
There are gay condo developments. There's an extraordinary gay candy shop called To The Moon, the proprietor of which, Antonio, has a frighteningly encyclopedic knowledge of sweets through the ages. In a single plaza, you'll find the venerable gay bar and restaurant Georgie's Alibi, a clothing store called Gaymart, a gay sushi shop called Tee Jay's, a gay bar called Hunters, a gay coffee shop called Java Boys, and a gay optician's office called Chic Optique. One plaza! And this continues for over a mile. The het world doesn't reassert itself until long after Wilton Drive has turned south and become NE 4th Ave, and you pass by the gleefully piggy Ramrod Bar, full of leather daddies and the boys who love them.
Branching off of Wilton Drive every hundred yards or so are more streets, and each of them has gay commerce of its own. And on many of those streets are gay guesthouses. There's this one, and this one, and many more besides.
You know, a funny thing happens when the gays take over a town. The sex and sensuality that defines explicitly gay spots in a more predominantly het city doesn't disappear, exactly, but it does tone itself down. Wilton Manors is probably one of the easiest places in the world for a gay guy to get laid, but perhaps for that reason, "getting laid" does not seem to be the dominant concern of street life. Which is to say: Wilton Manors is an extremely wholesome-feeling burg. Sort of like Mayberry RFD, but with Speedos. My straight friends have started moving there, because it seems like such a friendly, healthy place to raise a family.
The Gay Beach, Fort Lauderdale, and towns near Fort Lauderdale that aren't Wilton Manors
How gay are they? Varies.
A lot of gay life orbits around the homo-singularity of Wilton Manors, and the greater Fort Lauderdale area is full of stuff to see. Some of it's subtle.
For example, there is no sign identifying the Sebastian Street Beach as "The Gay Beach," but that's what it is. Just across the street from, and slightly to the north of, the rather fratty outdoor mall called Beach Place, there is a 200- or 300-yard stretch of sand where the blankets are mostly lain upon by same-sex couples, and where the men's bathing suits are mostly of the kind known as "banana hammocks." It's fun to watch the looks of dawning bemusement on the faces of conservative tourists as they realize what they've just wandered into.
You'll find a strip club called Le Boy, specializing in adorably malnourished twinks.
Just a little ways south of Sebastian (and past the famous Elbo Room, of Where the Boys Are fame) is the eastern terminus of Las Olas Blvd, Fort Lauderdale's most famous (and overpriced) shopping street. It's lovely. Head west to where it ends in a complex of straight nightclubs, and you're suddenly not far from The Club, an extensive bathhouse where you can get into just about anything with just about anyone at just about any time. Also nearby is Victoria Park, once Fort Lauderdale's premier gay 'hood, where you can still find some very nice clothing-optional gay guesthouses. At the edge of the neighborhood is The Gateway Theatre, an old-timey movie house that features gay and independent cinema.
Though most of the area's gay bars are in Wilton Manors, you can find some charming dives around Fort Lauderdale. Mona's and The Cubby Hole are friendly, economical places to get a drink in relative peace and quiet, and they're not far from this place, which is plenty friendly, but neither peaceful nor especially quiet. And just north of there you'll find a strip club called Le Boy, specializing in adorably malnourished twinks.
North of Fort Lauderdale is a blossoming burg called Oakland Park, which is being rapidly colonized by gays priced out of Wilton Manors. It's home to SoFla's best independent beer-brewing operation, Funky Buddha, which sometimes hosts gay nights in its expansive taproom. Near there is an outpost of Lips, the drag-bar chain.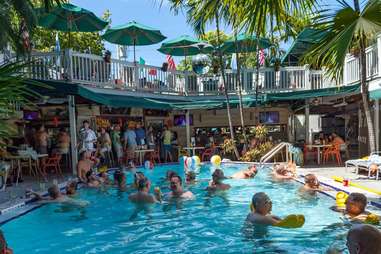 Outposts, colonies, miscellanea, and Key West
How gay are they? Varies.
There are little redoubts of gay life all the way up the South Floridian coast. Delray Beach is arty, historic, architecturally charming, and reliably metrosexual. Clematis Rd, in West Palm Beach, has an inclusive and frequently freaky nightlife. Boca Raton is full of retired gays, and they have their spots. But one can only travel so much, and if you have somehow exhausted the possibilities of Dade and Broward Counties, head south past the half-settled swamps outside Homestead, over the 40 or so bridges and 160 miles that bring you to the end of the Florida Keys.
Key West was one of America's original gay havens, just like it was a haven for anybody who had a hard time fitting in elsewhere in America: the weird, the lazy, the pathologically chill, the hopelessly boho, Ernest Hemingway. What happened in South Beach happened much earlier in Key West, and the island's explicitly gay subculture has merged with the place's general funk and fun. Now it's all gay, all straight, all pansexual, all the time. You'll find Baptist housewives from Tennessee yucking it up with drag queens at a place like La Te Da, and everybody seems cool with everybody. The hets from the Big American Middle have an unusually easy time dropping their guard here, maybe because Key West never feels quite like the real world.
There are places on the island that are gay-only. The Island House and Equator are little preserves of old-school gay life and easy sexuality, and much fun can be had there. But do get out onto the main drag of Duval St at least a few times, and mingle with the straights and tourists and local oddities in their natural habitats. Head west to the Sunset Celebration and catch the spectacular natural light show over the gulf and the motley bunch of street performers who assemble nightly at Mallory Square. The last time I was there, which was a while ago, there was a fantastic contortionist, a gymnast, an exceptionally loud bagpiper, and a guy who'd trained some of the polydactyl cats that roam the island to jump through hoops of fire, like little circus lions. I don't know if he's still there. If he isn't, I'm confident that someone comparably weird and wonderful has taken his place.
Sign up here for our daily Thrillist email, and get your fix of the best in food/drink/fun.
Brandon K. Thorp is a former theater critic with Village Voice Media. He has written for Gawker, CNN.com, The New York Times, and elsewhere. He lived in South Florida for 20 years, and that was almost long enough.