What exactly is "gay travel?"
Incidentally, it looks a lot like "straight" travel, in that no matter where we land on the infinite spectrum of the rainbow -- gay, lesbian, trans, non-binary, queer, and everything inbetween -- we all just want to create incredible memories, eat like a local, and see awe-inspiring sites. The world is a big place, and we want to find our place in it, too.
Of course, travel is political -- some countries and locales can be unwelcoming to our LGBTQ+ brethren, and as such, there's an added layer of planning. Whether traveling with your gaggle or your partner, worrying about a country's reception of your identity can cast a pall before you even get there. Are there safe neighborhoods? Will a house rental host kick you out once they find out you're LGBTQ+? Does the government offer protections for queer people? Where does a gay person find a decent party in this town, anyway?
If you're wondering how best to spend your rainbow dollars, we've gathered together a list of our favorite destinations where the locals are just as quick to ignore your LGBTQ+ status as they are to welcome you. These places not only show their pride, they embrace it, with sympathetic laws protecting LBGTQ+ people, raucous gayborhoods, and warm locals, gay or straight.
Recommended Video
Please Don't Hang Up: The Best Things to See, Eat, and Do in Milwaukee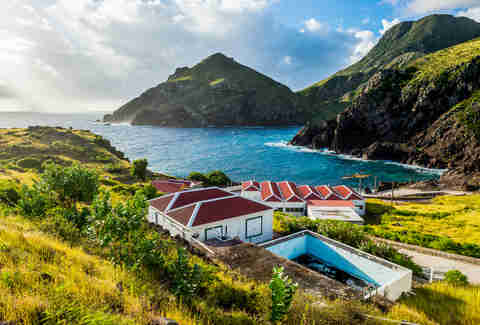 Saba, Dutch Caribbean
This emerald jewel in the Dutch Netherlands is as welcoming as they come
There's not one single gay bar on the island of Saba, but LGBTQ+ visitors have taken note of the island's welcoming spirit. Known as "The Unspoiled Queen," an honorific found on the island's license plates (a killer souvenir, by the way), Saba is perhaps one of the most liberal-minded islands in the Caribbean. A quick 12-minute flight or one and a half hour ferry ride from sister island St. Maarten, this jewel of the Dutch Netherlands is known for its peacefulness and out-of-this-world scuba diving. The island even has tour operators that market directly to the LGBTQ+ diving community, including Alyson Adventure and Undersea Expeditions. Book your stay at Queens Gardens Resort & Spa, which is best known for embracing gay travelers. There are only 12 suites, located 1,200 feet above the sea, providing insane views of the water as well as the rainforest below. --  David Duran
Buenos Aires, Argentina
This bustling metropolis teems with gay-friendly enclaves
South America's most liberal city, Buenos Aires was the first city to legalize same-sex marriage in Latin America back in 2010. Since then, the city has prided itself on being tremendously LGBTQ+ friendly -- from comprehensive protections and rights for its trans populace, to high societal acceptance (74%) toward queerness, according to a 2013 Pew Center Study. Dubbed "Latin America's gay capital," the city celebrates Pride in a big way, attracts hundreds of thousands of  international revelers year over year.
Neighborhoods worth exploring include queer enclave Barrio Norte, upscale Palermo and historic San Telmo -- it's a veritable choose-your-own-adventure, whether you're seeking out a party scene or something more low-key. Make sure to check out the Faena Hotel, arguably the city's trendiest hotel, located in the Puerto Madero neighborhood. Inside you'll find Rojo Tango, an intimate experience candlelit dinner accompanied by a sexually charged tango show that blurs gender lines. You'll also want to visit the local flower shop, Floreria Atlantico, which hides a craft gin speakeasy, recognized as one of the World's 50 Best Bars (try the fried frog legs and thank me later). -- David Duran
Taipei, Taiwan
Asia's most LGBTQ-friendly city just passed historic equality laws, ensuring its reputation as a pioneering leader in inclusion
In a historic first for Asia, Taiwan's parliament voted to legalize same-sex marriage on May 17, 2019, making it the first country in Asia to gain marriage equality. Prior to this historic vote, Taipei was typically under the radar for many LGBTQ+ travelers, even though the city has a thriving scene. Taipei is home to Asia's largest annual Pride celebration, which takes place in October, while vibrant nightlife and progressive politics that include protections for Taipei's LGBTQ+ residents. The W Hotel Taipei is known as the "gay hotel" in the city, mostly because of their W Hotels "Insiders" program, a concierge-like program that encourages hotel staff to know what's happening throughout the city, including within the LGBTQ+ scene. Make sure to visit 228 Peace Memorial Park, located in front of the Presidential Palace, which once was a well-known cruising spot but in 1997, the Taiwanese version of the Stonewall Riots took place nearby. Since then, the park became an iconic gay destination in the country. -- David Duran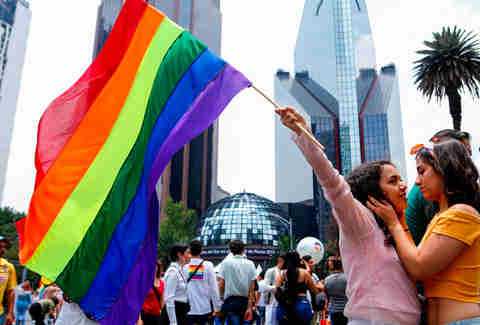 Mexico City, Mexico
A liberal-minded bastion in a country still enthralled by machismo culture
In Catholic-majority Mexico, the capital city's 2009 legalization of marriage equality within city borders was a shock, but it's inspired a growing acceptance of LGBTQ+ people throughout the country. And unlike other expensive urban getaways, Mexico City doesn't come a hefty price tag -- it's possible to find dollar beers and meals for around $5. That being said, splurge at Pujol, one of Mexico's best restaurants, which offers a six-course tasting menu.
In the Zona Rosa neighborhood, you'll find a high concentration of queer-friendly bars, discos and clubs, while LGBTQ+ friendly lodging begins to pop up around town (check out Hotel Catedral or Hotel Maria Christina). Among the city's 16 boroughs, don't miss the bustling La Condesa neighborhood, which makes a perfect home base to explore the city or Coyocan, which is the home of Frida Kahlo, -- it has become a trendy hood with a hefty gay population. But the epicenter of queer in the city is Zona Rosa, which was named after the hue of the pink pavers, although locals tend to joke that it's named after the gay bars that dot the streets. -- David Duran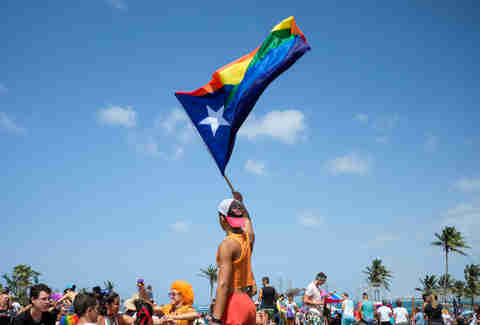 San Juan, Puerto Rico
Queer-friendly neighborhoods and chill Caribbean vibes make for the perfect getaway
As a US territory, Puerto Rico has the same LGBTQ rights and protections as the rest of the country. In 2018, PR's transgender people could securely change their birth certificates to reflect their gender identity. And in early 2019, the island territory went further than other states and banned conversion therapy by executive order, thereby further protecting its LGBTQ population. Since the early 1990s, San Juan has hosted annual gay pride marches in the city's Condado neighborhood and as the community has grown (and the territory more progressive), there's now even a second annual pride march each summer in Boquerón.
San Juan's Condado and Santurce neighborhoods have long been the meeting point for LGBTQ Puerto Ricans and visitors, with a number of bars and clubs supporting the community. Puerto Rico's largest LGBTQ nightclub, the Circo Bar, runs some of the biggest events in San Juan, including weekly drag shows, TV viewing parties, and karaoke. And every Sunday (after brunch), LGBTQ Puerto Ricans from around the island converge on Atlantic Beach in Condado for impromptu beach parties. -- Adam Groffman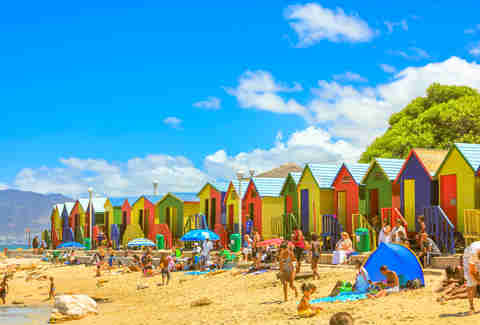 Cape Town, South Africa
Come for the gay-friendly nude beaches, stay for the vibrant nightlife
Cape Town has the reputation of being one of the friendliest gay capitals in the world and is absolutely the gayest city on the African continent. While there, you can touch the tip of Africa, swim with great white sharks and tan your bum at a gay nude beach, all in one day if you want to be adventurous. The greater Cape Town region has many gay beaches, including Sandy Bay, which is a nude beach. Back in the city though, head to Long Street, Cape Town's party district. For a stark contrast, visit Bo-Kaap, the spiritual home of the area's Muslim community. One of the city's most colorful suburbs, expect plethora of restaurants serving delicious Cape Malay cuisine. De Waterkant, a trendy area that has similar vibes of New York's Greenwich Village, is also worth exploring.
If you have time to roam outside of the city, make your way to the Franschhoek wine region. Beyond the incredible wineries, which can easily fill up two days' time to visit, spend the night at Holden Manz, a five-star guest house and winery, owned by a lovely gay couple. The décor as well as the setting are both incredible. Back in the city, stop by The Pot Luck Club -- bring your friends and order the entire shared menu, including the mint chocolate ice cream sandwich, a grand finale to an epic meal. -- David Duran
Berlin, Germany
Berlin's reputation as a capital for the queer and sex-positive needs no introduction
With a long history as an LGBTQ-friendly destination dating back to the age of 1920s cabaret in Weimar-era Berlin, the German capital today is one of Europe's most open and accepting cities year-round. Historically, the gayborhood around Nollendorfplatz has been the home for many LGBTQ activists and creatives. Magnus Hirschfeld, an early sexologist, established an Institute of Sexual Research and advocated for sexual minorities before the rise of Nazism. Monuments to the LGBTQ rights movement and persecuted persons exist around the city, including the iconic Memorial to Homosexuals Persecuted Under Nazism.
Today, Berlin attracts LGBTQ tourists for its incredible nightlife scene which includes drag artists new and established (don't miss the House of Presents every Tuesday at Monster Ronson's), legendary queer techno clubs, and a sex-positive atmosphere of LGBTQ-friendly sex clubs, parties, and events such as Folsom Europe and an annual Porn Film Festival. -- Adam Groffman