We all know how impressive—and expensive—it is to buy a house, period. (Sigh.) But it's really something to buy a house that's smack dab on the beach, in the mountains, or even deep in the forest like those in Twilight or Ex Machina. (Obviously, one might prefer their home without vampire drama or vengeful AI. Boring, but fair!)
But a lake house? A lake house is a true flex. It'll net you the best of many worlds, with the potential to command the views of the beach, the laid-back seclusion of the woods, and the immensity of the mountains. On some shores, you may even spot a few celebrities keeping things low key: after all, Wisconsin is the last place most people would expect to make friends with multi-millionaires.
Rife with cerulean waters, top-tier resorts, and nature escapes, these are the world's most beautiful lake towns. Just don't forget to invite us to your housewarming party should you decide to move in.
Lugano, Switzerland
As far as sheer beauty goes, it should come as no surprise that Switzerland—a nation whose landscape seemingly alternates exclusively between Sound of Music-style hills, ski-ready mountains, and medieval lakeside villages—makes the list, nor that the country has managed to attract the A-listers to end all A-listers over the years: Michael Jackson, Tina Turner, David Bowie, and more have all called a slice of Switzerland home. This little lake town in the Italian-speaking part of Switzerland, though, is a particularly popular spot for European pro athletes looking to buy summer homes.
Bacalar, Mexico
Despite the high bar set by other entries on this list, Bacalar in Quintana Roo is a true standout. That's primarily because it looks less like any other "lake" we've seen and more like a miniature Caribbean Sea, complete with snow-white sand and crystalline waters so varied in shades of blue-green, the body is often called the Lagoon of Seven Colors. What's more, you can rent those very same overwater villas they have in the Maldives without traveling 18+ hours into the middle of the ocean.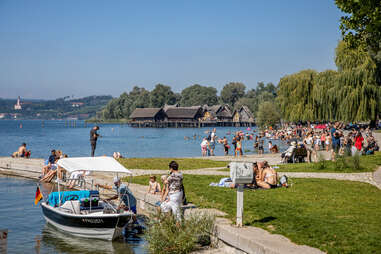 Überlingen, Germany
This city on Lake Constance in southern Germany is a popular second-home location for health-and-fitness-obsessed Germans; it's so popular, in fact, that it was the first town in the country to place a tax on second homes. The town boasts 167 miles of trails on which to bike, hike, and make your muscles sore before hitting the natural hot springs (and enjoying the impressive light shows) that make this one of the top hydro-therapy destinations in Europe.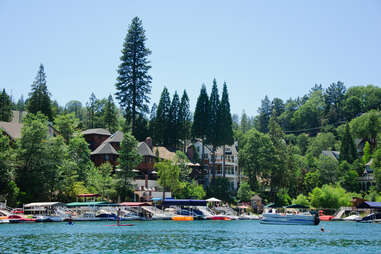 Arrowhead, California
This tiny, unincorporated town in the San Bernardino Mountains has been used as a filming location since the industry moved to LA in the early 20th century, creating the backdrops for such esteemed films as the original Parent Trap and, more importantly, Space Jam. But in addition to being a fictional home for Bugs Bunny, it's also been a real home for the likes of Michael Jackson, John Candy, Bugsy Siegel, Sammy Hagar, and dozens more.
Como, Italy
Easily one of Italy's most recognizable vistas, you can't have a list of phenomenal lake towns without Lake Como, a long-time playground for European nobles, artists, and movie stars from Hollywood's Golden Age. Today, if you find yourself a home on these hilly shores—and, you know, several million dollars to spend on said home—your neighbors will include the likes of George Clooney, Richard Branson, Donatella Versace, Madonna, and quite a few other A-listers.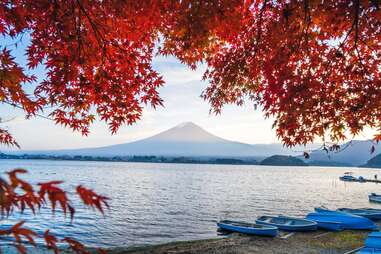 Kawaguchiko, Japan
There's really no bad place to land on the shores of Kawaguchiko, the most accessible of the five lakes that surround the planet's most recognizable volcano—which, to be fair, can be seen all the way from Tokyo on a clear day. About four hours by train from the Japanese capital, you certainly don't have to be upscale to enjoy this one: Although the area has its fair share of ritzy accommodations, there's a budget-friendly hotel (which includes an onsen with a view!) right in front of the Kawaguchiko Station that'll only run you around $60/night.
Geneva, Wisconsin
Though the Midwest does party lakes as well as anyone, it's not nearly as noted for opulent lake towns. But Geneva, the second-deepest lake in Wisconsin, is home to some of the most impressive, intimidating mansions you'll find on a Midwestern lake not considered "Great." While celebrities and technocrats haven't quite landed here, a number of wealthy Chicagoans have long made it a weekend outpost. It's also home to the creators of The Young and the Restless and the birthplace of Dungeons and Dragons, so there's that.
Panajachel, Guatemala
Of all the entries on this list, you'll get the most bang for your buck on Guatemala's Lake Atitlán. Often confused for Lake Como in photos, we'd argue that the surrounds of Central America's deepest lagoon are even better than those of its Italian counterpart: here, you'll find three volcanoes rising dramatically over the water, ancient Mayan villages, serious dedication to environmental preservation (including a total pan on plastics), and everything from tranquil hot springs to upbeat cocktail bars. Anchor yourself in Panajachel, the busiest of the lakeside towns, before setting out to explore the area and the nearby former Guatemalan capital of Antigua.
Hallstatt, Austria
Where we would usually turn up our nose at a cliche, we'll hand out a Get Out of Jail Free card to any travel writer who'd describe Hallstatt as a "fairy tale village"—this is the place that basically invented the concept. One of the oldest inhabited villages in all of Europe, one Chinese developer loved it so much, they reconstructed the entire town in China's Guangdong Province back in 2012. Just don't expect to avoid the tourist crowds, either in the recreation or the original.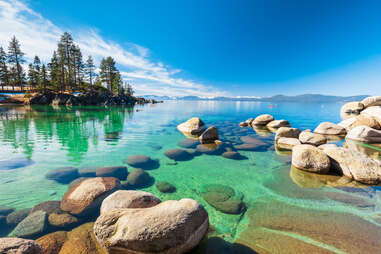 Lake Tahoe, California
Clocking in at 72 miles of shoreline, there's ample space for the rich and famous, we humble plebs, and everybody in between to enjoy one of America's most popular lake towns. Still, it's that foremost category that's really driven this place to widespread acclaim: celebrities like Frank Sinatra, Sammy Davis Jr., Cher, Liza Minelli, Alanis Morissette, and more have all called Tahoe home. Although wildfire season is nothing to be ignored, Tahoe is also a relatively perennial vacation spot, just as famous for its summertime parties as it is for its après-ski scene.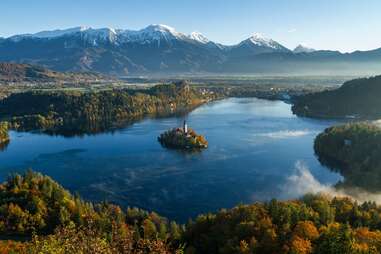 Bled, Slovenia
With the rise of Instagram-fueled travel frenzies (looking at you, Iceland) came Americans' sudden obsession with Lake Bled, Bled Castle, and the iconic Pilgrimage Church of the Assumption of Maria, which has stood on its lonely isle in the center of the lake for more than a thousand years. Beyond just the historic offerings, the area surrounding the lake is home to both an enormously popular resort town and Triglav, one of Europe's many stellar national parks.
Chelan, Washington
Enjoy your gloomy Washington State stereotypes: as far as locals are concerned, the fewer out-of-towners who know about Chelan's annual 300 days of sunshine, the better. Just three hours from Seattle in a pocket of the state that receives far less stormy weather, this mountain-lake town sits surrounded by criminally underrated vineyards, farm-to-table joints, and countless places to rent parasails, kayaks, and—come winter—ski equipment.
To really get the most out of your experience, hitch a ride on the Lady of The Lake ferry to Stehekin. Accessible only by boat, this tiny community at the end of the lake is backed by the towering forests of North Cascades National Park.
Talloires, France
There are very few places, let alone lakes, in France not visited by the rich and famous, but Talloires on the shores of Lake Annecy counts itself as one of the best. Famed figures like French painter Paul Cézanne, former actress (and present-day asshole) Brigitte Bardot, author Mark Twain, and film stars from Charlie Chaplin to Bruce Willis have all found themselves lounging on these shores at one point or another.
Tiana Attride is a travel writer and editor who is based in New York but
very
open to house swapping with somebody who lives on Lake Como. You know, just in case anybody was wondering. Follow her on Instagram at @tian.a.

Matt Meltzer is a contributing writer for Thrillist. Follow him on Instagram @meltrez1.