The World's 12 Most Luxurious Lake Towns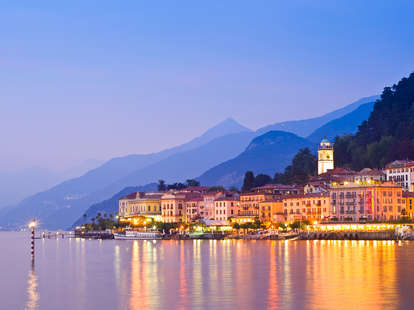 Ever since Robin Leach spent the better part of the '80s screaming at us about the ridiculous homes of the rich and famous, we've all been a little captivated by them. And by "captivated," we mean developed an unhealthy obsession/entire genre of entertainment that includes such "cultural" advances as My Super Sweet 16 and Shahs of Sunset. Thanks, Robin. Thanks a lot.
If we learned anything, though, about A-listers and billionaires from all of that bad TV, it's that they do know the coolest places to put their overdone homes. And, if they have a fancy lake house, you can almost bet it's gonna be in one of these 12 towns.
Überlingen, Germany
This city on Lake Constance in southern Germany is a popular second-home location for health-and-fitness-obsessed Germans; it's so popular, in fact, that it was the first town in the country to place a tax on second homes. The town boasts 167 miles of trails on which to bike, hike, and make your muscles sore before hitting the natural hot springs (and enjoying their impressive light shows), one of the top hydro-therapy destinations in Europe.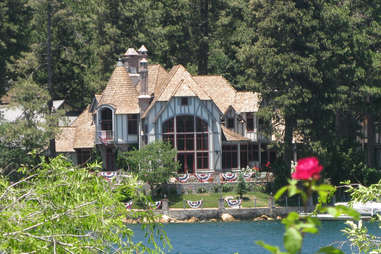 Lake Arrowhead, California
This tiny, unincorporated town in the San Bernardino Mountains has been used as a filming locale since the industry moved to LA in the early 20th century, most recently for that cinematic masterpiece known as Space Jam. But in addition to being a fictional home for Bugs Bunny, it's also been a real home for the likes of Bugsy Siegel, Michael Jackson, John Candy, Sammy Hagar, and dozens more.
Lugano, Switzerland
This little lake town in the Italian-speaking part of Switzerland is a popular spot for pro athletes in Europe to own summer homes. Not only that, but British singer Robert Palmer, in addition to being addicted to love, is apparently also addicted to Lugano -- he's now a full-time Luganoan.
Vichuquén, Chile
Lago Vichuquén in central Chile is the weekend getaway of choice for some of Chile's leading politicos, entertainers, and business leaders. And it's easy to see why: it offers a serene escape, is popular with sailors, and, since it sits only 59ft above sea level, the waters are surprisingly warm.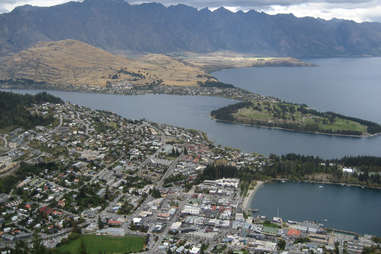 Queenstown, New Zealand
One of the many filming locations for TheLord of the Rings, Queenstown is popular because New Zealanders don't get all up in celebrity business like people in some other countries (*cough*the US*cough*). So while the town is home to, well, vacation homes for CEOs from companies like Levi Strauss and Adobe, it also welcomes backpackers and adventure travelers with open arms.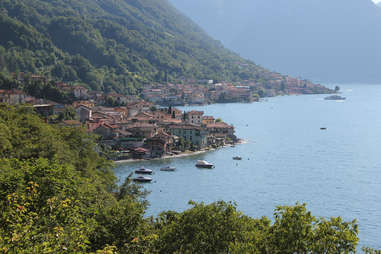 Como, Italy
You can't have a list of wealthy lake towns without Lake Como, known to the current generation as that lake where George Clooney vacations. But before George was even guest starring on The Golden Girls, this Italian town was a playground for European nobles, artists, and movie stars from Hollywood's golden age. Now, Clooney's neighbors include the likes of Richard Branson, Donatella Versace, Madonna, and pretty much the rest of the world's A-list.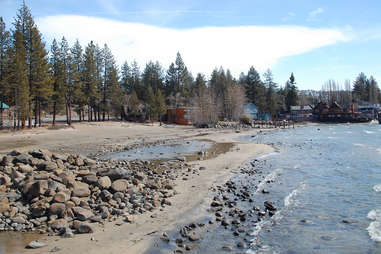 Crystal Bay, Nevada
Sure, Lake Tahoe is a great place for bachelor parties and spending a weekend on the cheap, but it's a big freaking lake (191sqmi to be exact) so there's plenty of room for the wealthy to build their fabulous lake homes. And Crystal Bay, named after the deep-blue waters that splash up on Tahoe's north shore, is the prime spot. Here, tech magnates from Silicon Valley avoid the crippling property taxes they'd pay if they owned estates on the California side. And once the Cal Neva opens back up, they'll all be a short drive from being able to drink in two states at once.
Hallstätt, Austria
This historic village in the mountains of Austria features large cliff houses overlooking Lake Hallstatt. Which is why, until the late18th century, you could only get there by boat or narrow mountain trail. Today, this authentic old-Austrian village tries to keep it old school, renting dirndls and lederhosen so that visitors can get into the spirit as they chug beer at wooden tables in the Marktplatz. Fun fact: a Chinese developer actually built a full replica of this town in the province of Guangdong.
Lake Geneva, Wisconsin
Though the Midwest does party lakes as well as anyone, it's not nearly as noted for its opulent lake towns. But this one, which sits on Geneva Lake, the second-deepest lake in Wisconsin, is home to some of the most impressive, intimidating mansions you'll find on a midwestern lake not considered "Great." And although the beautiful people of Hollywood (and tech whiz kids of Silicon Valley) haven't quite discovered the American Lake Geneva, Hugh Hefner did think enough of it to put a Playboy Club there. It's also home to the creators of The Young and the Restless and is the birthplace of the role-playing game Dungeons and Dragons, so there's that.
Stresa, Italy
Though the Borromean Islands in the middle of Lake Maggiore are the most opulent attraction in this mountainous region north of Milan, the homes that line the coast in Stresa aren't anything to sneer it. Nineteenth-century villas like the Villa Pallavicino and Villa Vignolo, with their terraced gardens and classic Mediterranean architecture, aren't just impressive buildings -- they're tourist attractions in and of themselves. As are the town's historic hotels, including the Grand Hotel Des Iles Borromees.
Mooresville, North Carolina
Located 50 miles from Charlotte, man-made Lake Norman is the vacation home destination of choice for some of the biggest names in American sports. And by sports, we mean NASCAR. Sure, Michael Jordan's got a house here, but so does pretty much every American stock car driver who's ever taken a checkered flag. Okay, maybe not every, but a lot of them. Which is why it makes sense then that the town's nickname is "Race City, USA." Although the Beverly Hills of NASCAR would probably work as well.
Windermere, Florida
This town may ring a bell from news stories a few years back about a certain pro golfer having his SUV clubbed by his now ex-wife. In addition to being home to America's most famous adulterer not named Clinton, this lake town near Orlando also boasts the houses of Shaq, Arnold Palmer, Grant Hill, and, before he took up residence at the McKean Federal Correctional Institution in Pennsylvania, Wesley Snipes.