Get ready to fork over $50 for carry-on bags on Frontier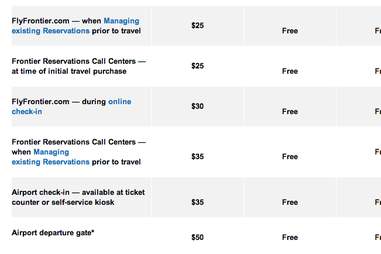 Frontier Airlines
The good(ish) news: members of Frontier's Discount Den will pay only $20 for carry-ons purchased online. Every other living soul pays $25, and the closer to departure the bag is purchased, the more the price rises -- all the way up to $50 for any bag checked at the gate for not fitting the specified carry-on dimensions.
Here's to low cost airlines!
Chloe Pantazi is an editorial assistant on Thrillist's travel team. Yes, that's an accent. No, she doesn't love Harry Potter. Follow her on Twitter at @ChloePantazi.