Get Yourself Amped For These Awe-Inspiring Adventures
We understand if you just want to take it easy on your vacation. You've been working really hard, and if only for a week, you'd like to abandon most motor functions and sit out in the sun somewhere like a reptile. We get it.
But still…
Don't do it! A vacation that requires a bit more effort will stay with you for the rest of your life. While your friends binge on Westworld in a cushy hotel room, you'll be out there enjoying its real-life equivalent (sans murderous robots). We even compiled a few options to make it easy for you. Enjoy reading about them; because that will be the last thing that's easy about these richly rewarding adventures.
Monkey Business Images/Shutterstock
See all 48 states expediently
As you get older, you don't just fall into a daily routine but a monthly and yearly one, too. You take a big trip once or twice every year, but other than that, the closest that you get to seeing the world is traveling to the ethnic market downtown instead of the corporate mega-grocery. You might think that anything more radical than that is impossible, but Stephen Von Worley proved you can dare to dream (and drive). He mapped out the shortest route in which to see all 48 contiguous states, and because he is a kind and loving demigod, he posted it online. It takes a trip that probably killed numerous hardened settlers and boils it down to one enjoyable adventure.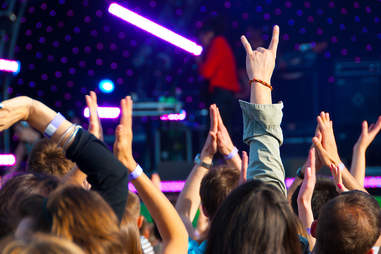 Anton Gvozdikov / Shutterstock
Follow a band on tour
What happened to the person who would drop everything at 2am to hit up a party at a stranger's house? The most adventurous thing you've done lately is defrosting your breakfast sandwich for 90 seconds instead of the two minutes it recommends on the box. If you want to recapture your former glory (and then go back to your real life because money is nice), follow a band for a little bit. It doesn't matter if it's for a week or for a month, traveling in the wake of a band can be mentally refreshing in a way that a simple beach trip can never be. It's a quick way to inject some spontaneity into your life if you feel like that's missing. A couple weeks' vacation plus a couple weeks' unpaid time off takes some planning and isn't for everyone, but you could be the #1 fan that tomorrow's legends recognize and call out at every show.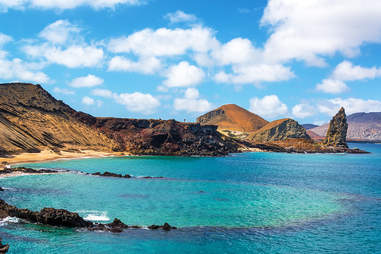 Jess Kraft/Shutterstock
Evolve as a person in the Galapagos Islands
An island paradise is pleasant, but it can also get a little stale. If you need something other than perfectly golden beaches and room service to hold your attention, we recommend a Galapagos Islands trip. Equal parts touristy vacation and Jurassic Park, a trip to Galapagos will put all of your friends' badly-framed Instagram pictures of Cabo to shame. Getting there takes some doing, but the payoff is lots of hiking, varied terrain, and more wildlife than just ubiquitous seagulls (two words: marine iguanas). The Galapagos Islands will take you back to a time before all of the world's beautiful places had been conquered in the name of the mega resort. And it's all carefully curated to preserve its beauty and history, so enjoy it guilt-free.
Steve Boxall/Zero Gravity Corporation
Get your head in the clouds
You'll probably fly to your destination vacation, and that's still exciting. But while the glory of zooming through the air at ludicrously high speeds will never truly go away, it would be nice to unbuckle your seat belt to greater effect. So how about taking a zero G flight? Remember that common little trope of the earth called "gravity?" In a zero G flight, gravity is a concept that's as outdated as ultra-wide leg jeans. There are plenty of cities that host zero G flights, and if you're willing to drop a few dimes on it, you'll soon discover that there ain't no party like a zero G party, 'cause a zero G party don't land. (Or something like that.)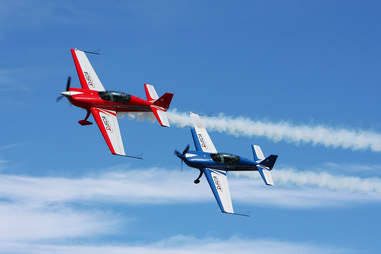 Courtesy of Sky Combat Ace
Fly a stunt plane in Vegas
After a while, everyone's "trip to Vegas" stories all sound the same. They imagine that they've been on some Galafinakian adventure, but all they really did was lose all their money at the craps table while getting rejected by the free cocktail waitress.
So the next time you go to Vegas, how about you aim a little higher? Fly (or just ride) a stunt plane with Sky Combat Ace. They have expert pilots in the craft with you, so you don't have to worry about disappearing in the desert somewhere, and the only things that you have to provide are the money and the Top Gun references. So yeah, Brad. Tell us about how "insane" your bachelor party was. When you get done, we have an actual story about barrel rolls.
Cristina Simon/Shutterstock
Catch a lleisurely llift on a llama
Thanks to the wonders of progressive social norms, there are a lot of aspects of classic movie Westerns that seem a little out of place today. However, one thing that will never go away is wanting to hang out in some unexplored territory, far away from anything with a web browser installed in it, llama by your side.
Well, the Wyoming-based Lander Llama Company read your dream journal and is fully prepared to supply you with everything you need to range out onto the, uh… range. With trips ranging(!) from a brisk three-day journey to a seven-day solar eclipse viewing trip, you can live out your fantasy of being all llama'd up with somewhere to go. You'll be walking with llamas in a place called "Sweetwater Canyon." John Wayne just shed a single tear.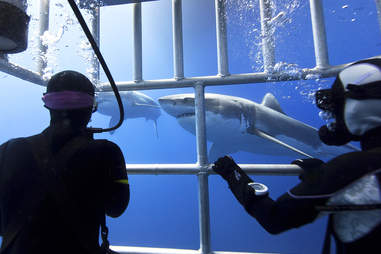 VisionDive/Shutterstock
Get a John Williams score stuck in your head
Great white sharks -- equal parts fearsome and fascinating. But what if we told you that you could go near them and be totally safe? That sounds fun to some of you, right?
Well, to those still here, you no longer have to look any farther than Great White Adventures in Isla Guadalupe. Departing from San Diego, your five-to-six day trip includes a shiver (actual term for the group!) of sharks that you can watch from the safety of a shark cage. And these beautiful beasts aren't lured in by chum, so what you're seeing is just the natural order of things. The weight limit in the cage is 250 pounds though, so we're sorry about getting your hopes up, Dwayne Johnson. But let's be honest -- The Rock is probably already in the water with no cage, feeding the sharks by hand.
Courtesy of Rocky Mountaineer
Take the most gorgeous ride in North America for a couple weeks
Planes and automobiles are fun, but there's something so undeniably alluring about a nice train ride. And there is no better location to choo-choo around than somewhere in the almost impossibly scenic Rocky Mountains. The Rocky Mountaineer will take you through the beauty of the Northwestern United States and Southwestern Canada, stopping in various cities and other destinations to allow you to soak up some culture and participate in some outdoor activities. And when you're done snapping photos and exploring, you can explore the train, looking for intrigue. This ride is perfect for those that want to see what one of the world's greatest mountain ranges has to offer, and also sleep in a bed.