Guy offers free trip to anyone with his ex's name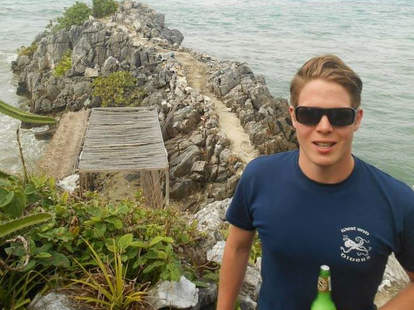 Booking a long trip with your girlfriend is a huge test for any relationship -- arguing about whether you drink beer or wine with dinner can quickly blow up and lead to you breaking up. It's a frightening commitment. But what happens if you break up before you even take off?
Well, if you're 28-year-old Jordan Axani, the answer's simple: find a new travel partner with the same name as your ex-girlfriend so you don't waste the ticket.
Yep, to avoid the hassle of changing the name on five separate flights, the Toronto-based Axani posted on Reddit offering up a free, round-the-world flight for the 18-day vacation he booked back in March before he and his girlfriend split. The only catch: that new travel buddy has to be named Elizabeth Gallagher, and has to hold a Canadian passport. But he's not even asking for anything in return.
Jordan Axani
"I am not looking for companionship, romance, drugs, a trade, or to take selfies with you in front the Christmas Market in Prague", he wrote. "If you feel compelled to toss me a couple hundred bucks, great. Really the only thing I ask for is that you enjoy this trip and that it bring you happiness."
While those caveats seem to limit the field, Axani told Thrillist dozens of Canadian women with the same name as his ex have emailed him.
The first to step forward, though, says she's old enough to be Axani's mom. Which could be cool, if he's into older women with teenage daughters.
The trip in question spans three continents and seven countries, and kicks off with a flight from NYC to Milan on Dec. 21; then, Prague to Paris on Dec. 28; Paris to Bangkok on Dec. 29; Bangkok to New Delhi on Jan. 7; and finally, New Delhi to Toronto on Jan. 8.
And if you're a Canadian Elizabeth Gallagher: what the hell are you waiting for?

Chloe Pantazi is an editorial assistant on Thrillist's travel team. Yes, that's a British accent. No, she doesn't watch Doctor Who. Follow her on Twitter at @ChloePantazi.