Travel
Sponsored By
Give the Gift of Travel: Mountain Paradises
Sponsored By
We can all agree that it's better to give experiences rather than objects. Studies even prove it. So heed that advice and send your loved ones on an adventure this year. If they appreciate cold weather and high-vantage views, gifting them a trip to a mountaintop paradise is the way to go -- especially now, since the IHG® Cyber Sale gives you the chance to save 20% on the best flexible rate at participating hotels, with opportunities to save even more when you're an IHG® Rewards Club member. To help you decide where to put them up, we've even included the best hotels in each locale. So check out these ideas for ultimate mountain retreats, and all the must-sees while they're there:
Banff, Canada
Banff is more than just crisp mountain air and big-mountain skiing (although it has plenty of that, too). It's also one of the best places to get some Instagram-worthy photos. The Canmore rope swing is one such place, where a quick trek will get you to a mountainside swing that sends you soaring above the pines. Nearby hiking trails to the Lake Moraine or Peyto Lake overlooks are also extremely picturesque, and worth the journey. One more must-do: ride the
Banff Gondola
. It's the easiest way to get Rocky Mountain views without Rocky Mountain hiking.
CYBER SALE PROPERTY TO BOOK:
Holiday Inn Canmore
Shutterstock
Queenstown, New Zealand
Queenstown has established itself as a hub for extreme sports in New Zealand, owed in large part to its drastic changes in elevation. If you're ready to step up your adrenaline level, check out the local
bungee jumping
,
swings
, and
zip lines
. Plenty of hiking trails surround the city, but if you're looking to enjoy the bay and nearby canyons, you could also check out a
jet boat ride
. And once you're done with the extreme stuff, there are plenty of nearby wineries you can tour to relax afterward.
CYBER SALE PROPERTY TO BOOK:
Crowne Plaza Queenstown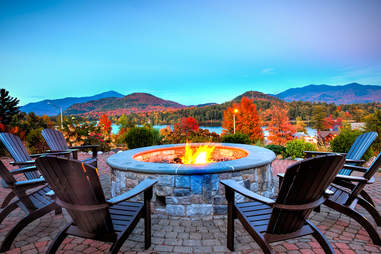 Courtesy of IHG Hotels & Resorts
Lake Placid, New York, USA
With its small-town, family-friendly vibe, Lake Placid provides lots of relaxing options for experiencing the natural landscape. Hike up to the castle at Whiteface Mountain, or visit
The Wild Center
, an outdoor activity spot that combines a science museum and outdoor playground into one magical visit. For other hikes, check out some of the local gorges (
High Falls
being one of the most famous) to get a sense of the Adirondack geology. Then, rev things up at the
Olympic Sites
, where you can ride a bobsled down the tracks.
CYBER SALE PROPERTY TO BOOK:
Crowne Plaza Lake Placid
Lucerne, Switzerland
As far as mountain hideaways go, it doesn't get much cozier than Lucerne. First things first: Check out Old Town, which looks like a medieval village (but with indoor plumbing). Make sure you have the Chapel Bridge on your list as well, as the landmark has been in place since the 14th century and provides beautiful views. And while you're visiting the Lion Monument, which commemorates the Swiss Guards killed during the French Revolution, don't forget to stop by the nearby
Glacier Garden
, a showcase of ice-age curiosities that'll give you a new appreciation for geology. Lastly, make sure you tour Lake Lucerne itself, giving yourself plenty of time to appreciate the endless vistas.
CYBER SALE PROPERTY TO BOOK:
Holiday Inn Express Luzern - Kriens
Shutterstock
Shirakawa-go, Japan
Shirakawa-go (and nearby Gokayama) are historic villages nestled in the Mount Hakusan area, and have served as a religious retreat for centuries. Traveling around on bicycle is a popular option, as is visiting the numerous shrines that decorate the landscape. Also worth checking out are the unique
gassho
-style buildings, with steep roofs designed to shed the area's heavy snowfall. The ideal time to visit is January and February, when the town celebrates its annual "light-up" festival. The events are so popular that they fill up quickly, so be sure to check the
official website
for reservations.
CYBER SALE PROPERTY TO BOOK:
ANA Crowne Plaza Kanazawa
Denver, Colorado, USA
Sure, Denver is a mountain paradise, but it's also hallowed ground for hippies and adventurers. Hot springs dot the region, allowing you to find plenty of spas or, if you're looking for a more outdoorsy experience, natural springs. Denver has clusters of art museums (and a terrific
botanic garden
) but for the real cultural hub, check out a show at
Red Rocks
amphitheatre. It's a mecca for jam bands, and you'll catch a feel for the Colorado vibe.
CYBER SALE PROPERTY TO BOOK:
Hotel Indigo Denver Downtown