Travel
Sponsored By
Give the Gift of Travel: Winter Beach Destinations
Sponsored By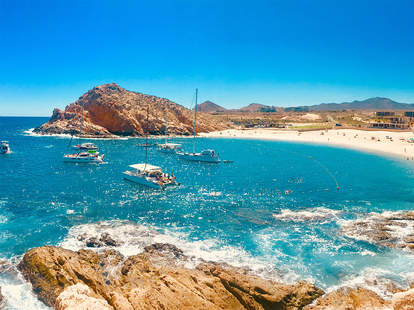 Winter is in full swing, and there's only so much your light-therapy lamp can do. With temperatures falling, you'll no doubt be wanting to trade in the concrete jungle for a tropical one, and the same could be said for your loved ones. This is your chance to make everyone's holiday wish come true: Send them on the perfect beach-getaway trip. Pro tip: The IHG® Cyber Sale gives you the chance to save 20% on the best flexible rate at participating hotels, with opportunities to save even more when you're an IHG® Rewards Club member. So to make your gift-giving easier, we've included not only the best beach escapes, but the best hotel to book at each destination. Here's what you need to see:
Los Cabos, Mexico
Ditch the noisy spring-break crowds by visiting Los Cabos during its winter season. Pro tip: Mexico's west coast is perfect for watching humpback and grey whales on their epic trek to warmer waters. If you feel the ocean should be seen and not swam in, stick to the sands of Land's End, where you can soak up the sun while enjoying the picturesque sights of the famous Arch of Cabo San Lucas. And finally, if you're hungry but don't want to leave the beach,
The Office on the Beach
(like the name implies) keeps you close to both the ocean
and
Mexican cuisine. The restaurant stocks fresh seafood from the water just yards away, and serves it straight to the plate in front of you. Full vacation mode: on.
CYBER SALE PROPERTY TO BOOK:
Holiday Inn Resort Los Cabos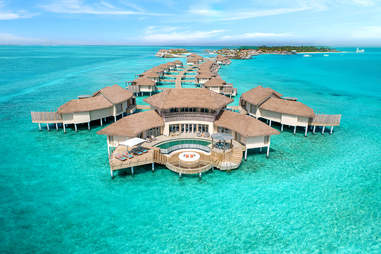 Courtesy of IHG Hotels & Resorts
The Maldives
You probably first discovered the Maldives from your co-worker's Instagram, but you may not know what and where they are, exactly. The Maldives are a collection of over 1,000 islands in the Indian Ocean, and is much more than just a honeymoon spot -- the country offers delicious cuisine and activities to do solo, or with a group. Take a picnic on the stunning sandbank of Raa Atoll with your significant other, closest friends, or even by yourself, because frankly, you deserve it. Better yet, hit the ocean at sunset in a traditional handcrafted
Dhoni sailboat
used only in the Maldives. If you're feeling more adventurous, try snorkeling through the Maldives' uninterrupted, perfectly clear waters.
CYBER SALE PROPERTY TO BOOK:
InterContinental Maldives Maamunagau Resort
Shutterstock
Okinawa, Japan
Those with the appetite (and experience) for diving should definitely visit the island of
Yonaguni
off the coast of Okinawa. Yonaguni Island is known for its submerged city ruins, most famously the Yonaguni Monument, which was just discovered in 1987. An underwater adventurer's dream, the rock formations here are over 8,000 years old. For something without the need for an air tank, take a day trip to walk on the white sands of Nagannu Island, or to Kourijima, which you can get to by crossing the Kouri Bridge, the longest bridge in Okinawa. Finally, don't forget to take a picture at the "Heart Rocks": a pair of natural rock formations on the island's coastline that will thaw your frozen heart.
CYBER SALE PROPERTY TO BOOK:
ANA InterContinental Manza Beach Resort
Shutterstock
Estoril, Portugal
For surfing fanatics with a desire for international waters, riding waves doesn't get any better than in Estoril, Portugal, where you can surf throughout the year. Hit the water by day and dry off in time for a sunset kayak ride. Or if canoeing is more your style, strike out on a day-long excursion (or a two-hour-long excursion, we won't judge). Seeking a more relaxed vibe? Tee off at any of
the golf courses in Estoril
. With endless greens along the coastline, you'll be able to blame a bad swing on that spectacular view.
CYBER SALE PROPERTY TO BOOK:
InterContinental Cascais-Estoril in Portugal
Pensacola Beach, Florida, USA
You don't need a passport to visit warm beaches during the winter. Just travel south to Florida where the winter lows stay in the 60s, perfect weather for anyone with a fishing jones. For something a little more active, take a bike ride on the eight-mile-long
Pensacola Beach Eco-Trail
. You can ride, run, stroll, or even drive shore to shore through the island's unique ecology and learn facts about marine life thanks to signage along the way. And of course, if you believe vacation is for near-death experiences, you can always try parasailing.
CYBER SALE PROPERTY TO BOOK:
Holiday Inn Resort Pensacola Beach Gulf Front