I Stayed at a Tent Resort That Charges $700/Night to Sleep in a Field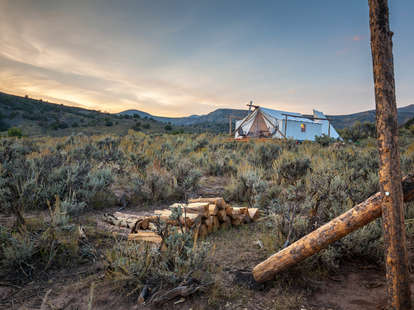 Courtesy of Collective Hotels & Retreats
There's an odd movement afoot: glamping. Ah yes, by now you've no doubt heard of this hybrid that would've, until a few years ago, been thought an oxymoron: glamorous camping. Essentially, it's where you pay exorbitant rates for someone to build you a tent-bedroom in the wilderness that far outstrips the comforts of your actual home.
Did the Donner Party find camping glamorous? No party was had there. Did the actual or video-game pioneers of the Oregon Trail? One word: dysentery. And, to a lesser degree, I myself can't report too many good nights' sleeps out in the wilderness. Born and raised in Colorado by an Eagle Scout, the St. Johns spent plenty of vacations under the stars and, once I hit high school, my friends and I started heading into the Rocky Mountains, where our parents couldn't count up all of our empty 40 bottles.
I enjoyed almost all of it, aside from, say, pulling ticks and the night I accidentally kicked my rolled-up sleeping bag into the Gore Creek. But make no mistake: aside from a few fresh trout dinners my father prepared over a campfire, none of it was fancy. Camping isn't supposed to be. It's antithetical to its proposition. So, what was to be thought of this mishmash that would make all of our ancestors -- yes, every single one of them -- roll their eyes in shame? I took my agreeable girlfriend, Brielle, to a swanky campground near Vail to find out.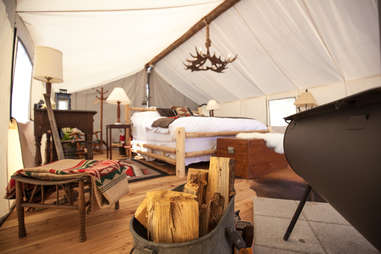 Extremely comfortable camping, plus extras
Collective Retreats operates properties in Colorado near Vail and Aspen, and one outside of Big Sky, Montana. Collective boasts top-notch accommodations in remote locations, the sort that cater to the person who muses, probably on his second Scotch-with-single-huge-ice-cube, "Boy, would I like to sleep on a king-sized bed with silky-soft sheets where no man has slept on a king-sized with silky-soft sheets before."
Besides the fully pimped-out sleeping quarters, Collective has an on-property staff that assists you with just about anything you could want. Dinner isn't included in the price of your tent, so you can opt for a farm-to-table feast or grill-your-own BBQ. (Or, of course, you can choose to go off the premises for your meals, too. Breakfast is included.) There's a chef and the whole nine. And the people who live on the property during the season (roughly May till October) will hook you up with activities from all of the other folks who operate from the ranch, whether it be for horseback riding, ATV tomfoolery, or zip-lining. These activities also, ya know, cost more money.
The downsides are: paying and peeing
Let's get this one out of the way right away: this shit is expensive. Rates for one night are quoted between $500 and $700. You can bring your kids and they'll hook you up with cots, but still: whoa. That's a price point where you have to ask yourself whether you'd rather stay inside a Four Seasons or immerse yourself in the four seasons outside. The thing is, I'd bet the main market for glamping, at least at this point, is for people who have stayed at many a five-star hotel and are looking for something new. It just turns out that next big thing might be the total on your bill.
As for the facilities: they're really not so bad, OK? It just kinda had a funky smell nearby and, once, the pump toilet got clogged up and the staff had to come fix 'er up. But, they did it right away. Also, there are L'Occitane products in the hot shower. So, is this bad compared to sleeping in a snow cave for a week? Nah dog, not even close.
The elements and the remoteness are what you make of them
You are -- sort of -- camping, after all. There was the rooster crowing at 4am, a few bugs flying around the bed, and on our summertime trip, a downright cold night. (Collective provides a wood-burning stove which imparts a fantastic smell and rustic experience, but requires you to get out of bed a couple of times a night to reload.) It also rained for much of the evening while Brielle and I were there, which forced us to drink far too much wine at the on-site winery, Vines at Vail. It makes some solid stuff, though, so that is officially not a complaint.
The "Vail" Collective Retreat is actually located about 30 minutes west of town, outside of Wolcott. And there's not a ton going on outside of Wolcott, Colorado. If you're looking to get into a bar or restaurant scene, you've got a decent drive ahead of you. (The town of Edwards has a few decent options, 15 minutes away.) Still, chances are you've come here to get away from it all -- and that's what you're going to get.
Brielle and I agreed that one or two nights would suffice for the experience. In many ways, you're glued to your immediate environment once the sun sets; I'm glad we opted for the on-premises BBQ dinner. The bison burger and steak were on point, although it's sort of hard to review a meal you prepare yourself, even if the chef had partially cooked the beef sous-vide. It was about $30 a pop -- eminently reasonable, especially compared to the $150 price tag, per head, for a farm-to-table "dining experience."
The best parts: real people and a next-level tent
The staff is excellent, up there with white-glove service from crews at some of the finest hotels I've had the pleasure of hanging my hat inside. Better still, we got to know them. Chris hung out with us at the winery and his girlfriend, Lisa, kicked it late-night at our private, Reese's s'mores-featuring campfire (that was built for us by a Collective staffer).
About that campfire: we met a gregarious couple from the East Coast who we ended up partying down with for, well, I'm not even sure how long. (It was a long time.) And, yes, they worked in finance and, yes, they seemingly could've kept the fire raging with wads of Benjamins. But, here's the thing: they were great company. I would take a Baileys shot out of a melted marshmallow again, any day of the week. (The alcohol policy, it should be noted, states that booze needs to be purchased on property, but I'm sure the strictness wavers from staff to staff. Lord knows we bought enough Vines at Vail -- an allowed libation -- to make a Frenchman on Bastille Day blush.) I'm sure there are some assholes who show up at these kinds of places, but I'm also willing to bet that the relatively pastoral surroundings attract relatively interesting people.
The major selling point on all of Collective Resorts' collateral: this tent delivers. It's totally decked out. The bed is majorly comfortable, there are splendidly appointed Western rugs and furnishings, and it has electricity in a place that has no business having electricity. I'm betting by next year, the tents will have Wi-Fi and, maybe, private hot tubs. A man can dream.
The experience may be eccentric, but therein lies the appeal. You have to look for this particular kind of sojourn. And you certainly can't mimic the St. Regis feel with your REI tent. It's a strange halfway point between the two, but we kept catching ourselves saying, "How cool is this?" Where else can you pet a bull named Billy then retreat to the rocking chairs on your private patio to take in views of mountain vistas? Not many other places, that's for sure. If you've got the Benjamins to burn, you could splurge on worse.
Sign up here for our daily Thrillist email, and get your fix of the best in food/drink/fun.
Colin St. John writes for
Rolling Stone
,
Esquire,
and other various outlets. Writing his own bio makes the Colorado native uncomfortable, almost as much as club sandwiches with no tomato, brown spirits, and Phish put him at ease.