Because the first thing you'll want to do after stepping out of a G-force-riddled racetrack loop is to have a stiff drink, the dudes at Audi were courteous enough to place their latest Supercar Experience right in the middle of Wine Country. Huzzah! Based in Sonoma, CA, the day-long adrenaline trip will let you put the German car makers' line of beefed-up super-rides (w/ industry-leading Quattro tech) through their paces, both on and off the track.
Recommended Video
Eataly's New 20-Acre Theme Park Is Basically Disneyland for Food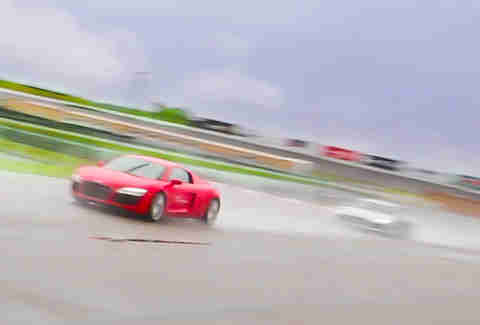 On-Track programs feature lap-pacing sessions on the raceway's closed course and timed autocross challenges in the R8, S4, S5, and TTS models. The winner not only gets bragging rights, but exclusive admission into a specialty driving program.
You'll have expert instruction every step of the way from pro-drivers who are well-versed in specialized skills like race-lines and "driving stick".
Off-Track, the S6/7/8's are taken onto the open Nor-Cal road. The all-wheel-drive Quattro system you'll be testing? It was allegedly banned from rally racing because it dominated so hard.
The final class type gives you a full day inside Audi's top-of-the-line ride: the R8. You'll go both on-and-off-track w/ a classroom session to get you fully versed in all the bells & whistles...
… and if you don't believe just how badass the R8 is, prepare to get some sour grapes after checking out this video that runs down all the glorious specs.
Previous Venue
Next Venue
Venue Description
1. Sonoma Raceway
29355 Arnold Dr, Sonoma, CA 95476
With a 2.52mi road course and drag strip, 12 turns on a hilly course with 160ft of total elevation change, and on-track activity scheduled at an average of 340 days per year, Sonoma Raceway might just be a little more exciting than that wine tour you had scheduled.