Do These Crazy Adventures Before Summer Ends or Regret It All Winter
Courtesy of www.whaleswim.com
Standard vacations are fun and relaxing, but tend to blend into each other. A beach in one tropical paradise isn't that different from another halfway around the world. Step out of your box a bit and consider something life-changing. You've always wanted to ride in a hot-air balloon, swim with whales, or see an iceberg in real life, right? This is where you start.
Have a whale of a time
Sure, there are resorts that allow you to swim with dolphins, usually in captivity. But that will never compare to seeing a humpback whale – one of the largest animals in the world – in the wild. Since you can't count on your NYC harbor fishing trip to end in whale shenanigans, go the guaranteed route. With WhaleSwim eco-tour, you snorkel with humpbacks in Tahiti and Tonga. Vive la difference! Focused on respectful observation of the whales, WhaleSwim's certified guides emphasize creating a relaxing environment for our finny friends. And when you get done, you're still in Tahiti, which is a trip you'll talk about forever in its own right.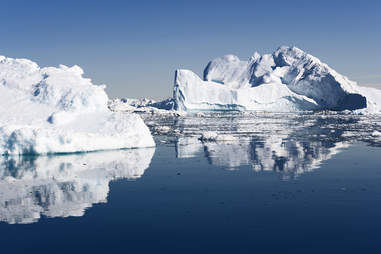 Denis Burdin/Shutterstock
See an iceberg while you can
Of course, you've seen photos of icebergs, but being dwarfed by one in real life – especially up close – is a totally different deal. Be aware that you need to be in pretty good shape (no one is paddling that kayak for you), but even beginners are welcome at Bear Glacier lagoon. Just steel yourself for rain and cold weather; if you're not a polar bear, it's pretty chilly by human standards. Icebergs are not long for this world, so put this one at the top of your list.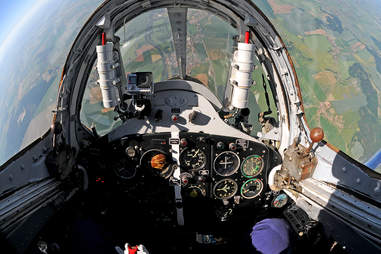 Courtesy of migflug.com
Be a fighter pilot (without having to join the military)
Have you ever wanted to be able to fly one of the most powerful and dangerous aircrafts in the world, but just don't want to dedicate years of your life to serving your country? Hey, we're not here to judge you. MiGFlug allows you to do it right up to their "edge of space" cannonball shot between 10.5 and 13 freaking miles above the Earth! And you can pilot it. Even first-timers are allowed to take the controls of a Russian MiG or a German L-39 Albatros from locations around the globe, including a few corners of the USA. But if you want to take the controls of the badass tiger-striped Hawker Hunter, you'll have to go Switzerland. Rough life, right?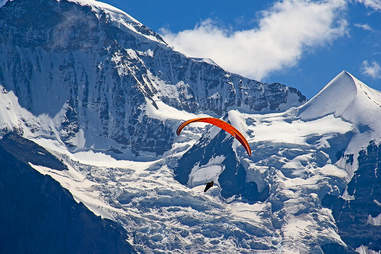 Fedor Selivanov/Shutterstock
And while in Switzerland…
OK, you're never going to be James Bond. You don't own a tuxedo and you like your martinis stirred. But you canparaglide the Swiss Alps and pretend the other adventurers behind you are SPECTRE agents as your tandem guide points you towards the Monk, the Ogre, and the Virgin -- Interlakken's signature mountains in the Bernese Alps. Afterwards, enjoy some speck and a well-earned beer near your touchdown in the town square. But you're on your own to meet a beautiful Bond Girl with a silly name.
rozbyshaka/Shutterstock
Pilot a balloon… IF YOU DARE!
So, you want to fly, but you're not an adrenaline junkie who needs everything to go at hundreds of miles an hour. You want to enjoy the best parts: The ascents and descents. Sure, you could pay some Wizard of Oz type to take you up, up, and away in a hot air balloon. Or you could learn to get your own dang self to Kansas, as long as the wind is blowing in the right direction.
As hippie-ish as hot air travel may seem, there are still rules, and you actually need to earn a license, just as you would to pilot a car, boat, or plane. Technically, you can qualify in just 10 hours of flight training, but it's recommended to log at least 22 hours' flight time over a longer period. And summer is the season to do it!
Earn your wings… via your HALO
If kissing Earth's stratosphere in a jet wasn't enough for you, how about dropping down from its tropopause? Lots of your friends have that one goofy-faced photo of themselves jumping out of a plane, and that is absolutely an adventure worth doing to beef up your dating profile. But you? You're gonna go the extra mile and glimpse the greater curvature of the Earth on a tandem HALO jump.
Normal skydives are about 12,500ft, but can go up to 18,000. But HALO (High Altitude, Low Opening) starts at 28,000ft and goes all the way up to 30,000, where you can lord your dominion over Mount Everest. Were you pretending to be 007 before? Now you're straight out of that rad scene in Kingsman: The Secret Service.
Go Bikejoring!
Why wait for winter to enjoy your own Iditarod when you can learn the art of dog sledding on your bike? Seriously, this is a thing. A dog or team of dogs is harnessed to a bicycle, so you steer and shout "MUSH!" for fun while your four-legged friends do the work. Bonus: Even if global warming melts all the snow, you can still bikejor while the dog sledders will be outta luck.
Of course, it's a bit more dangerous: You're more likely to fall off of a bike than out of a sled. And, obviously, the dogs need to be well trained: Everyone knows that all it takes to distract dogs is a "SQUIRREL!!!" Just pay close attention to your dog's health and heat level: Take frequent breaks, bring a ton of water, and don't run 'em hard. Consult with your vet so you do right by your best bud.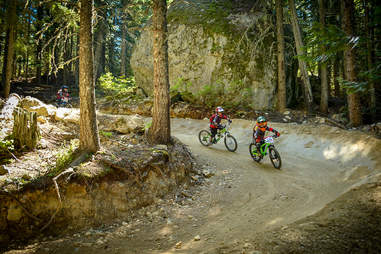 Courtesy of Whistler & Blackcomb Mountains
Ramp it up
You never forget how to ride a bike, but we're betting you never learned how to ride it around steeply-angled curves and down frightening drops. A good mountain & dirt bike school will teach cornering, jumping, and how to safely drop. You can even -- if you're extra daring -- brake your way down some sheer-faced rock rolls. Whistler Mountain Bike Park is that good bike school. Beginners shouldn't worry either; there's a starter course that won't kill you, but will teach you the basics.
Drive Richard Petty's Car
Let's say you have a need for speed, but you're afraid of heights. You might be a NASCAR fan! Fifteen miles from the Strip in Vegas, you can go to the Richard Petty Driving Experience where you can drive a car at a sensible 155 MPH around a track, just like the pros do. (Or, you can also sign up for the "Ride-Along" if you want to feel the rush without having to take the wheel). Start your engine -- or, Richard Petty's engine, actually -- here.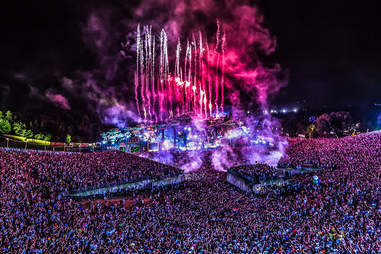 Courtesy of Tomorrowland
Camp out at a music festival the size of Honolulu
Not every great adventure need risk your neck when the ears will suffice. Coachella? Pshaw! Sure, it's a festival in the desert, but it's only three days long. Bring your festival-going to the next level with Belgium's Tomorrowland, which stretches over two weekends, July 21-23 and July 28-30, and will draw 360,000 fans. Headliners are the biggest names in EDM's history, and this year include Afrojack, Axwell Λ Ingrosso, David Guetta, Paul van Dyk, Tiësto, and many, many others.
Tomorrowland's DreamVille campsite is a fantastical wonderland with accommodations ranging from "Pitch your tent" to "Welcome to your luxury mansion." This year's theme is "Amicorum Spectaculum," and its exclusive "Gathering" event for DreamVille residents will treat 30,000 attendees to a "spectacular gathering of friends" indeed.
Or, hey… just make the world a better place
You want an experience that will last a lifetime? As the summer winds down, reflect on these crazy vertical and horizontal escapades, and realize you've had your fun. Now it's time to do something once-in-a-lifetime for others. Sign up for Habitat for Humanity's August 19th-September 1st volunteer trip to Jogjakarta, Indonesia, where you'll help to build new homes for the poor. And hey, if you meet President Carter on the plane you'll have something to talk about; he's worked with the organization for decades now.
Now this is not a trip without explicit thrills; spend the day working, and you get free time at night to explore. And you can certainly preface or conclude your visit with some regional tourism. But as you help your fellow human beings, consider that the best adventure is not the onetime adrenaline rush, but the one that expands your inner horizons.