Goblin Valley Is the Trippy, Surreal State Park You've Been Missing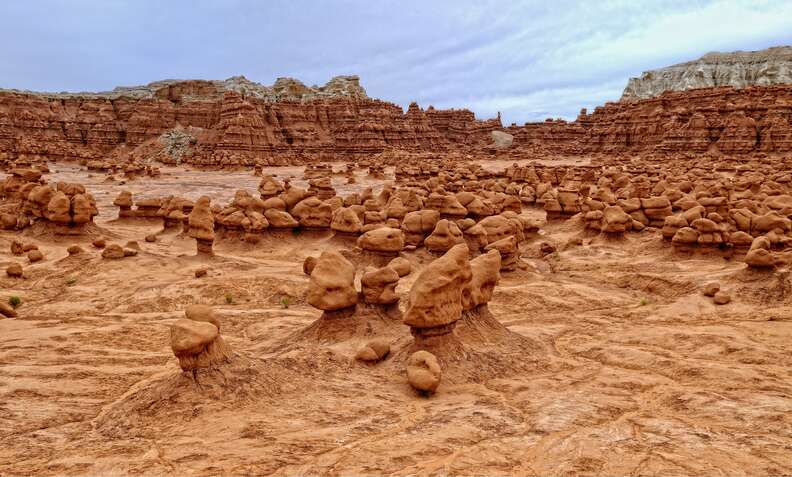 We give so little love to our state parks. The national ones get all the attention, even though their more impressive designation is not necessarily indicative of being any more special. State parks are often relegated to PR obscurity not because the natural wonders they contain are less deserving of national status, but because of bureaucratic reasons like having the misfortune to be located too close to national parks that staked their claim first. We call BS: Time to give state parks their due.
MORE: This southwestern desert looks like something out of a Dr. Seuss book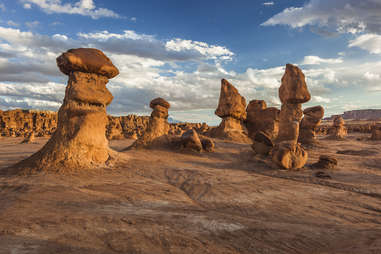 Dick jokes optional.

| Whit Richardson/Image Source/Getty Images
Goblin Valley State Park in southeastern Utah's San Rafael Desert -- about a four-hour drive from Salt Lake City -- is one of those state parks that would fit right at home alongside its national parks brethren. It's known for its thousands of hoodoos -- those bizarre-looking rock spires, some of them bigger than you, that we've come to associate with Bryce Canyon National Park. But the collection in Goblin Valley -- hoodoos are often called "goblins'"-- is every bit as impressive and Mars-like. Galaxy Quest was filmed here, it's so otherworldly! Here's what you're missing if you only experience it by watching old Tim Allen DVDs.
MORE: The otherworldly canyon people cannot stop photographing
Think Bryce Canyon but without the crowds.

| Sproetniek/E+/Getty Images
What to do in Goblin Valley State Park
You like hiking? You're gonna love Goblin Valley. Besides hoodoos, you're looking at pictographs and petroglyphs, kit foxes, and pronghorn antelope. Keep an eye out for rattlesnakes and scorpions.
The park's coup de grace is the 3-square-mile Valley of Goblins, where hoodoos are piled to the horizon in every direction. There's about six miles of marked hiking trails around the park, but for the most part the trail is wherever you make it. Goblin Valley is yours to find.
MORE:
The best hikes in Zion National Park aren't where you think they are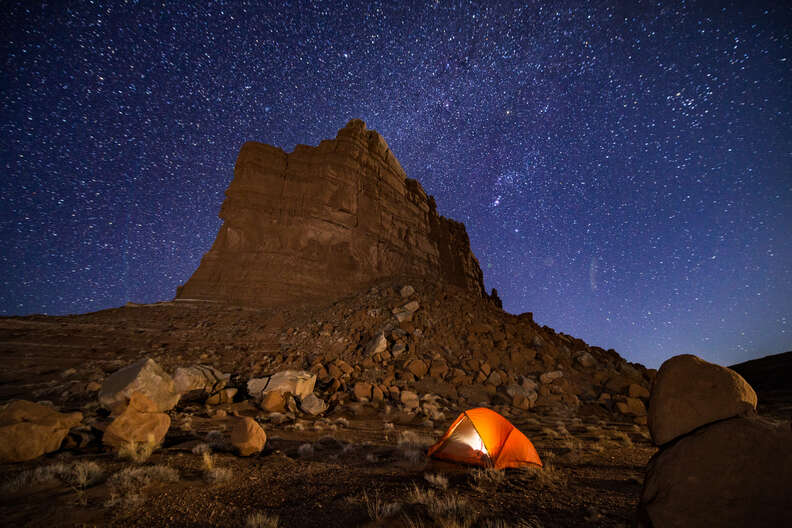 This could be you.

| Adventure_Photo/E+/Getty Images
Those of you skilled in canyoneering (and in possession of a backcountry permit; $2 per person) can rappel into a natural sandstone cave known as Goblin's Lair. More into mountain biking? Lucky for you, Goblin Valley now features the five-loop Wild Horse Mountain Biking Trail System. There's also a disc golf course on the campground; you can rent discs from the visitor center for $1. And after the day is finally done, there's the stargazing -- you're in a certified International Dark Sky Park. You can check Goblin Valley's dark sky forecast here.
MORE: The best stargazing this winter is in Utah
Desert winters are the best winters.

| Tan Yilmaz/Moment/Getty Images
The best time to visit Goblin Valley
Goblin Valley is open to the public year round, but you'd do well to plan your trip for the spring or fall. While the park itself doesn't see the foot traffic of its more famous neighbors, the parking lot can get packed on holiday weekends and during the summer/winter school vacations. It's also, quite simply, too hot to hang out in the desert during the summertime.
Pictured: Goblin.

| Dermot Conlan/Getty Images
If you have kids, plan your trip during the winter holidays -- between the choose-your-own-adventure climbable terrain and the "goblins" at every turn, Goblin Valley is a great trip to make as a family. There's a Junior Ranger program, too.
MORE: National parks that are at their best in the wintertime