Brazil's graffiti politely says, "F**k the World Cup"
Just two weeks out from the world's largest sporting event, plenty of people are excited about their team's chances, the potential for heroes to emerge, and the national pride that comes with performing well in the World Cup. Hosting the global tournament comes with its own set of problems, however. Brazil might be known for its beautiful women, breathtaking beaches, and joga bonito, but the underbelly of under-preparedness and underclass upheaval threaten the big party.
Clearly, Brazil dominates at playing soccer. But building stuff? Not so much. Some of the country's biggest stadiums don't even have seats installed yet, as the Wall Street Journal points out, and cranes and construction workers toil feverishly to complete venues along with roads, communications systems, and basic infrastructures. And as USA Today notes, the general pessimism in Brazil has spurred an ironic hashtag, "#ImaginaNaCopa, or, 'Imagine during the World Cup'", to point out how Brazilian officials are selling a dream more than a reality.

Additionally, Brazil still has an ink-black dark side, too, and the World Cup development only shines a greater spotlight on the rampant corruption, inequality, and crime that plague the nation.  Continue Reading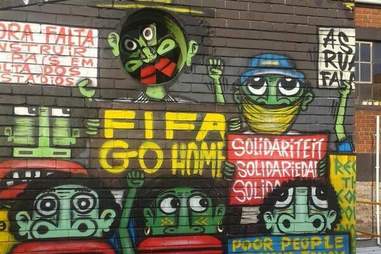 To expose the troubles the nation faces and the perceived hypocrisy of hosting the World Cup, the Facebook group Movimento Anti-Copa De Decoração De Ruas (Anti-World Cup Street Art Movement) has emerged to document the vibrant street art popping up against the tournament. The page describes itself as being "dedicated to exposing the Brazilian population to artistic criticism of the FIFA World Cup".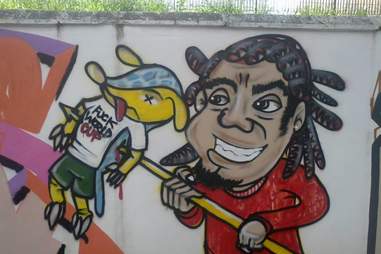 Some call it art. Some call it criminal. But the graffiti documented on the movement's Facebook page has a distinct message: Not everyone is happy to have the world in town for a few weeks.

Check out the brilliant images below, or visit the group's Facebook page for even more.
"No to the cup"
Pelé as Hitler
Starving child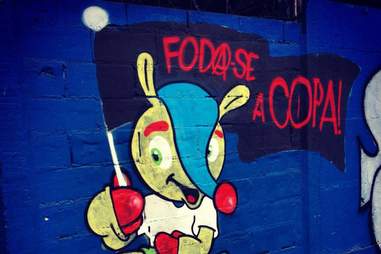 "F**k the cup"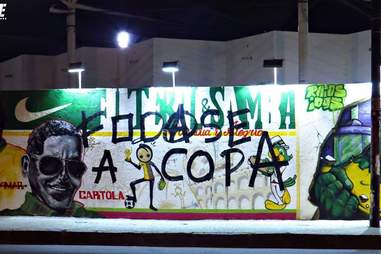 "F**k the cup"
"The cup for the rich, removal for the poor"
"Get out FIFA"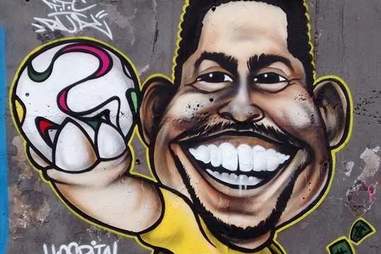 "-Hospitals, +Stadiums"
"World Cup of corruption"
"Cup for whom?"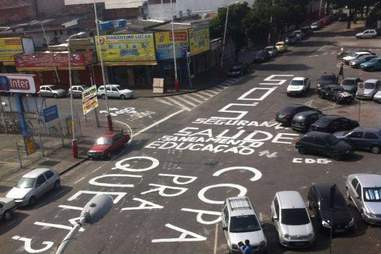 "Cup for whom?"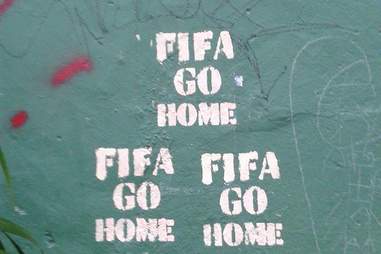 FIFA go home
"Cup for what? I didn't sign up"

Ryan Craggs is Thrillist's Travel Editor. He is plays soccer (poorly) and is pulling for La Furia Roja. Follow him @ryanrcraggs.