Unless you're a big fan of Cinnabon or creepy flash mobs (or, well, trains!), killing time at the train station usually isn't a lot of fun. Usually.
There are, however, some stations that are so beautiful, so historic, so straight-up cool that you're more than happy to get stuck, if only to wander around for a bit and pretend you're Eliot Ness trying to take down Al Capone.
From marble pillars to multicolored skylights, here are 11 such stations.
Cincinnati Union Terminal
Cincinnati, OH
This Art Deco-style station's virtually covered in art, from the flashy fountain out front, to the terrazzo floor patterns, to the massive murals by German painter Winold Reiss that tell zeee story of America. There are even three museums on site, as well as a movie theater in case your train to Akron is delayed.
Los Angeles Union Station
Los Angeles, CA
Built in 1939, LA Union Station is hailed as "the last grand railroad station built in America." An architectural hybrid of Art Deco, Spanish Colonial Revival, and Mission Revival styles, the interior's all multicolored tiles and terracotta tones, while the palm trees, fountains, and manicured gardens outside make the place look like a movie set. Which it's been. Perhaps you recognize it from Blade Runner?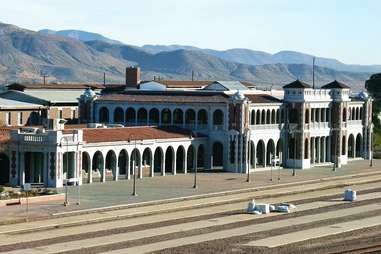 Amtrak Train Station
Barstow, CA
Though the station's low-key interior doesn't scream beauty -- think wooden benches and practical chandeliers -- it's personality is... just kidding, the outside looks like something out of a Turner Classic Movie, all terracotta-colored roof and Mediterranean-style columns. Built in 1911, this major transit hub is home to the Western American Railroad Museum and the Barstow Route 66 "Mother Road" Museum.
Chicago Union Station
Chicago, IL
"You got him?"
"Yea, I got 'em."
"Take him."
Only the backdrop for one of the greatest scenes in mob movie history -- The Stairway Shootout from The Untouchables -- Chicago's Union Station was completed in 1925 by architect Daniel Burnham and is famous for its Great Hall, where rows of wooden benches are illuminated by a barrel-vaulted skylight spreads across the 115ft-tall ceiling.
Main Street Station
Richmond, VA
One of Richmond's most treasured icons not named Bill "Bojangles" Robinson, you can't miss Main Street Station: a striking red-brick building with a dome-capped clock tower, tiled roof, and turret-like windows typical of the Beaux Arts style that was popular when it was built in 1901. Festooned with architectural accoutrements made from terracotta and stone, the station wouldn't look out of place in Paris. (Yes, we just used the words "festooned" and "accoutrements" in the same sentence!) Also, there was once rumored to be a secret underground bar near the station.
Baltimore Penn Station
Baltimore, MD
Look up in the waiting room at Baltimore Penn Station and you'll notice a magnificent skylight on the ceiling adorned with three glass domes that help bounce natural light off the building's marble walls. Elsewhere, the structure is furnished with decorative panels and cast iron details, while the facade's impressive clock face is framed by sculptures of a woman clutching a wheel, a dude wielding a hammer, and an eagle calling AAA. Or, at least, sitting atop the clock.
30th Street Station
Philadelphia, PA
Next to Independence Hall and that statue of Rocky Balboa, 30th Street Station's probably one of Philly's most iconic landmarks. Designed by architect Alfred P. Shaw in 1933, the terminal's known for its glam Art Deco interior with a 95ft-high ceiling, drooping chandeliers, gilded columns, and tall cathedral windows that sweep light through the concourse. It's actually one of the few stations in the country that gets traffic from four directions, as trains from Boston, New Jersey, Florida, and Chicago all pull up to its platforms.
Union Station
Washington D.C.
Designed by architect Daniel Burnham in 1908, this Greco-Roman-inspired station's actually bigger then the US Capitol right down the street, and is adorned with the sculptures of six prominent Greeks, including Prometheus, Apollo, and popular EDM DJ Aristotle Manolakos. Maybe. The Main Hall does boast an elaborate winding staircase, though, and a 96ft-high coffered ceiling that's embellished with gold-leaf.
Grand Central Terminal
New York, NY
Everyone from tourists to, well, more tourists flock to Grand Central to see the tiny gilded clock at the terminal's center, and gawp at the 25,000sqft constellation ceiling studded with gold-leaf stars and LEDs. But even regular commuters occasionally slow their frenzied pace to a brisk walk in order to admire the station's old-style lettering on the departure boards and planet-shaped chandeliers.
Oh yea, here's a fun fact: shortly after the terminal opened in 1913, an astronomer passing through noticed the constellation on the ceiling was backwards. Officials denied the mistake, however, and said it depicted "God's view" of the stars.
Utica Union Station
Utica, NY
Designed in 1914 by Allen Stem and Alfred Fellheimer, the same architects behind New York City's Grand Central Station, this Beaux-Arts gem is decked out with marble pillars, circular chandeliers, and a coffered ceiling. The station saw its most traffic during World War II, when it served as a major hub for transporting soldiers.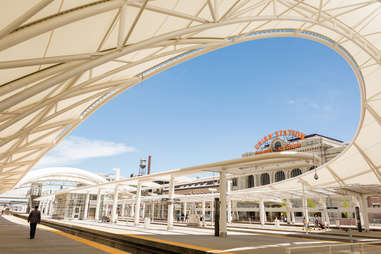 Denver Union Station
Denver, CO
Union Station, like Uma Thurman, may have undergone a few nips and tucks recently, but that hasn't compromised its Beaux Arts facade, which was built in 1914. Today, the station's most striking features include its exposed Train Hall (made of 11 steel arches), a 112-room boutique hotel, a slew of restaurants, shops, and bars, and over 600 works of art on display throughout. And if that's not enough, there's even a 22-gate underground bus concourse lit by skylights. Okay, that was probably enough.


Chloe Pantazi is an editorial assistant on Thrillist's travel team. Yes, that's a British accent. No, she doesn't watch Doctor Who. Follow her on Twitter at @ChloePantazi.