Stay in the real-life Grand Budapest Hotel
Welcome to the Grandhotel Pupp, 228 rooms of inspiration for Wes Anderson's action caper The Grand Budapest Hotel.
The luxury hotel tucked away in the Czech town of Karlovy Vary isn't the actual hotel where the film was shot, but the hapless romantic/lover of old ladies and poetry-reciting concierge Monsieur Gustave and his humble protégé Moustafa would've felt plenty at home running the place.
While the Grandhotel Pupp isn't nearly as pink as its cinematic stand-in, it does have a history as complex as the film's grand hotel. In 1896, the Pupp family enlisted a cadre of Viennese architects to transform the building into a bastion of Neo-Baroque style, and elements of the Pupp's architecture, décor, and old-world charm were infused into its on-screen version.
As you enter the Pupp's grand lobby, notice the walls are hung with opulent paintings like the one at the center of all the drama in Anderson's movie; Not to give away too much, but there's a family dispute, and a mystery, and it all involves a painting.

If you arrived at the Grandhotel Pupp in 1932, it's highly unlikely that Ralph Fiennes would have showed you to your room. A concierge wearing similar attire/mustache, however, almost certainly would have.
As in the fictional hotel, each room at the Pupp is uniquely designed (albeit without wallpaper as garish as in the film); some -- like the lavish Imperial Apartment -- even boast an elegant marble bath.

A marble bath completely unlike the public tub in which Jude Law enjoyed a soak in the hotel's bath spa. Bathing cap optional, but strongly encouraged.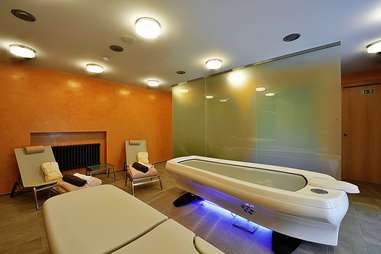 In real life, you get one of the Pupp's Aquai water massage beds. As Karlovy Vary is the Czech Republic's go-to spa town, the hotel's extensive spa includes an indoor pool with underwater tunes, steam rooms, a Finnish sauna, ice fountain, and a flower bath -- so you know even the flowers are clean.
After your bath/swim -- a traditional Budapest ritual, and now a party one -- head to the Grandrestaurant Pupp for some traditional Czech fare. In TGBH, it's over dinner in a similarly empty dining room that Jude Law learns all about the inimitable Gustave from M. Moustafa.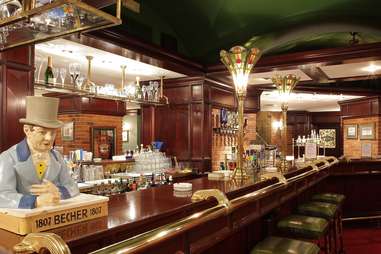 Designed to resemble a classic British pub from the early 20thC, the hotel's Becher's Bar stays open late (as in, 3am) so you, too, can drink here like M. Gustave.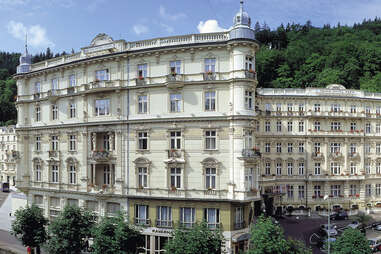 Finally, while you can only visit the Grand Budapest Hotel in your imagination, you can book a room at the Pupp today, right here, for as little as $213 per night.
Chloe Pantazi is an editorial assistant on Thrillist's travel team. She really wants a cake from Mendl's. Follow her on Twitter at @ChloePantazi.