Because not every remote bar is located in the middle of a freaking ocean, we rounded up seven US bars built in such off-the-grid, forlorn, or out-of-the-way spots that you've gotta wonder how they get any customers. Ever. Or how you can become one yourself.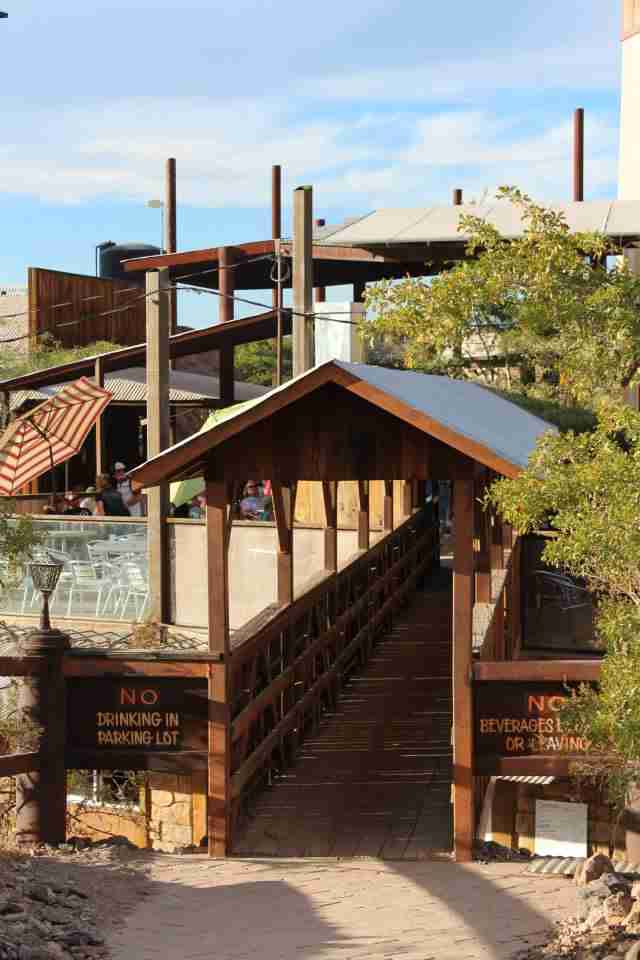 Parker, AZ
Built on an old mining camp in the Buckskin Mountains, what started in 1983 as a three-sided structure with outdoor restrooms has grown into a sprawling, haphazard collection of buildings that offer booze/live music on weekends from October through April. Why not year-round, you ask? Well, because despite the improvements that've been made over the years (solar power, water that comes from a well instead of an old fire truck, etc.), it's still too damn hot there in the summer -- the record high is 127 degrees!
How to get there: The bar/camp is at the end of Cienega Springs Rd, five miles outside the tiny town of Parker on the Colorado River. It's also about 40 miles south of Lake Havasu City, which to be fair is also in the middle of nowhere, but at least you've heard of it.
Alzada, MT
Stoneville's exactly what you'd expect from an Old West saloon (right down to the covered porch and the clapboard siding) except instead of horses tied up out front, there are motorcycles. This dive that promises "cheap drinks and lousy food" is essentially a biker bar and a favorite hang of the Dakota Territory Riders, motorcycle enthusiasts who cruise the mostly empty highways in this part of the country.
How to get there: It's located just over the border from Wyoming in Montana's southeast corner, so the closest place you've probably heard of is... um, Billings(?); but that's 224 miles away, so settle in for a long "ride."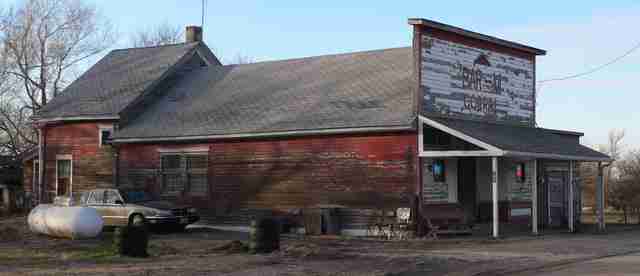 Loma NE
The venerable Bar-M Corral is the only business in this town of about 30, and you might recognize it from To Wong Foo, Thanks for Everything! Julie Newmar. Despite a serious update in 2015, it hasn't changed much since it appeared in the "classic" film 20 years ago -- or really, since it opened. Sure it's got a new roof, bathrooms, etc., but the tin ceiling, the meat counter, and the bullet hole in the moulding are all still there and make it feel exactly like the rundown, rural boozer it appears to be.
How to get there: Go on a cross-country road trip with drag queens played by Patrick Swayze and Wesley Snipes, obviously. Or go to Omaha and drive about an hour and a half to the northwest.
Cosmopolis, WA
Built in the 1920s to service a logging town that straight-up doesn't exist anymore, this ramshackle wooden watering hole is seemingly trapped in time: a simple hand-painted sign welcomes you into a riotous interior where a wood-burning stove provides the only heat and an actual stream runs beneath the bar stools to serve as a spittoon. No, we're not making this up. The walls/ceiling are covered with photos, tools, and other reminders of boomtown long forgotten. Oh, and did we mention the men's room lined with vintage-ish porn?
How to get there: It's 125 miles from both Portland and Seattle, and about 20 miles from... well, anything. But if you're willing to take a detour through the forests of Southwest Washington, it actually makes for a decent stop on your way to a couple of the best beach towns on the West Coast.
Rachel, NV
There is literally nothing along this sunburnt stretch of Nevada highway except this extraterrestrial-themed bar and, if you believe most of said bar's patrons, a ton of top-secret evidence at the nearby Area 51 that aliens really do exist. And honestly? They'd better, because aliens are probably the only thing weirder than this collection of corrugated metal-roofed buildings where you can stay the night, shop for little-green-men memorabilia, and yes, get a drink.
How to get there: Go north from Las Vegas on Highway 93 past... well, nothing until you get to Ash Springs. That's where you should probably gas up before you take a left and drive past more nothing until you see the bar appear on the side of the road.
Willow City, TX
Located in a Hill Country ghost town called Eckert, this roadside watering hole draws big crowds, in part thanks to its proximity to the Willow City Loop (a popular ride for motorcyclists) but mostly due to its amazingly motley exterior; the walls appear to be held up by old road signs, license plates, and farm tools. Once you get inside, you'll find cold beer, burgers/jalapeño poppers, and a small staff that's totally friendly unless you try to use the bathroom without buying something.
How to get there: Wake up in Austin, go get one of the city's best brunches, then drive about an hour and a half due west


Nutt, NM
Located in what is technically still the town of Nutt (which, according to the welcome sign, is "the middle of nowhere"), this roadhouse unsurprisingly used to be called The Middle of Nowhere Bar. That is, before it was renovated and renamed something more geographically accurate; it sits at the "corner" of New Mexico's Hatch Highway and Highway 27. The CB's a seriously no-frills spot (there's drop ceilings, a concrete floor, unfinished brick walls, etc.), but it makes up for it with pool and ping-pong tournaments, beer to go, and the best live music this side of Deming, which has the best live music this side of Las Cruces, which has the best... oh, never mind.
How to get there: It's only an hour outside Las Cruces, but since you'd be crazy to go there, head to Albuquerque then drive south for three hours and turn right at Hatch. Pro tip: don't forget to pick up some green chiles on the way.

Sign up here for our daily Thrillist email, and get your fix of the best in food/drink/fun.

Bradley Foster is a former Thrillist editor who has actually been to Las Cruces and Hatch and totally thought THEY were in the middle of nowhere.