Live Your 'Great British Bake Off' Dreams on This London Pastry Crawl
With dozens of innovative bakeries and the premiere of the hit series' musical adaptation, there's never been a sweeter time to visit.
As an unabashed Anglophile and food writer, one of my favorite methods of self-care is watching reruns of The Great British Bake Off. During the deepest stages of lockdown, watching contestants fumble their way through one of Paul Hollywood's challenges—only to be rewarded in a later round with one of his coveted handshakes—was an incredible balm for my stress-addled soul.
So, when I realized that a Great British Bake Off musical was in the works for March in London's West End, I knew it was time to plan the ultimate pastry crawl in England's capital—featuring a sufficient number of sweet treats to justify the trip, and culminating in a viewing of Bake Off the musical.
Before I arrived, I consulted dozens of Best Of lists from magazines and food world luminaries, but my secret weapon was Crystelle Pereira, former GBBO finalist and fellow pastry nut. Pereira—bless her—not only sent me an extensive list of bakeries beforehand, but was also willing to put her cookbook testing on hold (Flavor Kitchen comes out in June) to accompany me on a massive, carbo-loading field trip.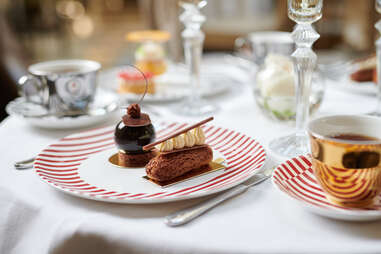 Where to stay for a London pastry crawl
My planning started with finding a hotel. I wanted to be close to the West End in order to easily attend the musical, but I was also looking for a place with its own stellar pastry program. One name popped up again and again: The Corinthia. Not only a popular accommodation for actors while they're starring in West End productions, the hotel also boasts one of the city's most popular and indulgent afternoon tea services, plus phenomenal baked goods.
The morning I arrived—after a rather bumpy red-eye flight—I was immediately swept off to the dining room, where a plate of buttery, shatter-crisp croissants was quickly procured. I then passed out on my plush king-sized bed, in a room that was ever so lightly scented with citrus. I don't know if I've ever had a better greeting to a city than that.
Eat your way through Covent Garden
I met up with Pereira to begin our tour in Covent Garden, home to some of the city's more classic bakeries. According to Pereira, the lines at Arôme Bakery can often be out the door by 9 am, so it's good to get an early start. Over a still-warm slice of their popular honey butter toast, I asked her why she thought the bakery scene was exploding in popularity as of late.
"We are really fortunate in London that there is such a big influence of different cuisines. You have incredible Korean food, Middle Eastern food, food from all over," she said. "And so what you're starting to see, especially in recent years, is this rise in really innovative flavors."
To wit: our second pastry at Arôme was a savory sausage and cheese croissant, slicked with Japanese barbecue sauce; a tasty marriage of past and present England.
As a New Yorker, I found Covent Garden to be a unique mix of attractions. You have many of the performing arts theaters here, but unlike Times Square, there are also charming side streets with boutique shops, as well as many of the city's best nightlife venues. And, of course, there is a preponderance of bakeries.
After we left Arôme, we walked a few blocks to Buns From Home, a mini-chain with pillowy-soft cinnamon rolls and gargantuan "dessert buns." We opted for the special of the week, a flaky pastry base overflowing with a whipped tahini cream, poached apples, and sesame crumble. To say it was triumphant would be an understatement.
Then in quick succession, we swung by a number of tasty establishments. We stopped at famed restaurant St. John's Neal's Yard Bakery for a rhubarb donut, then Bageriet for classic Swedish cinnamon buns so redolent you could smell them down the block. We had ultra-flaky zaatar and Gruyère croissants at Chestnut Bakery before finally resting for a moment at Japanese patisserie WA Cafe, where we sipped black sesame lattes alongside a slice of matcha-chocolate gateau.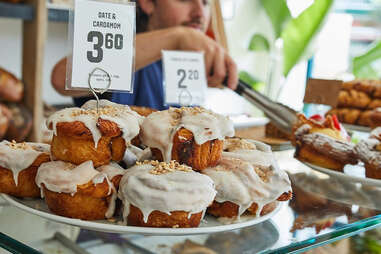 Visit buzzy bakeries in Dalston and Hackney
If you're counting, that's six bakeries, so we allowed ourselves a bit of a break to hop on the tube to Dalston and Hackney. These neighborhoods lack the polish of Covent Garden, but have a very palpable independent spirit; think Brooklyn as opposed to Manhattan.
Our first stop was The Dusty Knuckle, one of London's buzziest bakeries located in what appears to be a former parking lot. The complex includes a cafe, bakery, and cooking school, plus hundreds of outdoor seats, all of which seemed to be filled when we arrived. We quickly grabbed a salty-sweet honey-feta-sesame swirl, plus a rich hazelnut-coffee pain au chocolat (both phenomenal), and then stretched our legs with a walk to Violet Cakes. This unassuming bakery perched on the border of Dalston and Hackney rose to prominence when owner Claire Ptak was chosen to make Prince Harry and Meghan Markle's wedding cake, but continues to draw fans for its superb banana bread and frosted lemon and elderflower cupcakes.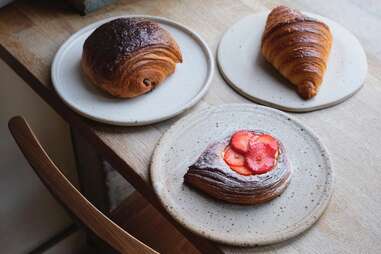 From there, we strolled to another of Pereira's favorites, Pophams Bakery, where I was entranced by all the laminated pastries, from the maple-bacon and oh-so-British Marmite, Schlossberger cheese, and spring onion swirls, to the intricately woven cardamom bun.
Our final stop was conveniently near the tube: The market and bakery complex E5 Bakehouse. Their delicate sesame financiers were the perfect end to our marathon; and to be honest, I doubt we could have fit anything else in our stomachs.
Settle into spectacle at Great British Bake Off: The Musical
Finally, it was time for my pastry journey's last and most boisterous stop: The first night of previews for The Great British Bake Off musical. (In case you're wondering—Yes, you can get pastries in the lobby, but I skipped them for reasons that I hope are obvious.)
The musical is the vibrant creation of the incredibly talented duo of Jake Brunger and Pippa Cleary, who have been writing shows together since they met in university. Both are massive fans of Bake Off, and were initially approached to write a pitch for the musical in May of 2020, when lockdown gave everyone more time to work on passion projects. The duo spent months formulating a plot, writing songs, and deciding which eight characters to focus on.
"It was a very gradual process of bit-by-bit until they eventually said, 'Yes, do the whole thing!'" Pippa told me during a Zoom call with the duo. In the musical's eventual out-of-town tryout, a two-week run in Cheltenham, the crowds went wild.
"I just didn't quite realize, I think, how much of a British cultural phenomenon and now global phenomenon that the show is," Jake said.
Nearly three years later (which is lightning speed in the theater world), the show took its first West End bow on February 25, 2023. From my seat in the audience, I found it to be a soaring, feel-good spectacle—complete with hilarious baking challenges, cleverly designed sets, sensitive yet cheeky character portrayals, and musical numbers I'm still belting out in the shower many weeks later. I don't want to give anything else away, for fear of ruining the magic of seeing it live.
One caveat for those who love Paul and Prue the way I do: The musical is set for a limited run, only playing until May 13, so you'll want to book your tickets as soon as possible. If you can't make it to London in time, you'll have to set your hopes on an eventual Broadway run. I'm not aware of any plans to take the musical's "signature bakes" to the American stage, but if the exuberant crowds at the first night of previews are any indication, Bake Off fans are hungry for more.