Let skijoring become your new favorite sport.

| The Great Northern Festival
Let skijoring become your new favorite sport.

| The Great Northern Festival
New Yorkers complain about snow as if they were the only ones in the country that get any. In Texas, a patch of ice is the day's top news, and a few hours of rainfall in LA result in the whole city shutting down. Up north, Americans grow up hardier. They do not fear the winter. The winter makes them strong.
Minnesota suffers one of the most miserable godforsaken winters in the United States. That is a fact. And yet, respectably, its population of Midwestern nice optimists doesn't just suck it up—they throw a huge-ass party. The annual Great Northern Festival is a 10-day spectacle of wintery goodness that takes place in Minneapolis and St. Paul, attended by upwards of 250,000 souls who brave, nay, relish the below-freezing temperatures.
This year, the action takes place between January 27 and February 6, and by action, we mean ice-carving contests, cross-country ski races, the US Pond Hockey Championships, sauna pop-ups, parties, ice palaces, fireworks, live music, food trucks, art exhibitions and installations, a puzzle contest, and a cat show. Also skijoring, which is a Scandinavian craft beer that Minnesotans drink to become tall. Nah I made that up, it's getting pulled along on skis by dogs.
The Great Northern is technically an umbrella event for three overlapping festivals by three founding partners, each of those with their own events, which is why there's just so very much going on. There's also plenty of non-festival-related things to do in the Twin Cities this winter, so quit whining about the weather and go conquer the cold.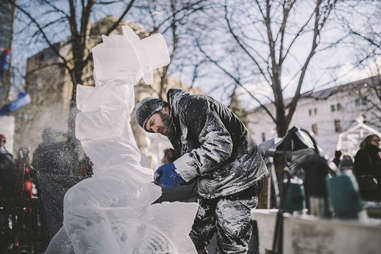 January 28 - February 6
Landmark Center, the Minnesota State Fairgrounds, and more
For 2022, Winter Carnival events will be held across the Landmark Center, the Minnesota State Fairgrounds, and businesses throughout town. Festivities really get going with the Grand Day Parade on January 29, followed by everything from beard growing and ice fishing competitions to walking tours, scavenger hunts, and a fashion show. Fan favorites include the puzzle contest (which you can enter!) and the Vulcan Snow Park, where you can check out snow sculpting contests (enter 'em!), a snow stomp, and a fun day.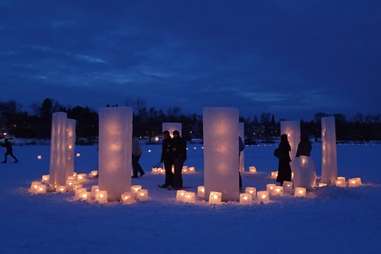 February 4 - February 6
Theodore Wirth Regional Park
Here you'll find cross-country skiing, fat tire biking, skijoring, a beer garden festival, and a tournament for a Swedish lawn game called kubb (assemble your team!), plus the undisputed highlight of the festival: the Luminary Loppet, when festival attendees (that's you!) walk (or ski, or snowshoe) around the frozen Lake of the Isles, which has been covered in luminaries. As you walk, you'll come across fire dancers, hot chocolate, live music, an enchanted forest, an ice pyramid, and a series of totally pun-derful ice structures (Ice-Cropolis, Ice-Henge, Ice-ster Island). And, for those of you who've attained the appropriate age, a free beer. You gotta register to get your own glow stick, and registration is capped so get in on that early.
January 21 - 30
Lake Nokomis
There is no finer outdoor hockey tournament in the country than this annual event on Lake Nokomis, which kicks off a little earlier than the rest of the festivities. And if you think watching hockey does not sound as wild as some of the other activities available to you at the Great Northern, then you really gotta watch this.