Drinking Underground: The world's 6 best bars in caves
When it comes to drinking, we're all about going underground. And while that used to mean sinking drinks at a speakeasy, Underground 2.0 literally equals drinking under the ground -- in a cave. So stop roaming the streets in search of a contrived Prohibition-themed cocktail joint and strap on your head lamp -- we're headed to the world's top troglodyte bars.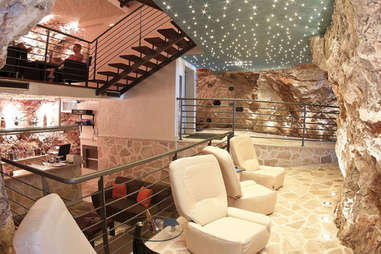 1. Cave Bar More -- Dubrovnik, Croatia
Not only does the Hotel Bellevue (just outside the city walls) offer a cave reachable only by water, but the bar at Hotel More is nestled deep inside a natural cavern. The multilevel space is dramatically lit to show off its rocky contours. When the weather's warm, you can also take your drink outside and gaze out over the Adriatic.
Coolest stalagmite/ stalactite/ interesting formation inside: The craggy cave walls are illuminated purple, but after a few drinks, it's the classier-than-it-sounds fake star ceiling that'll draw you in.
Drink of choice: The local specialty, Ožujsko Limun, is a lemon-flavored beer that in no way tastes like Bud Light Lime.
2. Imagine Punta Cana -- Punta Cana, Dominican Republic
One of the best places to get your rocks off is appropriately housed inside a warren of caves, each one thumping with sweaty bodies as DJs spin different genres. Keep the party going in the Electro Cave, VIP Chill Out Cave, or the Universe Cave for a live show (and check out the Thrillist Travel Guide to the DR for more suggestions).
Coolest stalagmite/ stalactite/ interesting formation inside: Though not natural, the DJ booths're cleverly anchored into cave walls and illuminated with slick LED lighting.
Drink of choice: VIP table service, obv. If you throw down $400 to book a space , they'll match with a $400 bar tab; not too shabby, considering bottles of Grey Goose go for a cool buck fifty.
3. Les Hautes Roches -- Loire Valley, France
Sure, there are a bunch of wineries here that offer tastings in cellar caves, but the troglodyte standout is Les Hautes Roches -- a luxury hotel built into the side of a limestone cliff.
Coolest stalagmite/ stalactite/ interesting formation inside: Thanks to its location deep inside a cave, the lobby bar rocks a delightfully uneven ceiling and a gleaming wooden top bored into a cozy nook.
Drink of choice: As the hotel is located in the village of Vouvray, it's best to familiarize yourself with the regional wine of the same name. Roll with a bottle from Domaine Vincent Careme, an award-winning local winemaker who specializes in hangover-minimizing organic vinos.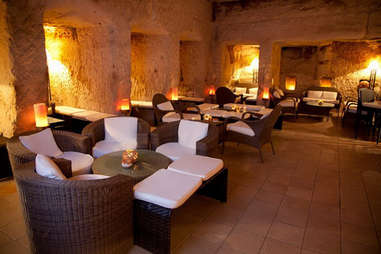 4. Cave Bar -- Petra, Jordan
Sometimes the wonders of the ancient city of Petra are so stupefying, you simply need a drink. Which is where Cave Bar comes in, tucked inside the Petra Guest House next to the park's gates. The super-dramatic lighting lends itself to pretending that you're boozing in your own personal Bat Cave.
Coolest stalagmite/ stalactite/ interesting formation inside: It's hard to tell whether the carved stone columns and archways in the lounge are uneven because they were fashioned from ancient tools, or because the craftsmen were drinking (...or both) -- either way, they're awesome.
What to order: A shisha filled with your favorite flavored tobacco is definitely the move here.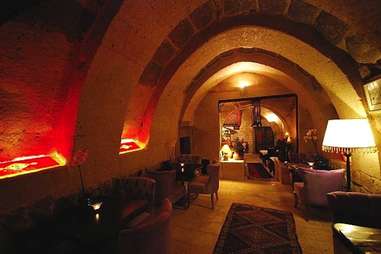 5. Lil'a -- Cappadocia, Turkey
Cappadocia's one of the most geographically impressive places on the planet, studded with pointed rock formations that give it the look of an ancient city of gnomes. Or Tatooine! And because these are the bars you're looking for, you'll want to check in to the cave-sheltered Museum Hotel, or at the least grab a libation at its elegant, award-winning restaurant Lil'a.
Coolest stalagmite/ stalactite/ interesting formation inside: The bar at Lil'a is an intimate, carved-out, arched-ceiling den complete with velvet chairs and Oriental rugs.
Drink of choice: Cappadocia is a huge wine-making region, so go for a bottle of the local vino.
6. Eguren Ugarte -- La Rioja, Spain
Located on a 143yr-old vineyard at the base of a mountain, Eguren Ugarte boasts more than a mile of hand-dug tunnels that -- in addition to making Andy Dufresne proud -- are stocked with casks of aging wine you can try.
Coolest stalagmite/ stalactite/ interesting formation inside: Definitely the "txokos" (a Basque word pronounced "cho-kos"): carved-out nooks that can be reserved by wine club members for tastings, full meals, and other occasions.
Drink of choice: Yea, um, you're going to want to go with some wine. Rioja is the drink of choice here -- try the Anastasio, a velvety 100-percent Tempranillo that bursts with ripe fruit.
Sign up here for our daily Thrillist email and subscribe here for our YouTube channel to get your fix of the best in food/drink/fun.