The best (free!) hotel happy hours
After a day of planes, trains, and automobiles, the last thing you want to do is navigate an unfamiliar city in search of a much-needed drink. Enter: The hotel bar. And more importantly, the hotel bar happy hour: where guests are often afforded some sick deals, if not outright free booze. Here are six worth knowing about before booking your next room.
1. JW Marriott Tucson Starr Pass Resort & Spa -- Tucson, AZ
What's free?: Tequila's the drink of choice at this resort an hour north of the Mexican border. At 5:30p daily, bartenders at the hotel's lobby lounge, Salud, pour gratis shots of añejo tequila for guests on the outdoor patio, which overlooks the Sonoran Desert. The "Tequila Toast" has become so popular, locals often "drop by" for a free swig.
While you're there: While your lady-friend enjoys the award-winning spa, you'll have time to explore three different on-property nine-hole golf courses.
2. W Retreat & Spa -- Vieques Island, Puerto Rico
What's free: The only thing better than sipping cocktails while watching the sunset over the Atlantic is when said cocktails are free. Which is every evening at the W Vieques Island's "Sunset Sip", where guests relax by the outdoor fire-pit and knock back gratis island-inspired libations like Puerto Rican rum punch and mango/ passionfruit mojitos.
While you're there: Don't let lame marketing campaigns get to you: WET = the beautiful infinity pool; FIT = the state-of-the-art gym, complete with tennis courts and diving facilities; and AWAY = the resort's ocean-facing spa.
3. Hotel Rex -- San Francisco, CA
What's free: In a nod to the city's literary roots, the hotel's cozy Library Bar's wooden bookshelves are stocked with an impressive selection of page-turners. And from 5-6p daily, you can score complimentary vino by reciting your favorite passage (from memory) out of The Old Man and the Sea. JK! You don't even need to know how to read -- just ask one of the bartenders for your free booze.
While you're there: Staying on a Friday? There's live jazz in the bar, performed by a string quartet. Enjoy/ be forewarned!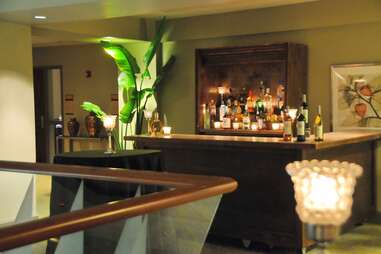 4. Magnolia Dallas -- Dallas, TX
What's free: At 5:30p every day, guests can relax in the Magnolia Lounge and sample the best from the hotel's private wine label (which includes a Cabernet Sauvignon, Merlot, Pinot Grigio, Chardonnay, and White Zin), while also taking down half-priced apps. Assuming you're allergic to grapes but not hops, a handful of domestic brews are also on tap.
While you're there: Keep enjoying the freebie-train -- the hotel offers complimentary cookies and milk with their turn-down service.
5. Park Hyatt Beaver Creek Resort and Spa -- Avon, CO
What's free: Ok, so maybe not exactly what you envision when somebody mentions après, but the Park Hyatt Beaver Creek holds a daily, complimentary s'mores hour at its outdoor fire pit. Best part -- other than being free? There's a selection of chef-made boozy marshmallows in flavors like Grand Marnier and crème de menthe.
While you're there: The newest resto we're excited about at Beaver Creek's called Talons. There're 500 inside seats and 250 outside, more than doubling the size of Red Tail Camp.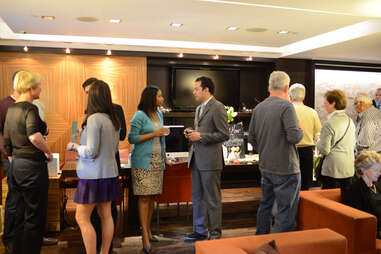 6. Affinia Hotels -- various locations in New York, NY
What's free: Hotel executives take turns playing bartender at Affinia's nightly "Wine Hour", pouring an assemblage of red and white wines (sometimes from local vineyards) for hotel guests standing in the lobby in horribly staged poses like the one pictured above. The vino hour begins at 5p and the selection of wines -- and guests! -- rotates regularly.
While you're there: There're five different Affinia properties spread across Midtown, and they each claim to be "boutique" while offering a central location. They all rate between 4-4.5 stars on TripAdvisor, so enjoy.