A Visitor's Guide to Attending a Native American Pow Wow
Frybread, squash blossom necklaces, and a whirlwind of dancing.
Crowds get their hands sticky with honey frybread. A jingle dancer walks by, bells proudly ringing with each step. Elders look over tables streamed with turquoise, pottery, and beadwork. A man walks inside an arena and taps a microphone, hushing everyone. A drum circle begins to beat. "It's time to get ready for Grand Entry," says the MC, the Master of Ceremony. The drum circle starts to sing, and the pow wow begins.
As a child who grew up jingle-dancing, lifting my feathers up to the drum circle beats, I developed an understanding of indigeneity at my community's pow wows. I also developed a near-constant appetite for Indian tacos.
You can learn so much at a Native American pow wow, whether seeing stories told through movement, learning new footwork, watching the best-of-the-best dancers at competitions, eating traditional Navajo mutton stew, or donning a new squash blossom necklace. And passing down knowledge from elders is key to continuing the next generation across tribes.
Though some pow wows are privately held for a specific Indigenous community, many openly welcome the public. But, like any culture, when it comes to celebrations, events, and rituals, there are a few things to keep in mind to be a respectful visitor. Here's what to know about attending a pow wow (which typically take place from April through September)—and where to find one happening near you.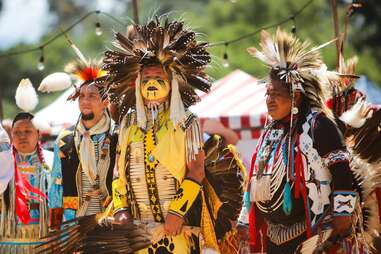 What happens during a pow wow?
Back in the day, pow wows were meant to welcome warriors home from a hunt or battle. Today, it's a celebration and affirmation of identity through song, dance, community, and respect. Universities may put on pow wows or they can be larger, regional events. But both will pay respect to the tribes who have historically called the area home. Most are free to attend, with the exception of grand ones like the Gathering of Nations. Some last one or two days, and some festivities last a week.
The pow wow kicks off with the Grand Entry, which is a procession to honor elders, veterans, dancers, and local tribes. During the Grand Entry, attendees stand up—that means you, too. At this point, the tribe carries in its Eagle Staff, a symbol that acknowledges the warriors who help protect the Native way of life. It's also viewed as the "flag" for Indian Country, which will be followed by more tribal and country flags.
Afterwards, dancers line up in different categories. Everyone has their favorite, from the graceful ease of fancy dancers to the demanding footwork of grass dancing, the ingenious unfolded creations in hoop dancing, or the tiny tots dances where children learn their heritage.
There are two kinds of dances: those to watch and those to join. You'll know what's what based on what the MC says. If the person holding the mic doesn't invite everyone to come on in, know that you should leave the arena to the dancers and avoid entering that space. (Keep in mind that seating near the circle is reserved for dancers.)
But the dances that everyone participates in are communal and celebratory. The round dance is a common one to join—and it's really easy to pick up. Think of a side shuffle in a circle around the drums. The significance of the round dance varies from tribe to tribe, sometimes representing a healing act or celebrating the heartbeat of mother earth, but will depend on the region. Again, wait to be invited first.
In addition to dancing, singing, and drum circles, you can browse the many stalls and admire or purchase indigenously made food, jewelry, and arts.
When in doubt, just listen to the MC
The easiest way to ensure you're being respectful is to listen to the Master of Ceremony, who will let you know when to participate, stand up, or put the camera away. The MC narrates the event, making it easy for attendees to follow along. With so many distinct tribes (574 officially recognized in the US), there are different regional traditions for different pow wows, so even if you've attended one before, it's important to pay attention.
Bart Powauke, Northern Ute and Nez Perce, has MCed pow wows for over a decade across the country and Canada. "There's a lot to learn from pow wows of how Indigenous people are raised," Powwauke says. Passing down knowledge from elders is key to continuing the next generation across tribes. His biggest tip for those interested in attending is to just "come out."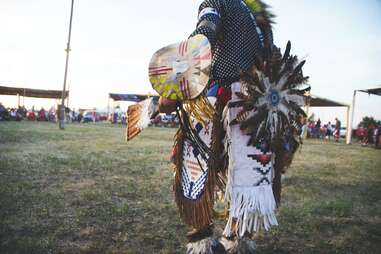 How to be a respectful guest
Yes, it's a social gathering, but pow wows are also considered sacred spaces. Alcohol, recreational drugs, and smoking are off limits. It's important for all attendees to respect elders, stand when the crowd stands, give seats to those in need, and ask before taking photos or touching things.
Dress is also important to note: Dancers don't wear costumes, they wear regalia in accordance with their dance. If a feather falls down on the ground from someone's regalia, do not pick it up; instead, point it out to an official.
Tribal lands were also some of the worst-hit areas in terms of Covid cases, so if you're attending a pow wow, be respectful and wear a mask.
So if you'd like to come out, join in the dance circle, watch the hoop performance, eat some Three Sisters Soup, buy some handcrafted jewelry, or just listen to the drum beats, here are some pow wows held across the country.
Albuquerque, New Mexico
The largest in the US, this multi-day event is held every year in April. Mentioned across notable North American Indigenous media such as DreamKeeper, Gathering of Nations is considered the Superbowl of pow wows in the country. The Miss Indian World Pageant, where young Native women compete to serve as cultural ambassadors for Indigenous cultures, also takes place here. The event even hosts its own radio station. In recent years, there have been more than 70,000 visitors.
Arlee, Montana
This past year marked the 122nd annual Arlee Celebration, which is hosted by the Confederated Salish and Kootenai Tribes and takes place on July 4th in the valley of the Flathead Reservation. Multiple tribes come together for five days of dance and drum competitions—each with special outfits depending on the category—plus singing contests, jingle dances, and traditional food.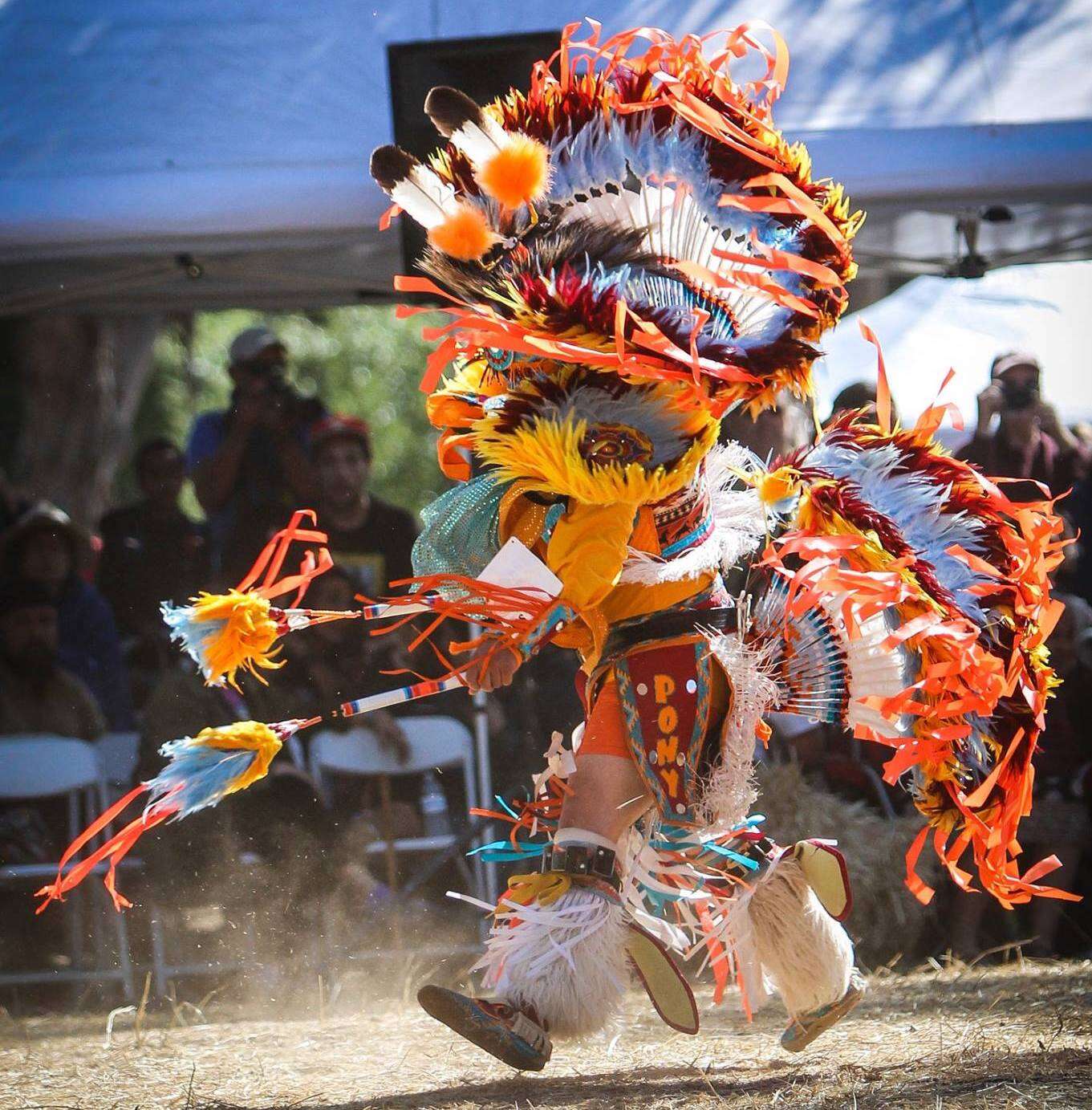 Stanford, California
One of the largest university events in the country, this weekend-long pow wow brings together some of the most diverse inter-tribal representations in the West, and features more than 100 art vendors. Since the event always falls on Mother's Day weekend, a moment in the agenda is reserved for mothers (last year, there was an honor song during the women's dance competition). Expect a variety of different dances and competitions, an art market, and a fun run.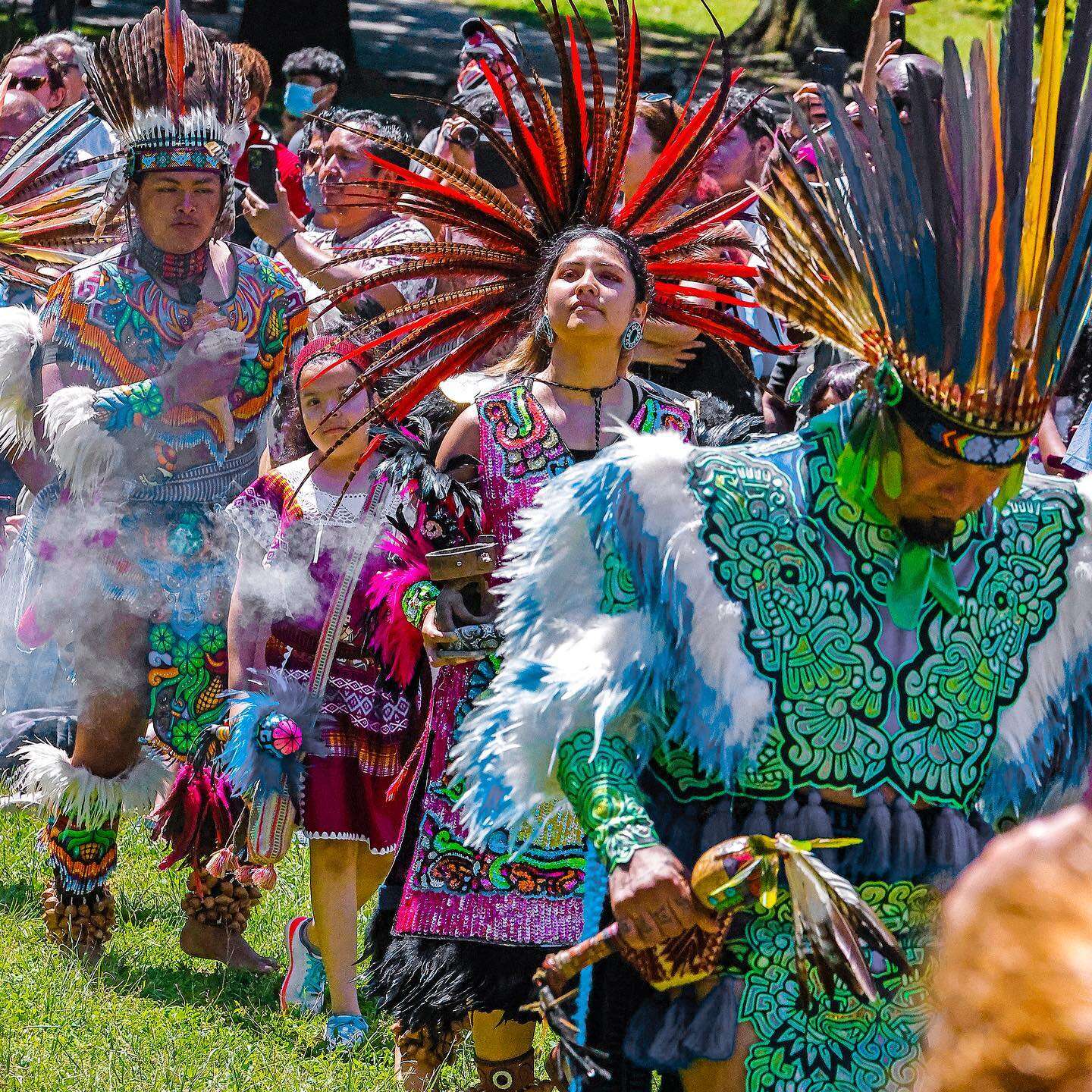 New York, New York
In June, the one-day pow wow celebrated its 20th anniversary at Inwood Hill Park, the last natural forest and salt marsh in the city. A collaboration with the New York City Department of Parks & Recreation, the celebration honors the Lenape people who were the first to inhabit Manhattan (which they named Manahatta, meaning "hilly island") and the surrounding area. Each year, something new is added to the program, whether that be a white pine tree planting (the Iroquois symbol of peace), drummers and dancers, or a Native American Arts in Education Initiative—all of which has helped the event grow from 400 attendees to more than 8,000.
Dayton, Tennessee
A non-competition event, the aim at this pow wow is to introduce all participants to various tribal cultures, traditional food, and dancing. A showcase of flute players and storytellers will be presented as well. Veterans, firefighters, EMT, and teachers get in free, and gates open at 10 am on November 13 and 14.
Cabazon, California
Organized by the Morongo Band of Mission Indians, this pow wow takes place at the Morongo Casino Resort & Spa and caters to those seeking a more luxurious stay. Before the grass dancers go on, make sure to attend the sprawling art and food market.
Miacel Spotted Elk is a Navajo/Northern Cheyenne writer and reporter interested in covering indigenous affairs. Follow her on Twitter
@MiacelSelk
.