The Official Guide to All 6 Yacht Weeks
Courtesy of The Yacht Week
Perhaps you've heard about this thing called The Yacht Week, an exclusive seven-day, spring break-like flotilla for kind-of grownups that involves sailboats, exotic locales, and hard-partying young people from around the world. Days are spent drinking onboard chartered boats while nights are spent drinking in clubs you've only seen on Wild On! Somewhere in between people sleep and probably quote that Andy Samberg & T-Pain song waaaay too much.
But how can you get in on the action and live like a billionaire playboy for the week? For less than $2,000. And where, exactly, is all this partying going on? To sort it out, we talked to Kiersten Rich -- aka, The Blonde Abroad -- a travel blogger and one of our favorite Instagrammers on the planet. She's been to Yacht Week a time or five, and broke it all down for us. Here are her insider tips for all six routes.
So, what is The Yacht Week?
Yacht Week is not like Fashion Week or Music Week, where you just show up and party. It's a private trip full of private parties that you buy your way into. Old and new money are accepted.
Actually, The Yacht Week isn't just one trip but a series of flotillas throughout the year organized by European Travel Ventures. You join the fun by either rounding up your friends and chartering a boat or, if you're flying solo, reserving a cabin on an existing yacht using their handy website. The number of boats on each route is limited, so in either case, you should book early.
Also, there's the catch: The Yacht Week regulates the guy/girl ratio on every trip, aiming for an even 50/50 mix. So when you book, you'll see a percentage next to the boat you're trying to reserve; this is the minimum percentage of female patrons that must be in your party to set sail. It's kinda like going to a high-end club, except instead of getting seven hours of pounding techno music, you get seven days of it.
Once onboard/on location, participants receive a weeklong schedule of events planned by TYW that includes everything from exclusive parties, to snorkeling adventures, to day trips around nearby islands; again, it all depends on the itinerary. And again, ONLY people from the organized Yacht Week itineraries can attend those crazy parties you keep watching on YouTube. Participants are easily identified by their brightly colored wristbands that scream, "Yes! I'm one of the cool kids!"
The exact routes aren't planned until a few weeks before the trip, so you're kind of flying blind when you book. But nobody (to our knowledge) has ever come back and called it "the worst week of my life." So, you can probably trust in The Yacht Week's planning skills.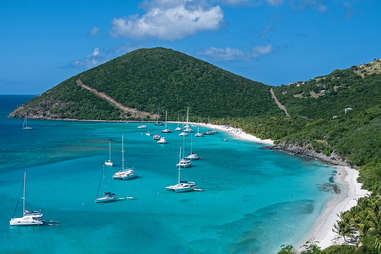 Where is The Yacht Week?
There are six locations where The Yacht Week operates: Greece, Croatia, Turkey, Italy, Thailand, and the British Virgin Islands (BVI). As mentioned, each route runs during a specific time of year (although there is some overlap), typically summer in Europe, winter in Thailand, and winter/spring in BVI.
Here's the thing though, despite the name, it's not just ONE set week. In fact, participants typically have six or seven weeks to choose from throughout the season for EACH destination. This summer, there are actually 13 weeks for the Croatia route.

How much does it cost?
Again, that depends on the itinerary, how many people are in your group, and what kind of boat you charter. It can range from about $600-$1,000 a person, not including food, plane tickets, or transfers from the nearest airport to the marina. The rate also doesn't include fuel or port fees for your boat (which can range from $25-$100 per night) or the cost of a skipper/hostess should you not know how to sail the damn thing and/or want to make your own sandwiches.

And speaking of skippers and hostesses?
Most people on The Yacht Week can't sail. And even for the people who do know how, the amount of partying involved typically doesn't lend itself to a long day at the helm. So participants often hire a skipper who will both lovingly refer to you as "Lil Buddy" and drive your rig. He'll also teach you how to sail if you want to actually learn something during your week of debauchery. But no pressure.

For a mixed or all-female boat, the skipper will cost you between $800-$1,200, depending on your route and exchange rate. For an all-male group, it runs between $1,300-$1,800.
You can also hire a hostess for the week to do all the cooking and cleaning, and have meals (and drinks) ready when you return to the boat after a hard day of partying. This will set you back an additional $750-$1,000, plus the cost of food (all of which, she'll buy).
What do I do all day?
A typical day, as described on the company's website, is as follows:
9-11am: Wake up and eat breakfast on the boat.
10am-12pm: Set sail.
12-2pm: Lunch stop in a nice natural bay. The yacht will stay at anchor for one-two hours while you swim, eat lunch, and relax.
2-4pm: Sail to the next port. Enjoy some sun on deck.
4-6pm: Arrive at port. If you get there early, you can score a slip and walk ashore. If you arrive late, you're likely grabbing a mooring in the harbor and will take the dinghy to the dock.
6-8pm: Dinner at a restaurant in town.
8-11pm: Drinks, socializing, and parties on the boats.
10pm-12am: Head to the evening's designated Yacht Week party.
2-4am: Bed time!
The routes
When: June 4th-September 3rd
Where: After departing from a marina near Split, you'll sail to Rogac, Milna, Bol, Hvar, Scedro, Vis (including both the Green AND Blue Caves) Komiza, and Korcula.
Don't miss: The Party in a Castle at Ft. George
The most famous of all the yacht weeks, this is probably the one you saw in the video and were like, "We've GOT to do this." It's the biggest party of them all and attracts up to 50 boats per itinerary. It's so big now that they actually operate in two different directions to accommodate the crowds. This is THE yacht week to go on if you want to rage, and while it's not all that much of a cultural or learning experience, it's definitely the route to take if you want stories your friends back home won't believe.
When: July 23rd - August 6th
Where: Starting in Sicily, you'll sail to Vulcano, Lipari, Salina, Panarea, and Stromboli.
Don't miss: The trek up an active volcano in Stromboli (lava flow permitting)
Unlike Croatia, this is the best route if you want to learn a lot about the country you're visiting. The itinerary sails through the islands around Sicily that you typically wouldn't see on vacation, and it affords you the opportunity to climb up the aforementioned volcano. The daytime exploring here displaces a lot of the daytime parties, but if you're hellbent on getting your afternoon drink on, there are plenty of other boats around to party with. The route is a little smaller -- typically 15-25 boats -- and the dining and nightlife can get expensive.
When: July 9th - September 3rd
Where: Starting in Lavrio or Alimos (depending on your route), you'll sail to Kea, Poros, Ermioni, Dhokos, Hydra, Spetses, and Plaka.
Don't miss: The White Party on Ermioni Island
This route through the Greek Islands is far and away the most organized, offering the most regimented schedule/number of official parties; although you're free to skip any of the soirees if you want to check out the islands on your own. The sailing days here are the longest (some up to six hours) and many of those are spent motoring rather than sailing, which mean fuel costs can add up. The size of the flotilla is small (approximately 12 boats) but the parties on the Greek Islands are some of the best you'll hit.
When: December 27 - January 10th, March 5th - 26th, May 28th - June 18th
Where: Starting in Road Town, Tortola, boats sail to Jost Van Dyke, Virgin Gorda, Anegada, Norman Island, and Peter Island.
Don't miss: The Baths, one of the Caribbean's best beaches, is an entire landscape of giant, volcanically formed boulders that create dozens of grottoes and pools.
The Yacht Week routes in Europe are all about parties and cultural destinations. But when you get to the BVIs, it's more palm trees, white sand, and turquoise waters. The actual area around the islands is small, which means short sailing routes and long days on beaches like White Bay and The Baths with a painkiller in hand. Your night parties will be laid-back affairs, with trips to the legendary Foxy's on Jost Van Dyke and beachside bars in Tortola. The routes are typically 10-30 yachts and run in the spring, but the special New Years week includes one of the craziest NYE parties on the planet.
When: December 12th - January 3rd
Where: Starting in Yacht Haven near Phuket, you'll sail through the islands of Southwest Thailand with stops in Koh Yao Noi, Railay Beach, Koh Muk, and Koh Phi Phi.
Don't miss: The Emerald Cave at Koh Muk, a beach you can only reach by swimming through a cave in complete darkness.
Beautiful scenery is great. Epic parties are fun. But too much of either can make a yacht week a little one-sided. The Thai route offers the perfect balance, with opening and closing parties at world-renowned nightclubs (Nikki Beach and XANA Beach Club), a stop at Ko Phi Phi Don, and a relaxed weeklong sailing tour through tropical islands, including the privately-owned Khai Nui and Maya Bay (aka, the place where they filmed that DiCaprio movie). This flotilla typically runs about 20 boats.
When: July 23rd - August 6th
Where: Starting in either Maramris or Fethiye, you'll sail to Ciftlik, Ekincik, Sarsala, Gocek, and Gemiler Adasi.
Don't miss: Ekincik, a remote, desert cove with underwater caves perfect for exploring
The newest addition to the Yacht Week experience, this 20-boat excursion along the Turkish Mediterranean coast runs in opposite directions each week and is another ideal itinerary for folks interested in exploring the area. Although there's still no shortage of late-night parties in the port towns along the way. The extra costs aren't too bad here, as food in Turkey is cheaper than in other destinations, but it's new trip, so stay tuned for likely changes to the itinerary in upcoming years.
Sign up here for our daily Thrillist email, and get your fix of the best in food/drink/fun.
Matt Meltzer is a staff writer at Thrillist, and you'll definitely be seeing pictures from one of these yacht weeks on his Instagram @meltrez1 this summer.