This app can hook you up with a gym on the road for just $5
Traveling takes its toll. You're eating out all the time. You're sleeping in a foreign bed. And worst of all, the hotel gym consists of a NordicTrack, a couple of dumbbells, and one of those fat-melting jiggle machines.
By the time you get back to your home base, your fellow gym rats ask, "Do you even lift, bro?"
Well, now there's an app that solves your problem.
Launched on May 14, Gymsurfing hooks travelers up with a place to work out while they're on the road. The app looks a lot like Hotel Tonight in layout, and functions much in the same way. After signing up, users can search for gyms in their local area, and buy credits to redeem day passes.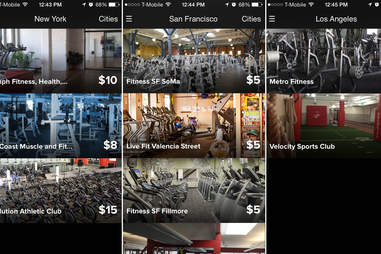 Gymsurfing
Co-founder Kevin Bracken said he thought up the idea while working on a project that shuttled him between New York, Toronto, and San Francisco. With no national chain offering truly national coverage, Bracken said that he and his cohorts resorted to using free trials at gyms with no intent of signing up, or what he called "gym piracy".
"It would be way better not getting pitched for 45 minutes by a gym I wasn't going to join", he said. "And it would be better for them to not waste a free pass on me".
To solve that problem, Bracken and co-founder Dustin Hoffman (no, not the actor) created Gymsurfing. At present, gyms in New York, Los Angeles, and a few smaller cities are participating, with the most gyms in San Francisco. Current participants are independent businesses (i.e. not huge, corporate chains) with a standard set of equipment that include free weights, machines and cardio equipment. Gymsurfing recommends gyms charge between $5 and $9 for one-time passes, as most users will purchase three passes during the course of the trip.

Gymsurfing
Bracken explains that for eligible gyms, it's a win-win. Not only does it provide new potential revenue streams, but there are checks built in to prevent overbooking facilities. And for users, it's about making travel better.
"We're not super gym bros by any stretch", Bracken said. "The best thing about this is it allows the flexibility I love to have when I travel".
But now, Gymsurfing users can maintain their flexibility by getting their stretch -- and pump -- on while they're on the road, too.
Ryan Craggs is Thrillist's travel editor, who is currently bro-ing out to the Onus Wunsler weight program. Follow him @ryanrcraggs.