Is this the world's creepiest bar?
Sure, you've thrown a few back in some crazy places: A bar smack in the middle of the ocean. Up in a tree. In a toilet. Don't forget in a prison.
But have you ever enjoyed your favorite beverage inside of the belly of a beast? Or in front of the crying eyes of a hundred mummified babies? No? Well get ready to enjoy the creepiest cocktail of your life inside of the H.R. Giger Bar, a dystopian nightmare in the picturesque medieval village of Gruyéres, Switzerland (yes, of cheese fame).

H.R. Giger Bar/Andy Davies
In case you missed it, H.R. Giger, the Swiss set designer/artist/sculptor best known for his work on such sci-fi flicks as Alien, Dune, Species, and Poltergeist 2, died earlier this month at age 74. Since 1998, though, he's maintained a museum showcasing designs from his vast Hollywood career, as well as some personal works of art. The Gruyéres bar is owned and operated by the museum, and is located across the street in a medieval castle.

H.R. Giger Bar/Andy Davies
It's also completely tricked out with props/ images/ objects that you'll totally recognize. Every inch of this place, even the floor, was designed by the man himself; who, we might note, took home an Oscar for Best Achievement in Visual Effects for his work on Alien.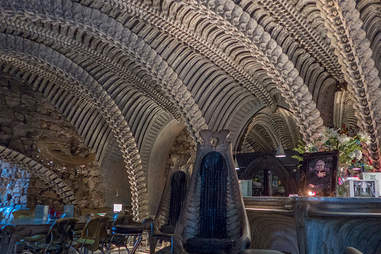 H.R. Giger Bar/Andy Davies
Yes, that's a bone throne... inside the womb of an alien? According to the literature, "Day and night, inside Giger Bar, guests are enveloped within the womb of a mythical beast. It's warm, inviting, even comforting. It's about contrast, juxtaposition. Old vs. new. Clean vs. biomechanical. It's an out-of-this-world feeling." So there.
H.R. Giger Bar/Andy Davies
Upon closer inspection, that's definitely a ribcage twisting and turning across the vaulted ceilings.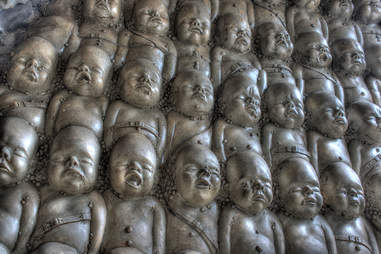 H.R. Giger Bar/Andy Davies
Crying (maybe dead?) babies certainly add to the eerie aesthetic. Are they judging you for drinking inside a weird alien lair instead of taking the Gruyéres cheese factory tour? No, of course not. Don't be silly.
H.R. Giger Bar/Andy Davies
There are actually two Giger Bars, in case you were wondering. The first one opened in Chur, Switzerland -- Giger's birthplace -- in 1992, and is slightly more futuristic sci-fi, if that makes sense (pictured above), than the bone-heavy one in Gruyéres, which opened in 2003.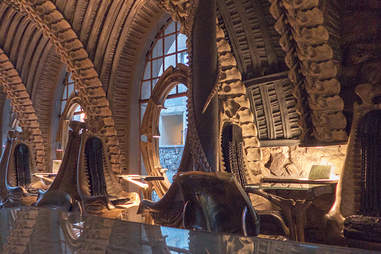 You'll be happy to learn though that American real estate developer Andy Davies has plans to create a Sci-Fi Hotel in the US with a Giger bar. The location is still to be determined.
Until then, check out the Gruyéres location, right here.
Sophie-Claire Hoeller is Thrillist's über-efficient German associate travel editor, and she'll take the cheese, please. Follow her @Sohostyle