New Year's Eve is for grown-ups. All the holidays involving presents are for children. Valentine's Day is for high-schoolers and the occasional middle-aged couple rejoicing in their second marriage. But Halloween is for everybody. It grows with you, like a training bra. You can celebrate it at all ages and in all places. Getting your face painted at the county fair. Trick-or-treating in something your grandmother sewed you. Toilet papering your substitute algebra teacher's home in high school. Getting your stomach pumped after toga parties in college, when Halloween lasts at least four days. Going to bars in costume after you graduate. Realizing how little your substitute algebra teacher must have been making, and penitently volunteering to organize the local hayride or costume contest or something. Going trick-or-treating with kids of your own, maybe. Handing out candy to neighbor kids. Sewing costumes for grandkids. Pretending to be a withered corpse in a coffin on your front porch to scare babies. Haunting your enemies as a ghost.
There's lots of giant theme parks and big coastal city centers that do it up big for Halloween, but rarely do those make for a better time than the small(er) towns that go all out, offering chances to celebrate regardless of which phase of the Halloween life cycle you're in. Here are 10 of the biggest, spookiest small(ish)-town Halloween celebrations around the country.
Recommended Video
Please Don't Hang Up: Miami
Where: Manitou Springs, Colorado
When: October 26
The Emma Crawford Festival is known for a very particular Manitou Springs tradition, and that tradition is coffin racing. In the late 1800s, a tuberculosis-ridden Emma Crawford came to the Colorado mountain town of Manitou Springs in the hope that healing properties of the town's mineral springs would save her. They did not. But before she died, she fell so in love with place that she requested her husband bury her atop a mountain there. He complied. Decades later, spring flooding unearthed her coffin and sent it luging down the mountainside and into town. Her remains were gone but for a few bones. Today, Manitou Springs residents honor her by forming teams of five -- four coffin pushers ("pushers") and one coffin driver ("Emma") -- and racing 195 yards through town, heat by heat. Check out coffin race footage for yourself. There are awards for the three fastest times, Best Entourage, Best Coffin, and Best Emma. The race is $75 to enter per team. There's also a parade, of course. And a skeleton-decorating competition and an after party. And a brew fest, because of course there's a brew fest at a Colorado coffin race.
MORE: The donuts you can only eat at the very top of Pikes Peak
Where: Laconia, New Hampshire
When: October 18 - 19
The New Hampshire Pumpkin Festival pulls around 40,000 visitors each year. They go for the dozens and dozens of food and beer vendors, of course, and for the pumpkin carving, the pumpkin bowling, the live music and the movies in the park, the car show, the zombie fun house, and perhaps some bungee jumping, but they largely go for the iconic 34-foot-tall Jack-O-Lantern tower. You can reserve a space in the tower for your own pumpkin for $10. Or maybe they're all there for the Duck Derby.
Where: Providence, Rhode Island
When: October 3 - November 3
There are more than 5,000 carved pumpkins at the Jack-O-Lantern Spectacular. Also, a zip line you can ride over the whole thing, which'll looks especially fun after dark. The festivities take place at Roger Williams Park Zoo -- rain or shine -- which means good family fun all around. This year the event has special themed nights: Fairy Tale Night, Video Game Night, and Superhero Night. Come dressed as your fav. Tickets start around $15 (some events are a la carte, like the ziplining -- $15).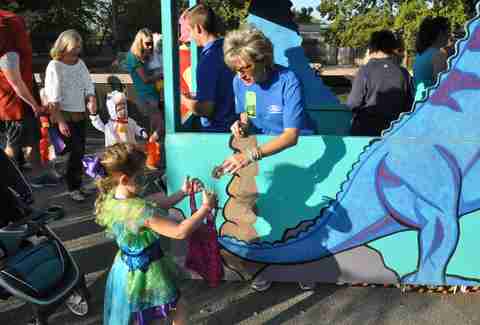 Where: Louisville, Kentucky
When: October 3 - 6, 10 - 13, 17 - 20, 24 - 27
Billing itself as The World's Largest Halloween Party, this is not a rager -- or rather, it is, but specifically for children. Costumed characters abound, like everyone's favorite fairy tales all come to life at once. There's a hay-bale maze, an Astro Disco, and an allergy-friendly night full of peanut-free candy. You might run into the Headless Horseman whilst trick-or-treating around the zoo but fear not that this will overwhelm the little ones -- the tagline here is "kooky, not spooky". The festivities run rain or shine. Tickets start at $2. Grown-ups can and should attend, but: Family-friendly costumes only, please.
Where: Independence, Kansas
When: October 18 - 26
'Neewollah', if you've not gotten there already, is 'Halloween' spelled backwards. Will there be carnival rides and live music? Ya! Parades? Three! A very important chili cookoff? Most definitely, and desserts can be entered also. Neewollah is also special because of its Medallion Hunt -- each day, a new clue is posted online, prompting Independence residents to turn the entire town upside down in a bid to find the hidden medallion before anyone else (cash prize of up to $500 doesn't hurt, either).
Where: Sycamore, Illinois
When: October 23 - 27
The Sycamore Pumpkin Festival began with a single resident wanting to liven up his neighborhood in the 1950s, and today is the biggest city-wide event of the year. More than 1,000 pumpkins are entered for display, plus there are two carnivals, three craft shows, and a grand parade on Sunday. The Sycamore Pumpkin Festival has a different theme each year. This year, it is Wild West Pumpkin Fest.
Where: Fairborn, Ohio
When: October 18 - 20
The biggest seasonal event in the region, the Fairborn Halloween Festival returns for its eighth year, bringing live music, a parade, food trucks, street vendors and trick-or-treat booths, a beer garden, a haunted museum, a costume contest -- all for free. Then there's the Zombie Walk. Fairborn residents (and visitors) young and old to get in zombie drag and march from the local senior center down to Main Street, where they all dance to Michael Jackson's "Thriller." There's also an optional "blood bath." You can paint your zombie makeup on yourself, or have a resident artist do it for just a couple of bucks. Participation costs $10.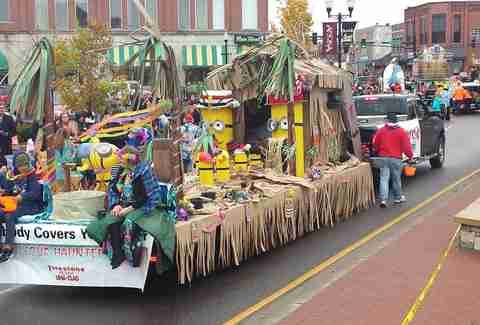 Where: Anoka, Minnesota
When: Throughout October
Anoka Halloween is legendary. Indeed, this charming town just north of Minneapolis bills itself the Halloween Capital of the World. In 1920, Anoka threw a big parade and bonfire to give teenagers an alternative to terrorizing the town with Halloween pranks, which in had started to get out of hand (today's kids have nothing on 1920s Midwestern youths, apparently). The plan was a success, and now, buoyed by 100 years of Halloween tradition, the moment October arrives Anoka absolutely balls out. There's all the Halloween-fest staples, of course: costume contests, a big parade that raises funds for local schools, a medallion hunt like the one in Independence, Kansas. But there is also… more. There's merchandise. There's a year-round nonprofit Halloween committee just to handle the October-long logistics; about 30,000 people show out for the parade alone. There is a fucking light-up pumpkin on top of city hall. And yes, they still do a bonfire.
Where: Greenfield Village, Michigan
When: October 11 - 13, 17 - 20, 24 - 27
Hallowe'en in Greenfield Village is everything classic you could ever want from a Halloween fest. Glowing Jack-O-Lanterns -- 1,000 of them. Live music. Hot apple cider. Craft beer. Fresh, steaming donuts. Dancing skeletons. Fairy tale-themed dinners served aboard horse-drawn wagons. Costumed characters from all your fav Halloween tales, flitting about town by the dozens. Get a taste of the festivities here. Tickets start at $17. 
Where: Chadds Ford, Pennsylvania
When: October 17 - 19
More than 70 pumpkins -- the real big kind -- will be masterfully hand-carved before awed spectators (you) during The Great Pumpkin Carve, then filled with candles. This would be a sufficient draw on its own, but because by law every Halloween event must include a pumpkin patch, hay rides, food and drink vendors, and live music, The Great Pumpkin Carve also has those things, plus a large Haunted Trail for the kids. Tickets are $15 for adults and $5 for kids; ages 6 and under get in free.