Commune with Ghosts—Both Real and Make-Believe—at This Haunted Historic Prison
Eastern State Penitentiary throws one of the best Halloween parties around—served with a heaping side of criminal justice reform.
From the outside, Eastern State Penitentiary is an intimidating sight—a Gothic Revival fortress, battlements and all, shrouded by hulking, 30-foot walls. A spiked iron gate guards the entry, giving way to a massive 11 acre-campus, initially picked for its isolation from the city which continued to spread out around it. Now it's smack-dab in the middle of Philadelphia.
Inside, the cell blocks thrust out like spokes on a wheel; on the walls, paint peels in nuclear green layers. Some crumbling voids haven't been touched in over 30 years. In one sits an old barber's chair, an ominous pop of red amid the rubble. Rusted iron bed frames lean against walls. Some clothes still hang, as though their owners vanished into thin air.
There are ghosts, of course—the disgruntled spirits of hardened criminals who were lost to madness, suicide, torture, and disease over the prison's 142-year reign. Eastern State Penitentiary has been called one of the most haunted places in America, with reports of shadowy figures in Cellblock 6, cackling voices in Cellblock 12, a ghostly guard that patrols the dilapidated hallways, and even alleged appearances from Al Capone, who was, at one point, locked away here for eight months.
Visitors can take in the sinister history on a daytime tour… or test their mettle at night. Now through November 12, these eerie halls host one of creepiest, demented, most disturbing—but also fun!—Halloween festivals out there. With five haunted attractions, chilling cocktails, shuddersome storytelling, and plenty of spooky spectacles (a skeleton dance crew, anyone?), Halloween Nights at Eastern State Penitentiary lets you explore these famous grounds—in the dark and with disquieting detail.
Last year, the festival celebrated their 30th anniversary, and this year, for the first time since 2019, there's an opt-in for next-level frights, where costumed actors touch—nay, caress—you, rip you away from your group, and escort you to secret locations. Don the free, optional glowing necklace and gear up to be pulled into the demented dentist's chair in the Nightmares haunted house—new this year—where your darkest fears come to life. Be marked with an X and have your soul taken by a vampire in The Crypt, where the undead roam among the disintegrating walls, or have your deathly fortune told amongst the deranged clowns, skull whac-a-mole, and life-sized marionettes at the Big Top Terror—another new attraction.
As with the daytime tours, Halloween Nights's historical audio tour is narrated by Steve Buscemi, but this one is an abbreviated version made especially for the event. And only at night can you take the CB3 Flashlight Tour, which allows visitors to venture into the prison's old hospital block. Dodge knife throwers at the Carnival-themed Bizarre Bar or bust a move with the skeleton dance crew at Gargoyle Gardens. Wind down at the S'mores and Lore, which pairs ghost stories with melty marshmallows around a bonfire.
Ticket prices vary from $34 to $79, growing pricier as October 31 approaches (FYI, they're cheaper to buy online). Spring for VIP status and get extra perks, like a free "blood"-spiked cocktail at the Bloodline Lounge, or a peek into the cell block where Al Capone actually stayed; now it's a speakeasy where ghostly flappers serenade with throwback tunes.
And it's not all ghouls and ghosts. A goal of Eastern State Prison is to foster dialogue and deepen the national conversation around criminal justice, shining a light particularly on the woeful state of mass incarceration in the US (not least of all in Philadelphia, which has one of the highest incarceration rates in the country). To that end, the institution's award-winning Prisons Today: Questions in the Age of Mass Incarceration stays open during the festival, as does the Big Graph, which charts skyrocketing incarceration rates in the US by race, highlighting its outsized pacing in comparison to the rest of the world.
And the philosophy extends to onsite business partnerships. Near the Big Graph is the Fair Chance Beer Garden, where vendors are featured based on their commitment to fair hiring practices. Brews are provided by Triple Bottom Brewing, which employs people who have experienced homelessness or incarceration. Pizza comes courtesy of Down North, which also hires the formerly incarcerated and encourages other employers to do the same (its motto: "changing lives through pies"), with a Philly rap-themed menu and slices that have topped restaurant lists from Bon Appetit to the New York Times.
Elsewhere, the Monkey & the Elephant coffee shop employs former foster youth and the brews pair nicely with the French toast bites from Lokal Artisan Foods, a Black- and women-owned business that hires young people from underserved communities and pays them at least 35% above minimum wage.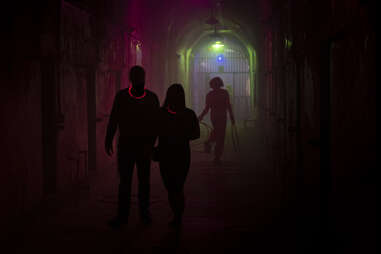 Opened in 1829 in a then-rural area of Cherry Hill (now Fairmont), Eastern State Penitentiary was a marvel of its time. When it was completed in 1836 for $780,000, it was one of the most expensive buildings of the day, boasting heat, plumbing, and running water before even the White House.
It was the brainchild of a group called the Philadelphia Society for Alleviating the Miseries of Public Prisons, which counted members like Benjamin Franklin among its ranks. They championed a new "penitence" model where prisoners would live in solitude, the majority of their time spent alone in their cells, repenting for their sins or crimes (hence the term "penitentiary"). This theory of corrections became known as the Pennsylvania System, and went on to inspire approximately 300 prisons around the world.
But the system soon broke down, and in 1913 they abandoned the penitentiary system altogether. The space, intended for 250 inmates housed in single-occupancy rooms, eventually held 1,700. With squalid conditions and frequent riots, the whole operation shut down in 1971—but not before it was designated a National Historic Landmark. "The challenges Eastern State's founders faced are still unanswered," says Brett Bertolino, Eastern State Penitentiary's director of operations. "We're still incarcerating more people than ever in our country, and we think that because Eastern State was open as an active prison from 1829 up until 1971, a lot of the United States's history of incarceration took place at that one site."
The ruins sat abandoned until the mid-1980s, when the City of Philadelphia formed the Eastern State Task Force, a group of architects, preservationists, and historians with an eye towards restoration and cementing the institution's place in the country's complicated past.
Over the years, the building has captured the imagination of everyone from artists—who use pockets of the prison as their canvas, creating installations around the theme of incarceration—to paranormal hunters and filmmakers who have staged everything from student projects to 12 Monkeys inside its walls. (It was when scouting locations for the 2000 film Animal Factory that Steve Buscemi was first introduced to the location.) It even landed on the cover of a Sting album.
In 1991, Eastern State began hosting candle-lit ghost tours around Halloween to help raise funds. A few years later, they rebranded the event as the gory, snaking, prison-themed Terror Behind the Walls (tagline: A haunted adventure in a real prison).
"We started adding ways for visitors to customize the experience," says Bertolino, who's also a member of the Haunted House Attraction Association (oh, to be a fly on the wall at those meetings). If you wore a special glowing necklace or an X drawn with fake blood on your forehead, the actors might take you away on a gurney, or send you down a secret passageway.
Last year, the experience was overhauled and rebranded as Halloween Nights. Now, it's a choose your own adventure-style journey, where you can take in a performance, spook yourself, or just admire the handiwork. Some of the visuals are quite mesmerizing. "You have Kaleidoscope Hall, where the 30-foot vaulted ceiling is mapped with projections and moving lights, and sometimes there are performers that move through those spaces," says Bertolino. "It could be creepy, but it could [also] be beautiful."
This new format also allowed the organizers to re-think their themes. With its castle-like exterior, future Halloween Nights might get even more fanciful. "We were kind of in the mindset that it had to be prison-themed. After 20 years, that gets a little bit old," says Bertolino. "When we went to a different model, our creative team was like, 'You mean we can finally talk about dragons??'" They may not have gone the fantasy route yet but the scary clowns are doing just fine.
Vanita Salisbury is Thrillist's Senior Travel Writer. Please direct her to your favorite haunted house.