Because no one will ever see your sexy Janet-Napolitano-in-a-dirndl costume if you spend All Hallow's Eve securing your own homeland, venture out and hit one of this year's six best Halloween parties.
Las Vegas, NV -- Freaky fetishes
Plan on not one, but two weeks of Halloween partying at Las Vegas' Hakkasan Nightclub, as it transforms into a Forbidden City and DJ Tiësto takes to the turntables for a double-weekend extended extravaganza. For those who'd rather trade untz-untz for scary sexual proclivities, "7,500 of the sexiest (self-proclaimed) people in LV" will be amassing at Hard Rock Casino for the the annual Fetish and Fantasy Ball.
Los Angeles, CA -- Costume carnivale
The West Hollywood Halloween Costume Carnival -- with its half a million gym-loving, costume-clad revelers dancing the streets -- is the largest Halloween parade in the world. And, as it is LA, there's always a chance of a surprise performance; in 2011, Robyn put on a spontaneous pop-up concert for the crowd.
New York, NY -- A touching-allowed house of horrors
For a downright frightening family-unfriendly Hallow's Eve, hit Blackout Haunted House at the Vortex Theatre on Eleventh Avenue. After kitting you out with a flashlight and protective mask, they'll send you out on the ice at MSG off alone to brave their vault of horrors. While this 18yrs-and-older experience promises "sexual and violent situations" -- not to mention "physical contact" (oooh… intriguing) -- don't worry, there is a safe word if you get spooked or touched inappropriately.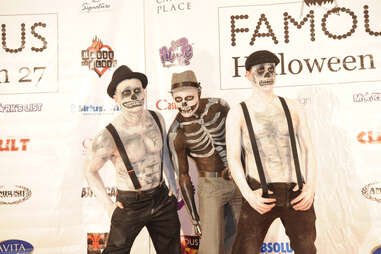 New Orleans, LA -- Voodoo in the French Quarter
What better place to spend October 31st than celebrating death in the most haunted city in America (three years running, according to AARP's The Magazine, and Ryan Murphy's current Horror Story)? Kick off your fright night with a graveyard tour and visit to the French Quarter's voodoo shops, before disappearing into the costumed crowds on Frenchman Street at the city's biggest outdoor party.
Washington, DC -- Who you gonna call?
Billed as one of the biggest costume parties in DC, this all-night Sin Cities soiree at Cities Lounge includes DJs spinning Thriller- and Ghostbusters-themed tunes (so, like, a lot of Ray Parker Junior?) and Halloween 'tails including the club's signature drink, The Filibuster.
Salem, Massachusetts -- Witches 'a brewin'
Home of the Salem Witch Trials, this coastal Massachusetts town famous for its witch-burning past is a no-brainer for a Halloween fright night. Not only do the costumed masses swarm the town on Oct 31st, but the city also hosts a month-long Festival of the Dead highlighted by the Salem Witches Ball, an event complete with live tunes, ritual belly dancing, a laser light show, and free psychic readings.