How to Absolutely Crush It at the Hangout Music Festival
Coachella.Bonnaroo. Lollapalooza. Governor's Ball. All great. The problem with those, though, is you're either paying jacked-up prices to stay in a big city, or living in a tent and going four or five days without a shower. Would it not be perfect if a festival brought in a ton of A-list names, set it right on the beach, and had plenty of air-conditioned, shower-adorned condos within staggering distance?

Oh, but such a paradise exists. It's called the Hangout Festival, and it happens every May in Gulf Shores, Alabama, the most beautiful place in that state. Previous headliners have included Foo Fighters, Paramore, and the Zac Brown Band, and every year the lineup gets better. And as it does, more people come.
Throngs of first-timers head to the Hangout Festival every year. And lucky for them, we here at Thrillist are salty, seasoned veterans. And after our years of experience, here is our insider's guide to how to make the most out of the Hangout Music Festival.
Getting there
Driving is best...
The festival traffic is the absolute worst between about 3-5pm every day, but especially miserable on Thursday. Plan to arrive in Gulf Shores by lunch on Thursday or early, early Friday morning.
The two main routes to get to Gulf Shores from the north are Hwy 59 South and the Baldwin Beach Express from I-10. Though Hwy 59 goes straight into Gulf Shores, The Beach Express can save about 20 minutes because there are fewer traffic lights. It will cost you $3.50 at the toll bridge, but if you're gonna be fighting traffic, it's worth it.
If you fly...
The best airport to fly into is Pensacola Regional Airport, about 45 minutes away. However flying there can be prohibitively expensive, and you may find it cheaper to fly into Birmingham or New Orleans and rent a car. Birmingham is about five hours by car, New Orleans is three-and-a-half hours.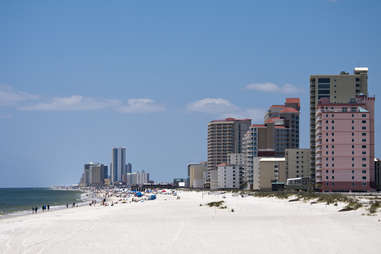 Where to stay
The nearby beachfront condos are a better bet than Airbnb
Most people rent beachside condos when they come to Hangout, and more than likely that's your best bet too. There are shuttle buses (more on that below) that run during the festival and deliver most festival-goers to and from their condos each day. You might be tempted to go the Airbnb route for housing, and that CAN work, but if you're not familiar with the area it's a crapshoot, and you'll likely be further from the festival than you want to be.
You'll find good deals, a better selection, and a streamlined check-in process by going through one of the local rental companies, like Brett/Robinson or Meyer Vacation Rentals. Most have offices in Gulf Shores, and you can just stop in and get your keys much like you would with a hotel. And since they're basically property managers, if any emergencies arise they can be solved more quickly than most Airbnbs.
While most condos come with linens and cooking utensils, most don't have daily maid service, and you will likely need to throw down a cleaning fee.

Hotels are your worst bet
If you're hellbent on getting preferred guest points during your trip, Gulf Shores has properties from most of the major big brands, but the rates are jacked up, and you can't fit nearly as many people inside. The local "boutique" hotels -- including Island House, Perdido Beach Resort, and Phoenix All Suites -- aren't bad options either, but still pose the same disadvantages as the big chains.

Save money and stay in other cities
The two nearest cities to Gulf Shores are Orange Beach and Foley. Orange Beach makes up the other half of the coastal barrier island and is about 10 minutes east. Foley is landlocked and about 20 minutes north on Hwy 59. Rooms here -- especially in Foley, which doesn't have a coastline -- are considerably cheaper. Of course, you'll then have to drive into Gulf Shores for the festival.

Parking can be tricky
And if you are coming for the weekend, most condos allot two parking spaces per rental. Which can be tough when you've got ten people from four different cities staying with you. Your best option is to park the extra cars in the front yards of local residents, who rent out spaces for about $10 a day.
If you're just coming for one day, or driving in from Foley or Orange Beach, the Hangout Festival Hangout offers a large parking lot north of town on Highway 29 that is accessible via their Beach Club/North line shuttle. More on those later.

Stocking up
The best place to buy food for your condo
If you're planning to stock your condo for the entire four days, see what every friend you have from Florida won't shut up about, and hit the mega-Publix in Orange Beach. It not only has everything you'll need for cooking, it also has tons of beach gear from chairs to towels to red cups and ping-pong balls. If you're not up for exploring Orange Beach, Rouse's is the closest supermarket to the strip of condos, although there is another Publix north on Hwy. 59 as well.

If you need groceries while you're at the festival...
The goal at Hangout is to park your car on Thursday and not touch it again until Monday. So if you have some last-minute grocery needs, the Dollar General a block north of the festival has most of your basic stuff like milk and cereal. There's also a Walgreens about a mile up Hwy 59 if you're feeling strong.

Pregaming
Part of the fun at Hangout is the all-morning beach party, effectively a pregame for the shows. The beach is fine with your impromptu beachside beer-lympics, and setting up a tent, inviting over whoever is closest, and playing an afternoon of drinking games is the best way to make new friends at the festival.
But, you should know glass is not allowed on the beach, and all personal items will be removed from the beach one hour after sunset, so you'll have to find something to do with that bitchin' inflatable Jäger chair if you're not going to bring it into the festival with you.
Going to the festival
Take the shuttles, but leave early
Hangout runs shuttles up and down Perdido Beach Blvd and north to the Pelican Place Parking lot during the entire festival. A pass will cost you $50 for the weekend and is absolutely worth it. Unless you'd planned to get in your workout by walking two to four miles each way.
The shuttles are sold out for 2016, unfortunately. So you're best to buy those tickets at the same time as your festival tickets.
If you're staying outside the city, drive to one of the festival's satellite lots and take the shuttles in. And budget about an hour to 90 minutes of transit time before the first act you plan to see.

Get in early, leave when you want
The earlier the better, really. Part of the fun of Hangout is that it runs early, so you can spend the morning playing flip cup on the beach and still get to the festival long before the headliners go on.
You can also come and go as you please, so arriving early won't chain you inside until your favorite band comes on. Plan to get in about an hour before the first act you want to see on subsequent days so you have ample time to get beer, food, water, and beer.

Pro tips
How to see your favorite acts from more than 500 yards away
Look, Zoogma is a great band and we mean no disrespect to their fans, but they will be drawing a considerably smaller crowd than, say, Lenny Kravitz. So if Zoogma (or another band that's not a massive draw) is playing early on the same stage as your favorite headliner, go check them out. It'll expose you to some new music, and then you'll be set up in prime real estate for the bigger name band coming next.

Beer is reasonable (and security is tight), but water is free. So bring a CamelBak.
Beers are a festival-reasonable $7, though if your condo is close enough, leaving for a quick power hour back home is much more economical. If you're thinking of the DIY alcohol route, there's pretty tight security checking bags at the entrance, but there are always ways to sneak booze, if you try hard enough.
CamelBak, of all people, has set up free water stations throughout the festival. And security will let you inside with an empty container to fill up. Much as it pains us to buy into their ingenious marketing, investing in a CamelBak for the festival is a wise idea, especially if it's hot.

Watch the festival from the water
Hangout has two places where you can watch the festival from the water, Pandora Point and the Bud Light Party area. Each spot only allows 100 people in the water at a time, so get there early.
After the show
Beat the masses to the shuttles
When the festival finishes each night, lines for the shuttles get hectic, crowded, hot, sweaty, and occasionally vomit-y, so you might not want to stick around for that curtain call of the night. Leave halfway into the set and you'll avoid the rush completely. If you're a die-hard bitter-ender, just remember the last shuttle leaves half an hour after the final performance, and it's a loooong walk back.

The best bars to postgame
We've told you about about Flora-Bama, the bar on the state line near Pensacola, where you can drink in two states at once. And it's an absolute must-go while you're there. But also check out Live Bait for live music, or Anchor Bar and Grill in Orange Beach for some seriously ramped-up bar food. LuLu's is the Buffett family outpost in Gulf Shores, take that for what it is.

Where to eat
Never underestimate the wait for a table at Hangout
Your natural temptation will be to grab a meal at the Hangout restaurant, aka the place that started it all. This is all well and good if you're one of the lucky few who gets there at 10am and snags a table. The restaurant has a spectacular view of the beach and the main stage, but tables there don't turn over. So get in for breakfast if you even want a chance, and tip your waitress well.
Locals picks > Yelp
Much like they do for people traveling to the beach, the Gulf Shores Tourism Department has put together a list of curated locals picks called Eat Your Way Around the Beach, a far more reliable and less ad-driven resource than Yelp! But if you don't feel like searching their suggestions, here are the best spots for we've found in our visits to Gulf Shores.

Breakfast: Hazel's Nook
Picture a small Southern diner with heart-stopping grits, fluffy pancakes, and surprisingly great coffee, and you're probably picturing Hazel's. Right down to the waitresses who've probably worked there since the 1960s. Breakfast here might not be the greatest culinary experience of your life, but it's definitely a lesson in Southern hospitality.
Barbecue: Hog Wild
This spot was actually featured in the PBS documentary film Alabama's Barbecue Legends, and for good reason: they slow smoke their meats in-house. A giant platter of their baby-back ribs is a perfect pre-show warmup meal for your whole crew.
Pizza: Papa Rocco's
The pizza offerings in Gulf Shores don't extend much past national chains and slices inside the festival. If you want a whole pie, this locals' favorite is the closest to a big-city pizzeria you'll find, and also slings burgers and subs.
Burgers: Pink Pony Pub
This historic, bright pink bar serves hands-down the best burger in Gulf Shores, nachos with enough meat that two people can easily split an order, and a huge list of po-boys if you want a little local flavor.
Seafood: DeSoto's Seafood Kitchen
This dark, cool spot a couple of blocks from the festival entrance is known for its coconut shrimp. But the rest of the menu is probably the best seafood you'll find in Gulf Shores, and still has some good pasta options if you have non-seafood eaters in your group.
Ice cream: Matt's Homemade Ice Cream
Definitely get the banana pudding.

Going home
Obviously, you've got your own schedule to keep to. But in making it, consider the highest traffic time leaving Gulf Shores is between 10am and 12pm on Monday. Make a stop at Hazel's on your way out of town and wait it out if you can.
If this is your first Hangout Festival, barring disaster it likely won't be your last. And if you've got any tips from this year, or previous ones, please feel free to share them below. Enjoy your weekend in the Alabama sunshine, and we'll see you on the beach!

Sign up here for our daily Thrillist email, and get your fix of the best in food/drink/fun.
Matt Meltzer is a staff writer at Thrillist. See his Hangout pictures on Instagram @meltrez1.