Some countries in the world are difficult to visit because they're waaaaayoff the beaten path, while others are tough because they just don't like you. Or at least, don't want you there. And these eight strongholds -- well, they're a combination of both: remote, hard-to-get-to, and run by government bureaucracies that make trying to visit an absolute nightmare.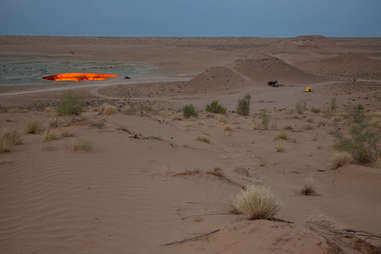 Turkmenistan
This 'stan borders Kazakhstan, Uzbekistan, Afghanistan, and Iran, and is one of the lesser known Central Asian countries for a reason; the only way you'll get in is with a letter of invitation (LOI), and by signing up/paying for a guide (who's with you 24/7) in advance. If you get accepted for a visa, you'll need to decide what sites you want to see in advance, as your route will be mostly set in stone before you arrive. That said, don't hold your breath -- it's common to get rejected and deemed "an undesirable."
There is one loophole if you do get the kibosh: a three-day transit visa, but only if you can prove that you're driving or biking across the country, have a predetermined route, and pinky promise to stick to it. Give yourself around four weeks to navigate the bureaucracy to try to get one of these temporary visas.

Nauru
The world's smallest republic, this far-flung Pacific island also requires a $100 visitor visa. The hard part here, though, is finding a Nauru consulate or embassy at which to obtain it. There are only 10 of them in the world.

Once you do score a visa, you get to Nauru by flying to Brisbane, Australia, and hopping a once-weekly Our Airline flight to Nauru, with a layover in the Solomon Islands. From there, you might have to hitchhike to the hotel; there's no public transportation on the island and gas is crazy expensive, which makes it difficult to find cars for hire.
Jan Mayen
Few people other than scientists and soldiers have made the trek to this volcanic Norwegian island that sounds like a person's name. One of the least populated places in the world -- it has around 3,000 inhabitants -- Jan Mayen has no harbor and only a single gravel airstrip that receives eight flights a year, all operated by the Royal Norwegian Air Force and for use by military personnel only. Otherwise, your travel options are limited to chartering a boat from Iceland or Norway, or booking a trip through Eco-expeditions.
If you want to go, you'll need to obtain permission from the station commander well in advance. And if you want to stay for more than 24 hours, you'll also need to talk to the Commissioner of the Salten Police District in Bodø.
Eritrea
Thanks to Mussolini, this former Italian colony is full of incredible architectural gems (like this sexy gas station) and art deco style. No longer a colony, it's now a non-democratic country that ranks last -- yes, even below North Korea -- in terms of journalistic freedom. As you can imagine, visitors are monitored, and visas -- which take almost eight weeks to process -- are said to be rejected on a whim.

There's only one border crossing from Djibouti, and sporadic bus and taxi service from Sudan. You can drive from Sudan too, but only if you have proof of ownership of the vehicle. That said, there is tension between Sudan and Eritrea, and official advisories warn against traveling between the two countries. The Ethiopian border isn't much better though, as it's heavily armed and known for altercations.

Or you can just fly into Asmara Airport from a handful of European and African airports, although prices are hefty.
Russia
While there are dozens of flights to Russia these days, it appears the iron curtain is still up in terms of Russian bureaucracy -- the back and forth to obtain a visa can take weeks, even months, and requires a LOI. If you're lucky enough to get one, it only lasts for 30 days.
If just getting into Russia wasn't enough of a challenge, you can up the ante by visiting Sakhalin Island. Seven times zones away from Moscow, getting there involves taking the Trans-Siberian Railway across the continent to Khabarovsk, switching to a ferry, then another train, and THEN back to another ferry. Or you could just walk around Red Square and save yourself the trouble.
Bhutan
Like Turkmenistan, you can't just waltz into Bhutan as an independent traveler. Instead, you have work with a travel agent who will create an itinerary and organize your visa, and you'll have to pay for all of it -- meals, housing, flights, buses -- up front. Via money transfer too, which doesn't make things easier. Plus, Bhutan is one of the more expensive places in the world to visit, so be prepared to spend the government-mandated minimum of $250 a day on taxes, guide, accommodation, and meals.
The best way to access this remote Himalayan kingdom is to fly in from Bangkok, Singapore, Kathmandu, or Delhi, though only a handful of flights operate each week and few planes can land on the short/high (7,300ft above sea level) runway at Paro's International Airport.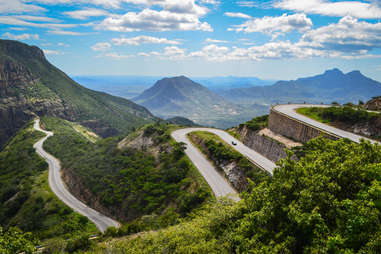 Angola
The site of a raging civil war until 2002, Angola is now rich in oil but discourages tourism by making visas incredibly hard to get. In fact, obtaining one takes at least eight weeks, and requires dozens of supporting documents, hefty consular fees, and a LOI from a person or organization in Angola, as well as a Yellow Fever Vaccination Certificate.
Finally, there's the actual getting there. There are basically two options: 1) catch the rare flight from a handful of somewhat random African, European, and South American locations; 2) fly to Namibia and either drive or take a bus over, or catch a flight from Windhoek to Luanda.
South Georgia and the South Sandwich Islands
These super-remote British territories are north of Antarctica and a full 1,200mi east of Chile's Cape Horn. And with no airstrip, it takes three days at sea from the Falkland Islands to reach them. Ready your puke bags, though, as the Southern Ocean is one of the world's roughest.