The 15 Coolest Hidden Waterfalls in the World
Despite the best advice of T-Boz and Left Eye, there's really no good reason to not chase waterfalls. You hike all day, sweat your ass off, and then arrive at a 200ft-tall shower complete with a turquoise bathtub. What could be more perfect? Not much really, except maybe arriving at a waterfall so hidden and remote that there's nobody there to judge you when you stroll up singing TLC. Like one of these 15.
Havasu Falls
Arizona, USA
Though many an American tourist has made the pilgrimage to the Grand Canyon just so they can look over the side and buy themselves a souvenir keychain, one of the coolest ways to experience the canyon is to hike to its hidden waterfalls, the grandest of which is Havasu. It's a 10-mile trek from the top of Havasu (Cataract) Canyon, on the Havasupai Reservation, and you need to make a reservation months in advance.
Plitvice Falls
Croatia
Though Plitvice Lakes National Park in Croatia is hardly a secret, the farther you hike into the park, the fewer people you'll have to deal with. Every trail runs by a waterfall at one point or another, and it's some of the clearest inland water you'll find on the planet.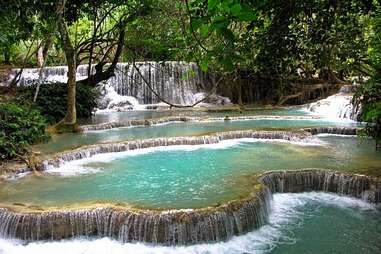 Kuang Si Falls
Laos
The ultimate tropical swimming oasis, these 200ft falls start out in clear, turquoise pools before slowing meandering their way to the main falls, which empty into -- wait for it -- yet another turquoise pool!! And they're all perfect for swimming.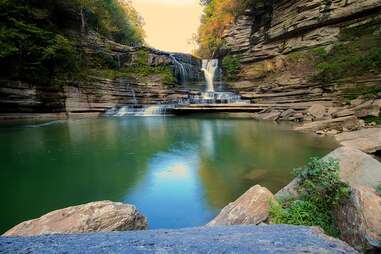 Cummins Falls
Tennessee, USA
While the US might not have the turquoise tropical waterfall/swimming holes of Laos, we do have hidden spots that are beautiful in their own right -- and a lot cheaper. A 20-minute hike through Tennessee backcountry brings you to the bottom of this 75ft number on the Blackburn Fork State Scenic River. The perfect spot for an afternoon swim. Or, if the Cracker Barrel you ate on the way is weighing you down, check the falls out from the scenic overlook at the top.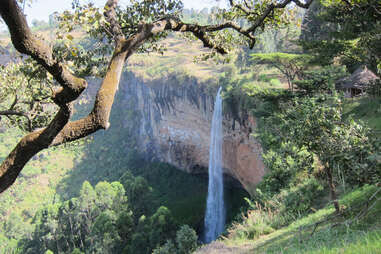 Sipi Falls
Uganda
Sipi Falls are in no way related to that joyful implement you remember from preschool, the sippy cup. While one gives you a nice little trickle of water, the other dumps thousands of gallons on you from one of three waterfalls that stretch as high as 328ft up. So, maybe it's just better to enjoy views of the falls on a daylong hike through the foothills of Mount Elgon in Eastern Uganda.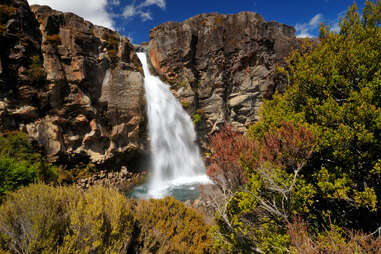 Taranaki Falls
New Zealand
For everyone who enjoys their waterfall hikes with a side of Tolkien, the trail to this 65ft-tall cascade in Tongariro National Park winds through a bunch of places used as backdrops in Lord of the Rings. And even if hobbits aren't your thing, there are three active volcanoes to check out before arriving at the edge of the falls. Also, there's a pool made from lava rocks at the bottom in which you can swim.
Rio Celeste waterfall
Costa Rica
The most brightly colored turquoise you'll ever see that's not in a package of Otter Pops is on the Rio Celeste, which winds its way through Tenorio Volcano National Park. Follow the blue-green stream to this waterfall, which dumps that same volcanic sulphur/calcium carbonate-colored water into a tropical lagoon.
Chute Jean Larose
Quebec, Canada
There really is a lot more to French Canada than hard-to-place accents and terrible driving. There are strip clubs! And also, these falls outside Quebec, which require a 400ft descent to reach. For your troubles, you'll be rewarded with not un, not deux, but TROIS waterfalls splashing down from as high as 134ft.
Wattamolla Waterfall
Australia
Kinda like meeting most celebrities, you'll be a little disappointed at how short these falls actually are. But kinda like telling all your friends you're meeting Jeremy Piven, it's the lead-up that counts, and the coastal hike you take here winds through steep scenic cliffs over the ocean. When you finally arrive at the 23ft falls and their adjoining lagoon, spend the day swimming, cliff jumping, and posting way cooler pictures on Instagram than you would with a celebrity who's 6in shorter than you.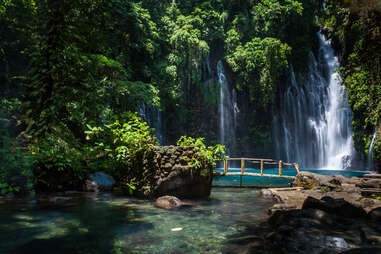 Tinago Falls
Philippines
The Filipinos were not terribly original in naming this cascading body of water at the bottom of a tropical ravine: the name quite literally means "hidden falls" in Filipino. But what the falls lack in a creative name, they more than make up for in beauty and experience; a trip down 500 steps brings you to the base of the waterfall. Or, if you want to hike a little farther, there's a cave under them where the water pouring down sounds like a freight train.
Kaieteur Waterfalls
Zimbabwe
If you ever find yourself on a nice, peaceful float along the Potaro River, and you look ahead and can't really see where the river is going and it just kind of stops at the horizon, GET OUT OF YOUR BOAT IMMEDIATELY. Because that nice calm river is about to drop you 741ft, four times higher than Niagara Falls and double what you'd tumble at nearby Victoria Falls.
Sekumpul Waterfall
Indonesia
If you're headed to Bali for a relaxing time, then maybe give Sekumpul Falls a miss. This collection of seven waterfalls in the Balinese jungle is only accessible via a guided, hours-long (mostly uphill) hike through villages and farmland. And once you get to the top, you'll walk down 300 stairs and cross a river before arriving at the base. Relaxing, maybe not; but definitely rewarding.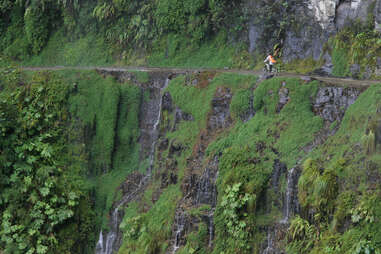 Tres Cascadas
Bolivia
You'd think the Bolivian Ministry of Tourism might want to call the road to these falls something a little more inviting than "The Narrow Road of Death." Then again, if you're traveling through the Bolivian jungle, the term "risk averse" probably isn't in your vocabulary either. And since it's not, simply head outside the village of Coroico and hike a few miles through untamed tropical wilderness until you arrive at this set of three waterfalls, where you can celebrate your cheating of death with a cool refreshing swim.
Kapoloa Falls
Hawaii, USA
Kinda like that T-Rex in Jurassic Park, you can feel one of the Big Island's best-kept secrets before you even get there. This 500ft waterfall sits on private property deep in the Pololu Valley and is only accessible by guided tour. As you approach, you'll hear a low rumbling that grows louder until you reach the initial 300ft drop. From there, you can hike past the water wall to a lookout point 1,000ft over the valley floor.
Tegenungan Waterfall
Indonesia
There are two types of people who visit waterfalls: those who look and say, "That's pretty, let me take a selfie." And those who want to jump in and see how deep the water is. If you're in that second group, hand someone in that first group your phone, and when you've reached the bottom of the 200ish steps that lead to the top of the waterfall, jump right in! It's barely 50ft high, and might be your best chance to do something like this and live to tell about it.