The 10 Best Natural Hot Springs in the World
Shutterstock
Shutterstock
Hot tubs are nice in theory, but when it comes down to it, they're often filled with tepid water, festering bacteria, and -- if Rex Ryan is anywhere around -- broken jets. Hot springs, on the other hand, are all soothing water, dramatic landscapes, and Joe Namath guaranteeing victory over the Colts while declaring to Suzy Kolber that he wants to make out. Or something like that -- you get the idea.
Natural hot springs are pretty awesome, and these 10 are the world's most epic.
Pamukkale
Denizli, Turkey
Below the ruins of Hieropolis (a Roman-era spa), you'll find this blindingly white/turquoise natural fountain known to locals as the "sacred pool", or "cotton castle". The 17 tiered pools, which overlook the city of Denizil, were created over centuries as deposited layers of calcium carbonate cooled into white limestone.
Termas Geometricas
Pucon, Chile
Located at the bottom of a canyon in the heart of the lush Villarica National Park, this Asian-inspired hot spring consists of 20 pools connected by bright red, suspended wooden walkways. In addition to matching changing huts, there're also two cooling waterfalls, a fire pit, and a café.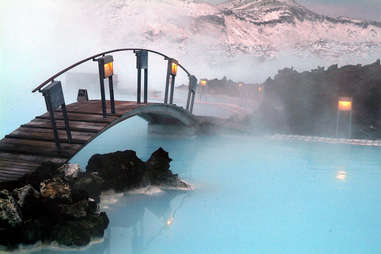 The Blue Lagoon
Grindavik, Iceland
One of Iceland's most famous/photographed sites, this picturesque geothermal lagoon in the country's black lava fields is rich in mineral salts, sulphur, and a silica-heavy mud; in fact, the 98 to 102 degrees Fahrenheit water is so good for your skin that the lagoon boasts its own line of skincare products, not to mention an on-site research facility determined to use the water to cure other ailments. Healing powers aside, the Blue Lagoon also rocks a restaurant and swim-up bar.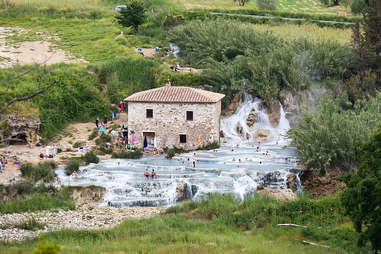 Terme di Saturnia
Saturnia, Italy
Set in the Tuscan countryside, these geothermal springs -- said to have been created by Jupiter (the God, not the planet) -- were used by Roman nobles back in the day. Today, commoners enjoy two waterfalls and 98 degree pools whose waters are as high in sulphur as Nick Lachey's voice in dulcet love balladry.
Yangpachen Hot Springs
Yangbajing, Tibet
At 14,764ft above sea level, these hot springs are the highest on the planet and offer stunning views of the Nyainqen Tanggula mountain range. The Holy Medical Spring Resort's also boasts three pools (two indoor, one out), each filled with water cooled from its original blistering temperature of 158 degrees Fahrenheit.
Fun fact: a nearby thermoelectric power plant ensures that these springs produce around 30% of the electricity used in Tibet's capital, Lhasa.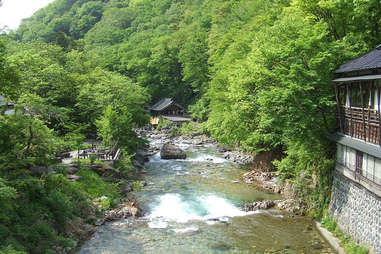 Takaragawa Onsen
Gunma, Japan
Japan is famous for its many healing hot springs, and Takaragawa is one of the country's most scenic. Dwarfed by mountains and trees, these four outdoor baths located off a babbling brook were once used by samurais and shoguns, and are said to be filled with magical waters that heal cuts and bruises, improve circulation, and relieve arthritis.
Dunton Hot Springs
Dolores, CO
Part of a restored 1800s ghost town turned five-star resort in Colorado's San Juan Mountains, Dunton's six pools range in temp from 85 to 106 degree Fahrenheit and are bright red in color, thanks to a restorative cocktail of calcium-bicarbonate, iron, manganese, and lithium.
Termas de Puritama
Atacama Desert, Chile
Surrounded by volcanoes and geysers, the Puritama Springs sit at the foot of a canyon (at an altitude of 11,400ft) in the vast, ochre-colored Atacama Desert. Said to have been used by the Atacama people centuries ago to cure rheumatism, arthritis, and fatigue, the eight outdoor pools filled with toasty (91.4 degree) sulfuric water are connected by wooden footpaths.
Deception Island
Deception Island, Antarctica
As the caldera of an active volcano, this island is literally a giant cauldron. Escape the Arctic cold with a dip into one of the multiple natural hot springs, each of which are surrounded by glaciers, abandoned buildings (it was once a whaling station), and a whole lot of penguins.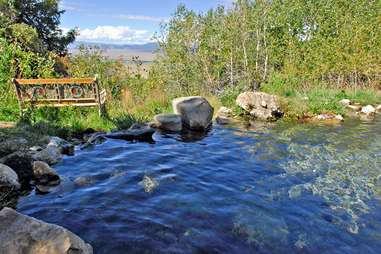 Valley View Hot Springs
Crestone, CO
Situated on 2,100 acres of community owned land at the foot of the Sangre de Cristo mountain range, these natural ponds are accessible by dirt path and simmer between 93 and 107 degrees Fahrenheit. While baking in your birthday suit, you'll enjoy a stunning sunset that, at least in the summer, gives way to a psychedelic firefly show in the star-filled sky. There's also a pool, sauna, and cabins for rent – all powered by geothermal energy from the springs.