Adventure in Hawaii
Sponsored By

Every Adventure You Need to Enjoy on the Island of Hawaii
Sponsored By

Hawaii Tourism Authority / Mark Kushimi
When you have a landmass as massive as the island of Hawaii (it's the largest island in the United States!) you'd better get ready for the epic amount of adventure at your disposal when you visit. From whale watching to ATV tours, thrills are basically everywhere you turn. You just need to know how to make the most of it -- no small task for an island that contains ten of the 14 possible climate zones. That's why we've compiled a handy guide to the can't-miss excitement. Just promise you'll bring us back some fresh Kona coffee as a thank you?
Take a sunset helicopter tour
What better way to see the vastness of Hawaii from up in the clouds? Departing from Kona International Airport,
Paradise Helicopters
offers a 2.25-hour sunset tour with views of, well... basically everything. As soon as you're up in the air, you'll see sight after sight, starting with the Kona and Kohala Coasts. Next, you'll venture over to the far side of the Kohala mountains to check out valleys that are otherwise inaccessible, followed by waterfalls (too many to list out individually here) and points south.
Then, just when you thought you've seen all the beauty Hawaii has to offer, the sun begins to set and the sky turns shades of bright yellow, orange, red, and even purple. Other sites to see from the air include Punaluu Black Sand Beach, Papakolea Green Sand Beach, and Kealakekua Bay. Tours are given Mondays, Wednesdays, Thursdays, and Saturdays, and run $639/person.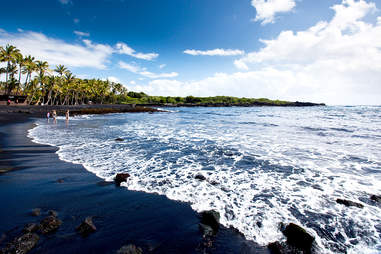 Hawaii Tourism Authority / Tor Johnson
Explore the island's black sand beaches
Forget about basic white sand beaches (though Hawaii surely has some incredible ones); on the island of Hawaii you'll find black sand beaches, too -- including the picturesque
Punaluu
above. And no, it's not just going through an emo phase. This dark, crystal-like sand is made of basalt rock. Located between the towns of Pahala and Naalehu in Kau, the beach is easily accessible, making it a favorite of tourists and locals alike. Picnic areas, restrooms, and even camping facilities invite you to stay and make yourself at home. But don't even think about bottling up any sand and taking it as a souvenir to your real home; it's strictly prohibited, so you'll just have to live in the moment at Punaluu.
Hawaii Tourism Authority / Tyler Schmitt
Hit up a snorkel and BBQ cruise
If you weren't convinced yet, then you certainly will be now; anywhere you can take a snorkel/BBQ cruise is definitely paradise.
Fair Wind Snorkel Cruises
offers a 4.5-hour option at just $145 (adult price plus taxes and fees). Here's what that gets you (settle in, this is gonna take a while).
Upon departure from Keauhou Bay at 9am, guests are treated to a breakfast buffet including fresh hot egg frittatas, croissants, yogurt & granola, and, of course, Kona coffee. Once you're all fueled up, you're ready to discover the snorkeling of historical Kealakekua Bay -- a designated Marine Life Conservation District because of its abundant and diverse marine population.
In addition to snorkel instruction from your licensed guides, you can live it up on inner tubes & other flotation devices and take turns on the two 15-foot water slides & dive platforms -- all the while touring the island's historic locations. In addition to sites like the last battle stand at Kuamoo Battlefield and the Royal Holua Slide (1,290 feet still remain from the original 4,000), you can also see where great circumnavigator Captain James Cook took his last breaths. The British Cook, known for taking voyages across uncharted waters from Europe to Australia, New Zealand, and the Hawaiian Islands, was killed in 1779 while attempting to reclaim a stolen cutter (it's a seacraft) in Kealakekua Bay.
Of course, Fair Wind knows all that time on the high seas can work up an appetite: your BBQ meal includes locally raised grass-fed beef burgers, hot dogs, garden burgers, pasta salad, fruit, chips & cookies, and beverages. Plus, a cash bar is open during the last hour of the cruise to send you off.
Hawaii Tourism Authority / Tyler Schmitt
Rappel down the island's most epic waterfalls
Why experience Hawaii's famous waterfalls from a distance when you could strap on a life vest, helmet, and some cables and get right into them? One of the coolest adventures you can take is waterfall rappelling -- and it's one you definitely don't want to miss. In Hakalau,
Umauma Waterfall Rappel and River Experience
lets you descend 250 feet into the Honohina Gulch. It's totally safe though; along the 3.5-hour tour (offered every Monday through Friday at 10:30am), you'll be fully equipped with a wetsuit and all other necessary rappelling gear/cables.
Once in the Umauma Stream, you'll get the chance to float in a flume dam constructed in 1910, plus check out a natural stone slide formation and pool. About 20 minutes south in Hilo, Kulaniapia Adventures offers a similar rappelling option at Kulaniapia Falls, operating rain or shine -- unless the weather is hazardous -- seven days/week. For $199, descend 120 feet with certified Master Guide David Black. With 40 years of experience canyoneering, Black developed the rappelling experience uniquely for Kulaniapia Adventures, ensuring you can't experience this exact exhilaration anywhere else.
Rent an ATV like the rebel you are
There's no better way to see Waipio Valley than by ATV -- just ask the pros at
Ride the Rim
, who offer four-wheel tours around the perimeter seven days/week. Located in the Hamakua District, Waipio Valley has been inhabited by over 50 generations of Hawaiians -- including many kings -- for over a thousand years. Once you're ready to strap on a helmet and put your foot on the gas pedal (of brand-new Honda Rancher 400s and 420s, we might add), guides provide a safety orientation and demonstration drive. Then it's off to the rim of the sprawling, five-mile deep valley where you'll enjoy light refreshments, hear stories from your guides, and go for a swim under a super secluded waterfall. "Adventure clothing" is suggested, meaning long pants and secure, close-toed shoes. Our tip? Bring a camera. These 2,000-foot cliffs are guaranteed to get you so many new followers on every one of your social media accounts.
Take a night dive
Sure, you can submerge yourself in Hawaii's clear waters anytime of day, but there's something magical about a night dive. You know, when the moon reflects off the water and all the nocturnal beings come out to play.
Big Island Divers
will show you what Kona's like in the dark with one of its five post-sundown excursions.
Take the Manta Night Dive, for example. This one-tank charter will set you back $125 and departs just after sunset. Though you need your Open Water Diver certification to scuba with Big Island Divers -- that is, if you want to get really face to face with Kona's nearly 20-foot wide manta rays -- snorkelers are also allowed on the Manta Night Dive.
More advanced night dives include the Twilight Reef + Manta 2 Tank Dive and the Manta + Blackwater Dive, where you'll experience deep sea creatures rising from the ocean floor to feed on its surface, aka the world's largest nightly migration. If you thought mantas were scary, then you've just gotta experience these gentle giants for yourself.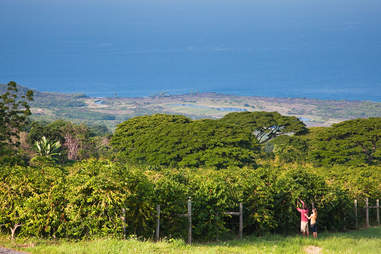 Hawaii Tourism Authority / Tor Johnson
Tour (and definitely sample) some famous Kona coffee
If you start to lose steam while adventuring, fear not: Hawaii is known for its seemingly boundless coffee farms -- which means there's plenty of caffeine to perk you back up. In Kona alone there are over 880 farms covering approximately 3,800 acres, meaning one-sixth of Kona is dedicated to growing coffee -- which is totally fine with us.
But it's not enough to just drink a great cup of joe while you're there; at facilities like Rooster Farms and Kona Coffee Living History Farm you can see just how your morning wake-up call gets to your favorite mug. At Rooster, the oldest organic coffee farm in Kona, you'll get a history of the land, a walkthrough of the six-acre grounds, and even a peek at the roasting machines. The best part? Since tours are by appointment, you can book one around your schedule to fit with your other adventures on Hawaii.
Of course, every district on the island of Hawaii grows coffee. Whether you're in Kona, Hilo, Kau, Hamakua, or anywhere in between, you're never far from a coffee farmer; there are 500 individual owners on this island. Now, that's a lot of beans.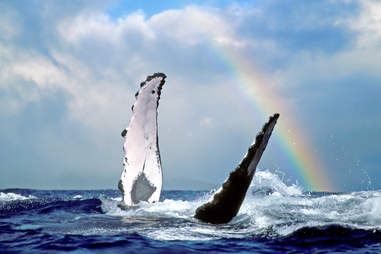 Hawaii Tourism Authority / Joe West
Check out humpback whales in their natural habitat
The Hawaiian Islands are home to the largest seasonal population of North Pacific humpback whales in the world. Scientists believe that from January through May, an estimated 10,000 humpbacks migrate to Hawaii (because of the warmth, underwater visibility, and variety of ocean depth), where they spend the months breeding. Ten thousand whales, huh? That's a pretty good chance for you to spot some in their natural habitat.
Departing from Puako, Adventure X Boat Tours whale watching experience ($115) gets you up close and personal with these 80,000-pound (that's not a typo) mammals. The two-hour tour takes you directly into the nursing pods, so you can see mama whales with their babies. Plus, the guides are armed with tons of whale factoids to make your expedition an educational one.
If you're looking to break a personal record for most likes on Instagram, check out Captain Zodiac's sunset tour. Offered on Tuesdays at 3:15pm, the experience last three hours and the 24-foot vessel comes with hydrophones on board so you can hear those majestic whale songs. (Better than listening to RapCaviar, in our opinion.)
Try to decipher the Puako Petroglyphs
Though Hawaii is brimming with natural wonders and adventure, there are some pretty sweet man-made marvels to behold, too. Take an afternoon to explore the 233-acre Puako Petroglyph Archaeological Preserve, the largest concentration of petroglyphs in the Pacific. Located on the Kohala Coast about an hour north of Kailua-Kona, these prehistoric carvings (of which over 3,000 designs have been identified) date back to about 1200 AD. Symbols include sails, marchers, dancers, chickens, turtles, deities, and more. Since there's no shade -- the 1.5 mile Malama Trail is accessible from the parking lot but then you're on your own -- it's best to go early in the morning or in the late afternoon. Bonus: the shadows will be in your favor, so you can keep cool AND get cool pics. But no touching -- you know better than that.
Zipline around the picturesque Akaka Falls
One of the best places to admire the breathtaking landscape is at Akaka Falls State Park. The reserve's namesake is a 442-foot waterfall reachable from a half-mile trail winding through the lush forest. But we're looking for adventure here, so why hike when you could
zip
? With
Skyline Eco Adventures'
original zipline tour located just outside the park, you can soar across seven mindblowing ziplines -- each one inspired by a piece of Hawaiian history and agriculture. For example, the second line,
Maia
, translates to "banana." In Hawaiian culture, canoe plants (such as bananas) were brought over by Eastern Polynesians on voyaging canoes as early as 300 AD.
The course (that's a whopping seven ziplines, remember?) culminates in one that has you flying over a 450-foot ravine where the 250-foot tall Kolekole Waterfall will crash beneath you. If you're craving more, try their Zip N' Dip tour -- but leave your fainthearted traveling companions to sleep in. This one's exhilarating with a capital E.
Now, which adventure will you hit up first?