The Most Beautiful Little-Known Spots in the American West
Zack Frank/Shutterstock
Zack Frank/Shutterstock
Yeah, we get it. You've ogled Yosemite's Half Dome. You've bathed in Yellowstone's Old Faithful. But just because you live-tweeted your Aspen ski vacation or your family trip to the Grand Canyon doesn't mean you've seen the American West. Because you haven't. Not until you experience these 12 hidden gems located so far off the beaten path not even Siri can help you find your way back.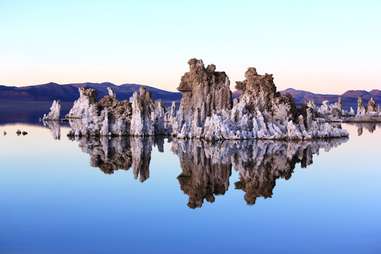 Mono Lake, CA
Why you need to go: Just look at the place. While this eerily beautiful Salvador Dali-like desert lake located just east of Yosemite has inspired everyone from Pink Floyd to Clint Eastwood to Mark Twain, it's still largely overlooked by the throngs of tourists too busy Instagramming El Capitan to notice. Which means you're pretty much free to roam its trails or get a closer look at its stunning beauty by canoe or kayak.
The one must-do thing: Take a sunset walk around South Tufa grove. You can also go on a tour, but the area is best explored via solo mission. Maybe throw on some Pink Floyd.
La Push, WA
Why you need to go: Because it was featured in the Twilight series (kidding!) While we begrudgingly admit this fact to be depressingly true, La Push remains one of the chilliest beach towns on the Pacific coast. Located entirely within the Quileute Indian Reservation surrounded by national forest west of Olympic National Park, all of its businesses are tribe-owned and offer that exact type of relaxed (non-vampire) lifestyle you've been looking for... being that you're on vacation and all.
The one must-do thing: Whale watching on the wide, crescent-shaped First Beach after hitting up the salmon bake during Quileute Days every July
Bannack, MT
Why you should go: Can a town also be a state park? In the case of remote Bannack, Montana, the answer is yes. While buzzworthy Montana towns like Livingston attract the attention of Jim Harrison and Anthony Bourdain, the ghost town of Bannack soldiers on, fully operated by the Montana Fish, Wildlife, & Parks department near the state border with Idaho about a three-hour drive from Yellowstone.
The one must-do thing: Ghost tours and gold panning are popular activities, but just wandering the dusty former boomtown (and marveling at the fact that it's 2016) is the main attraction here.
Murphys, CA
Why you need to go: Because sorry Paso Robles, Murphys is the "next Napa" (until somewhere else is the next Napa). This historic Gold Rush town located two hours east of Sacramento features two dozen tasting rooms conveniently located along Main St -- all of them within walking (i.e., stumbling) distance -- plus the nearby Mercer and Moaning Caverns where you can argue with your significant other over the difference between stalactites (which hang down from the ceiling) and stalagmites (which grow up from the cave floor). (Now you will win said debate -- you're welcome.) You can also rent a houseboat on nearby New Melones Lake, which you totally should do.
The one must-do thing: You mean, in addition to renting that houseboat? Stay at the Murphys Hotel, one of the oldest hotels in California. If it was good enough for J.P. Morgan and Ulysses S. Grant, it's good enough for you.
Collins Beach on Sauvie Island, OR
Why you need to go: While Pacific coast nude beaches like Black's Beach get all the attention (and crowds), that doesn't mean you can't also get naked by the river. Such is the case at Collins Beach on Sauvie Island, located 25 miles north of Portland on the Columbia River. The laid-back, one-mile beach is frequented by friendly, polite nudies rather than the usual assortment of creepy lookie-loos.
The one must-do thing: Besides GETTING NAKED (well not really, it's "clothing optional"), you need to check out the weird (even for Portland) spaceship-like, graffiti-covered abandoned boat locals call the UFO. Preferably nude.
Stanley, ID
Why you need to go: If you're looking for your own private Idaho, Stanley is all yours (well technically you'll have to share it with the town's 63 residents). Stanley is located about three hours from Boise surrounded by the stunning Sawtooth National Recreation Area, so keep your head on a swivel because you'll basically just be staring at jaw-dropping natural beauty the whole time you're here.
The one must-do thing: Enjoy staggering scenery hiking the Redfish Lake Loop Trail surrounded by jagged mountain peaks, then plop down at Redfish Lake Lodge's funky shoreside gazebo for a well-earned burger and beer.
Chena Hot Springs, AK
Why you need to go: Part hot springs/part resort/part unincorporated community/part alternative energy research center, Chena Hot Springs -- located about 50 miles north of Fairbanks -- is your go-to spot for Zamboni-style "snow coach" tours, scenic nature flights over glaciers, and sipping drinks in hand-carved ice glasses at the onsite Aurora Ice Museum. (Pro tip: the ice toilet is NOT for public use.)
The one must-do thing: Soaking your tired bones in the healing waters of its natural outdoor hot springs rock lake and looking up at the Aurora Borealis (aka Northern Lights) during the spring equinox
Chapel on the Rock, CO
Why you need to go: Instead of taking the well-worn Highway 36 from Boulder up to Rocky Mountain National Park, take the more scenic Peak to Peak Highway 72 (locals call it "Freak to Freak") and be rewarded with several aesthetically pleasing prizes along the way, like this show-stopping chapel carved into a massive mountainscape at St. Malo Church near the town of Allenspark. I mean, did you see the photo?
The one must do-thing: The church is open to the public (Pope John Paul II apparently once prayed here), but if you simply pull over and snap a few photos that'll be more than enough to cleanse your sinning soul.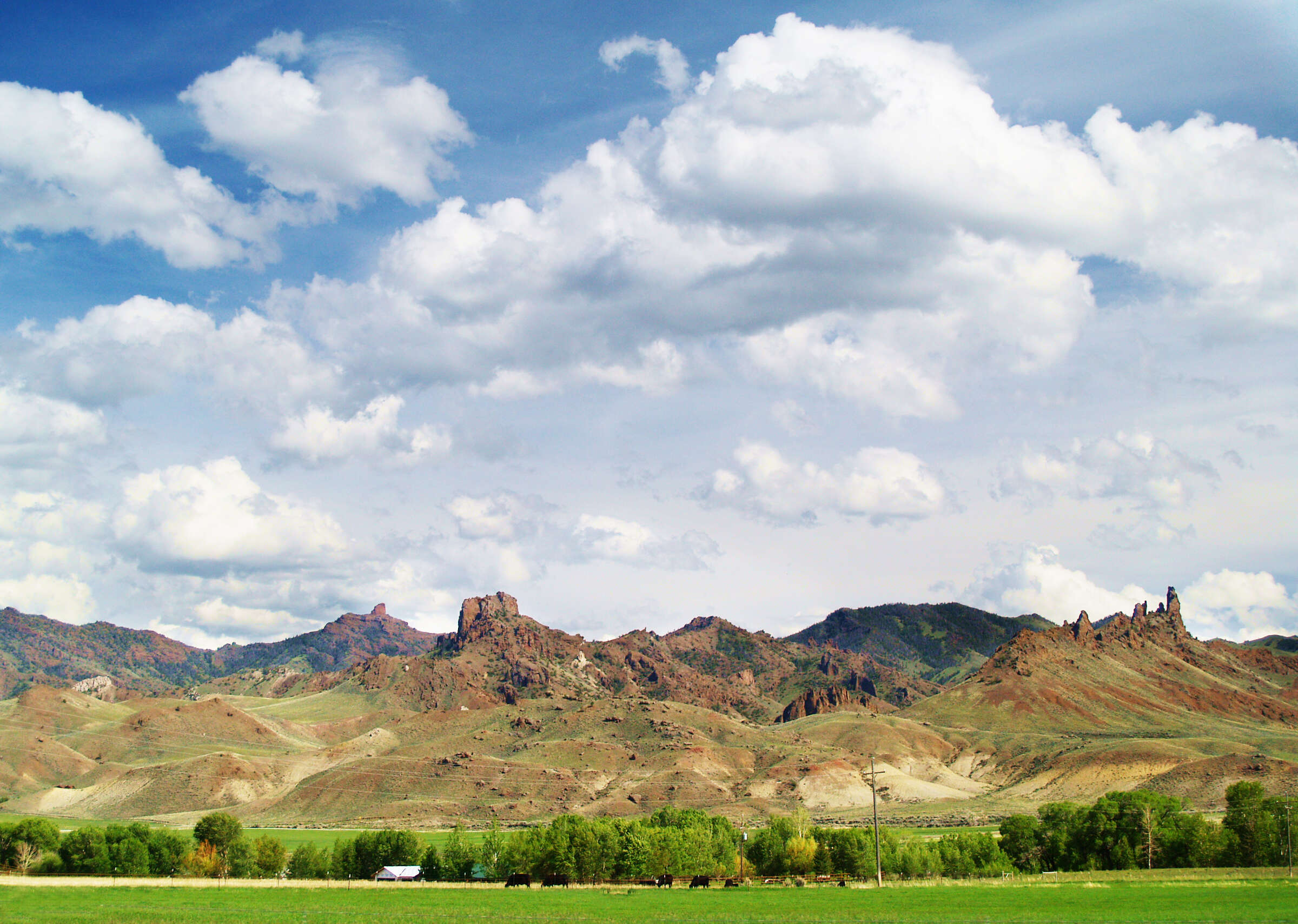 Greybull, WY
Why you should go: Skip the Grand Canyon and instead lose your mind at Devil's Kitchen, located five miles east of the town of Greybull in Northern Wyoming. There you can peep dinosaur remains and freaky sedimentary rock formations that are part Grand Canyon and part Badlands, but all yours.
The one must-do thing: Stroll the town of Greybull. It's the hometown of Wilford Brimley, which pretty much tells you everything you need to know about the place.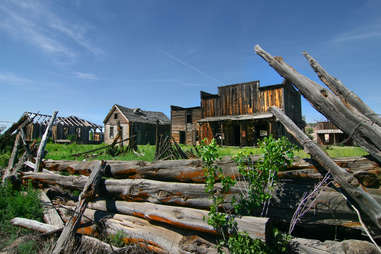 Kanab, UT
Why you need to go: When you think of the West, you think of this town just north of the Arizona border nicknamed "Little Hollywood" for its role as a filming location in Gunsmoke, The Lone Ranger, The Outlaw Josey Wales, and about a billion other old-school Westerns. Today you can tour the still-standing Gunsmoke movie set, scour the town for authentic Native American art, or, most importantly, use it as a base for exploring the surrounding area's ridiculous number of national parks and monuments.
The one must-do thing: Camping is great and all, but once you plop into a lounge chair by the pool carved into a canyon at the luxury Amangiri resort, that old Boy Scout tent starts to look a helluva lot less appealing.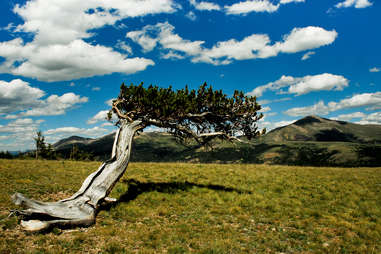 Alma, CO
Why you need to go: If you're looking to get high in Colorado, you can't get much higher than Alma -- Colorado's highest incorporated municipality at 10,578ft. Despite its location a mere 30 minutes south of Breckenridge (via a stunning mountain road crossing the Continental Divide), it maintains a funky, end-of-the-Earth mentality consisting of little more than the playfully named general store Al-Mart and a few shops... including (obviously) a pot dispensary. For that other type of high.
The one must-do thing: Whether or not you pay High Country Healing a visit, checking out a live show and chatting up the "colorful" cast of locals on the outdoor mountainside patio at Alma's Only Bar (currently being renovated and reopening as Miner's Club) is a highlight of any Alma experience.
White Sands Missile Range, NM
Why you need to go: From the Burning Man-style weirdness of Slab City to an island in Washington you can only access through Canada, there's no shortage of oddball shit littering the great American West. But touring an outdoor missile park located on the grounds of the largest military installation in the US, which also includes the site of the first atomic bomb test? Pretty much as batshit crazy as it gets.
The one must-do thing: This one's easy. Tour the White Sands Missile Range Museum. It's pretty much the only thing you can do in this sprawling 3,200-square-mile military installation surrounding White Sands National Monument operated by the US Army.
Sign up here for our daily Thrillist email, and get your fix of the best in food/drink/fun.
Jay Gentile is a Thrillist contributor and former Colorado resident who, for fun, tours missile museums in his spare time. Follow him: @innerviewmag.