23 Hidden Urban Treasures You Need to Find
By Kate Sitarz @katesitarz When you're traveling, it's one thing to impress people by finding that on-the-down-low bar that every single guidebook in existence told you to visit (making it on-the-up-low?). These hidden treasures go beyond that. From underground strolls in LA to a killer view of the Space Needle you can only get by sitting in a... very private place, we've rounded up the best of what's hiding in (almost) plain sight in cities across America. Knock three times, or something like that.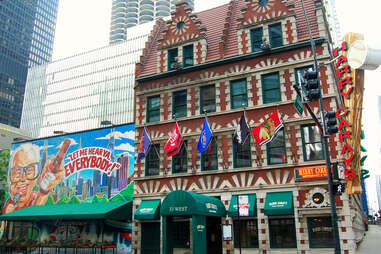 1. Paraphernalia from a Chicago mobster
Mobsters never forget a debt, but that doesn't mean they can remember phone numbers. Head to Harry Caray's Steakhouse in Chicago's River North neighborhood, walk through Harry's Bar, and head to the basement. There, you'll find a vault filled with objects from Al Capone's enforcer Frank Nitti, like an address book with contact information for Chicago's high-rolling gangsters (you know, as opposed to your run-of-the-mill hoodlums, with their déclassé smartphones and whatnot).

Continue Reading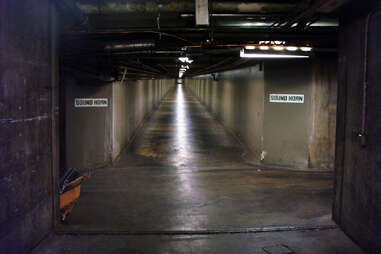 2. A labyrinth of tunnels in the City of Angels
Behind the Hall of Records along Grand Park between North Hill Street and North Broadway in downtown LA, locate the elevator, and head on down. When the doors open again, you'll be in the bowels of Los Angeles. Roam the city's tunnels (note: some areas are blocked off), and then return the way you came -- and emerge with a slightly superior air.
3. Miami's underwater cemetery
If you have the skills to dive 40 feet, Neptune Memorial Reef sits off the coast of Miami at GPS coordinates N25º 42.036′, W80º 05.409′. Only this isn't your ordinary coral-and-sea-anemone reef. It's the largest man-made reef ever conceived, and also just happens to be a cemetery (supposedly they're still adding to it, even though the acoustics for eulogies are terrible).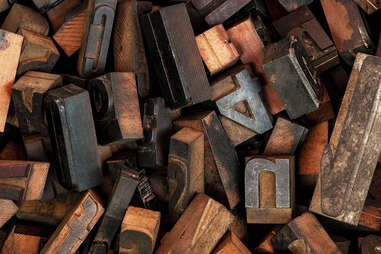 4. Guerilla art in Tacoma
Want to move past black-light Sublime posters to something more letterpress? Well, you're going to have to search for it: under-the-radar art cabal Beautiful Angle creates letterpress posters about once a month, and then disperses a limited batch around the city. Follow them on Facebook and Twitter for hints to when and where you can snag one.
5. A trip to the Indianapolis underworld
Yes, City Market is confusing, but did you know that you're also standing on a real maze? Underneath is a network of tunnels and brick arches left over from the basement of Tomlison Hall, which burned down in the 1950s. To find them, you can join a tour of the Market Street Catacombs, or if you're more of a loner when it comes to crawling under the earth, ask someone who works in the market or around Whistler Plaza where the nearest entry point is.


6. (Possible) hidden treasure in Fargo
Score a random tchotchke in Fargo by heading to Hotel Donaldson, on 1st Avenue between North Broadway Drive and 5th Street North. Stare at the mosaic mural in the lobby, magic eye-style, until a small door appears in the wall. Open the cubby and take whatever's in there, if it's not crappy. Be sure to leave something -- this is an ecosystem, people.
7. The speakeasy to end all speakeasies in Phoenix
There's more to speakeasies than subway tile and "Oh you have to see the bathroom -- it's crazy!" The Mystery Room at Arizona's Biltmore Resort is only open three hours on Sundays. and also requires a password that changes weekly. Its Twitter handle (@ArizonaBiltmore) gives clues. Should you figure them out, your reward is drinking tasty cocktails while sitting on wooden chairs designed by Frank Lloyd Wright, presumably before he moved on to houses.


8. Portland's possibly haunted, definitely creepy coffeehouse
Rimsky-Korsakoffee, a coffeehouse that's literally in a house, and has no sign, is a huge contributor to Portland's precious stocks of weird. It's got "haunted" tables, and reading material including The Best Places to Pee: A Guide to the Funky and Fabulous Bathrooms of Portland. Find it in the city's Buckman neighborhood on 12th Ave., just south of St. Francis Park.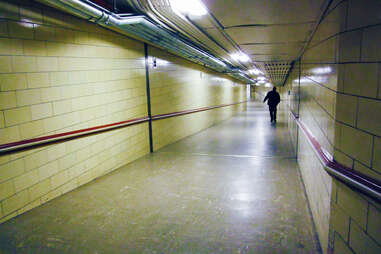 9. The passageways that shuttle Washington, D.C.'s elite from building to building
If you're visiting the Capitol Building and want to check out the Library of Congress after, head for the tunnel to the Jefferson building. Here you'll find the underground world frequently used by government employees. In fact, throw on a suit, act terribly busy and important, and you may be able to pass for one yourself.


10. A hidden-in-plain-sight art installation in Philadelphia
Magic Gardens, the indoor gallery and outdoor sculpture garden by award-winning mosaic artist Isaiah Zagar, took 14 years to assemble and takes up about half a city block on South Street where the Bella Vista and Washington Square West neighborhoods meet. It's easy to walk by, but don't, especially if it happens to be one of the nights they have live music (when you can also byo beer/booze). You can also spot some more of Zagar's work if you head down the alleyways along South Street.
11. A tennis court in Grand Central Station
The joke's on you if you laugh at a fellow commuter's full tennis whites at New York's most iconic station, as they may be headed to Vanderbilt Tennis Club. Enter via The Campbell Apartment lobby, take the elevators to the fourth floor and find one main court, a junior court, and two practice courts. Be sure to reserve up to one week in advance, and prepare to pay a premium if you're going for a popular day/time.
12. Nashville's Smallest Art Gallery
Located on the right side of 21st Avenue South, this may be the smallest art gallery in the world, or at least the smallest that hosts rotating shows featuring artists from around the world. The pieces are for sale and (generally) affordable -- depending, of course, on what you think a postcard-sized painting is worth. The space measures a mere 27" x 37" and it's even got a solar-panel mounted on top so you can still contemplate a purchase at three in the morning.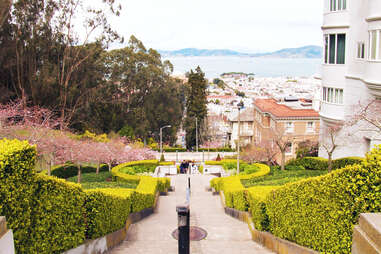 13. A staircase with a badass view of San Francisco
Get awesome views of the Presidio Forest, San Francisco Bay, and Pacific Heights and a workout at the Lyon Street Steps. The lazy way: find the top of the steps at Broadway right before it hits Presidio Boulevard. Or, if you want to pretend you're as in shape as the ROTC kids that sometimes use the stairs for PT, start your trek from Green Street where it intersects with Lyon.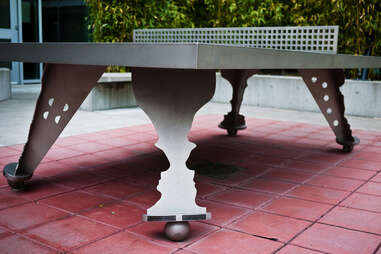 14. Seattle's outdoor Ping Pong table
You know table tennis has reached baller status when you've got a bronze tabletop and stainless steel net. The legs at this one in South Lake Union (just west of Terry Avenue on Harrison Street) are even supposed to represent the profiles of famous scientists, like Einstein and Darwin. But for all its fancy-pants accoutrement, at the end of the day it's a table that conforms to regulation Ping Pong dimensions. Bring your own balls and paddles.
15. Houston's Big Bubble
What could be more fun than finding a button under a bridge, pressing it, and watching as a giant bubble rises to the surface of the river? Even if you know it's located in Buffalo Bayou under the Preston Street Bridge, you may still have the typical conundrum when you come across the button: Is it the right button? Should you really press it? The answer is always yes. Think of the story you'll give that unsuspecting kayaker paddling down the river.


16. The best first-edition bookstore in LA -- and maybe the world
Located off Sunset Boulevard, down a series of nondescript alleys that look like no alley you'd ever want to walk down, Mystery Pier Books is one of the world's most renowned first-edition bookstores, with tomes from the likes of Hemingway and Faulker. While you may find an affordable book here, this place is no joke: some go for as much as $100,000. But hey, when you've got customers like Johnny Depp, you can probably charge a helluva lot more than that. Note: Don't get this confused with Book Soup directly on Sunset. The passageway you're looking for is next door.
17. A Boston bodega that's really a front for fly kicks
The aptly named Bodega is famously concealed within a rundown-looking convenience store. But walk through the drink vending machine, and you're transported to a place that treats "retail as installation art." The shop carries sneakers you probably won't find anywhere else, as well as streetwear that includes their own line of apparel. You should definitely still grab some Ho-Hos on the way back out.


18. The original home of the Chicago Cubs
West Side Grounds was the original home to the Cubs from 1894 to 1915 (back when the Cubs were good, imagine that). It's technically hidden since the University of Illinois at Chicago Medical Center sits on the grounds, but at the intersection of Polk and Lincoln you can pretend you're standing on home plate. Maybe rub yourself on the ground to soak up that World Series-winning dirt and deposit it at Wrigley.
19. Seattle's best view -- from a bathroom periscope
The 5-Point Café in Seattle's Belltown neighborhood has the lock down on the city's best views of the Space Needle. In fact, you have your own personal viewing space from right over the men's urinal, where no tourists that can possibly interrupt with an obnoxious selfie stick. Look for the odd peephole. It's actually a periscope that is perfectly aimed at the city's iconic landmark.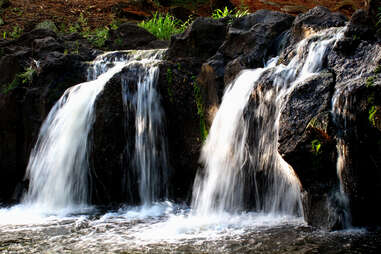 20. Cliff jumping in Honolulu
To jump off the 35-foot (give or take) cliff at Kapena Falls, park your car at the overlook for Nuuanu Memorial Park. Then keep walking, back turned to Honolulu, until you reach the "Scenic Lookout 500 ft" sign. Look for a trail and follow it until you reach the top of your cliff. If you're not into heights and possibly breaking a leg, walk downstream and you may spot some petroglyphs. Try not to get lost in the woods.
21. A forest grows in Dallas
This metropolis of big glass buildings may seem like an unlikely place for large swaths of greenery. Enter the 6,000-acre Great Trinity Forest, a huge chunk of land that was abandoned years ago and has since gone au natural. Slather yourself in bug spray, take I-45 South to Loop 12 East, and look for the large brown sign. We recommend parking at the Trinity River Audubon Center, the least shady area of the park. It's got boardwalk trails leading you around wetlands, restored prairie, and the hardwood forest.


22. Atlanta's secret rope swing
Park your car at the Frazer Center and look for the path near the entrance heading into the woods. You're not looking for the Cator Woolford Gardens, unless there's a wedding going on, and then it's up to you whether crashing a wedding seems more fun than a rope swing. Anyway, follow the trail and keep your eyes peeled for a bamboo forest and start looking for the rope swing hanging from a tree near the creek.
23. The guestbook cave in San Diego
Hidden in Torrey Pines, there's a small cave complete with its own guestbook. From the Torrey Pines Gliderport (yeah, that's a thing), head west from the parking lot over the edge and then head north. If you can see the nudists on Black's Beach, stay focused. The cliffs are unstable and people have gotten stuck/fallen/died, no joke. Of course, you may get to the cave and find some arse has taken the guestbook, but at least you can say you did it. Oh and go at low tide, for goodness sake.